Professional Services in Buffalo
---
Professional Service Deals
---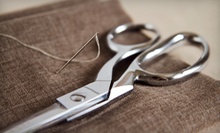 Tailoring and dry-cleaning shop with 82 years in business offers free pickup and delivery and has onsite dressing rooms for fittings
---
Recommended Professional Services by Groupon Customers
---
Under the guidance of Brian Schneider—a 25-year veteran of the dry-cleaning industry and third-generation manager of the family-owned cleaning spot—Aladdin Village Cleaners cleanses dirt from clothes, linen, and drapery without harming delicate fibers and colors. Free delivery and pickup whisks fabrics to and from the facility, filled with wet- and dry-cleaning equipment.
691 Millersport Hwy
Buffalo
New York
With a room full of toys and no time constraints, Toddle Town & More is designed to give kids an outlet for their energy and creativity. Visitors aged 6 and younger explore age-appropriate playgrounds and don dress-up clothes in an open, safe environment, while parents observe with the help of numerous mirrors. The space is open Monday–Friday for unlimited drop-in play, ensuring sessions can fit into the busiest of schedules. A calendar of supervised programs, such as preschool, play groups, and music classes, offer little ones additional chances to learn social skills and introductory guitar solos. Toddle Town & More caters to the allergy-sensitive, and parents are asked to refrain from packing peanut products in their child's lunch bags.
4779 Transit Rd.
Depew
New York
716-656-8800
As any parent knows, shopping for sporting gear is a relaxing experience that always ends with a toasty mug of hot cocoa enjoyed in front of a cozy fireplace. At least, it does at WNY Skater's Paradise. Kids and adults shop for new and used skates and skate wear from such brands as Del Arbour, Chloe Noel, and Mondor while sipping complimentary beverages such as sodas, flavored coffees, and hot tea. While guests curl up on leather couches to watch a movie by the shop's fireplace, expert skate sharpeners better blades with a custom-sharpening process that begins with a multipoint inspection and includes multiple measurements to ensure each edge is sharpened to suit the skater's size, skating style, and penchant for slicing steak with their feet. Other custom services include crystal application for skating dresses and embroidering services, which emblazon gear with each future gold medalist's name.
1940 Eggert Rd.
Amherst
New York
716-831-8001
The artisans at Framing & Art Centre love a challenge. With years of experience in the field and a workshop updated with efficient framing machinery, they take on any framing project with confidence. Hockey jerseys and ticket stubs find homes in custom shadowboxes, and paintings and photographs retain their brightness with the help of acid-free matting and UV-resistant glazes. For those unsure of what style frame they want, Framing & Art Centre's artisans are happy to offer suggestions and collaborate on the final design.
2000 Appleby Line
Burlington
Ontario
CA
When beloved Apple gadgets and smartphones crack or break, DrB Mac Repair returns them to life with a full suite of mending services. Replacement iPhone and iPad screens restore crystal-clear viewing, and HTC and Blackberry repairs heal faulty track pads and broken LCDs. The shop also handles repairs for MacBooks and upgrades for Mac Pros, including larger hard drives, increased RAM, and an F5 key that predicts the future.
286 Summit Ave.
Buffalo
New York
716-903-4013
Century-old trees line the quarter-mile driveway to Focus On You Photography's log-cabin studio, greeting visitors with the same timelessness owner Kim Cartmell and her team create in their photographs. Kim has travelled around the Niagara region snapping wedding shots since 1993, and now she and the team welcome subjects to their own idyllic photogenic turf. Outside, an antique buggy and wrought-iron gazebo dot the three-quarter acre of land, which serves as a natural outdoor backdrop for family portraits beneath the leaves or engagement shoots by the creek.
Focus On You Photography's unique children's fantasy portraits immerse young ones in whimsical scenes, whether exploring moments as a fairy, unearthing a pirate's booty of dubloons and Reader's Digest back issues, or flaunting leather jackets atop a miniature motorcycle. In addition to Kim's many specialties are her bike portraits, which capture the just-as-tender love between riders and their rides.
3787 Switch Rd.
Stevensville
Ontario
905-382-1490
---