Beer, Wine & Spirits in Buford
---
Beer, Wine & Spirits Deals
---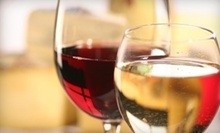 Post-work-week sips of locally produced, award-winning red, white, and fruit wines
Use Today 5:00pm - 8:00pm
---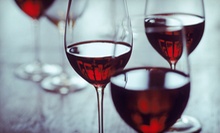 Automated Napa Technology WineStations dispense various varietals in taste, half-glass & full-glass portions to thirsty patrons
Use Today 11:00am - 9:00pm
---
Recommended Beer, Wine & Spirits by Groupon Customers
---
When Wine Shoe owners Nora and Shannon Wiley started planning the shop's design, they wanted something that would blend their worldly travels with the historic culture of the surrounding Castleberry Hill neighborhood. The result was promptly recognized by Atlanta magazine, which compared Wine Shoe to a "private wine cellar in France stocked with wines from all over the world."
Today, the facility's floor-to-ceiling wine wall stands as a new challenge to rock climbers and as a stunning backdrop to an assortment of wine-related activities, including classes that drew more than 3,000 total students during 2011. Many of those students gathered around Wine Shoe's 12-foot rustic table, where, sitting beneath a glistening bronze and crystal chandelier, they paired sips with scrumptious hunks of education.
The shop carries more than 150 different wines, the majority of which come from small producers. It also keeps its door open to pooches, as Nora and Shannon's security dog, Beeren, is always looking for new buddies with whom to discuss the nuanced flavors of rawhide bones.
339 Nelson St. SW
Atlanta
Georgia
US
Flanked by rustic stone columns and carved lions, Five Seasons Brewing's entrance looks like the secluded front to a Napa Valley villa, belying its cozy atmosphere and community-focused mission to provide tasty, affordable food and drink. Founded by chef David Larkworthy—son of a pioneering advocate of using organic food in restaurants—Five Seasons Brewing carries its commitment to community to its ingredients, cooking with a cornucopia of regularly shifting local produce from a gaggle of affiliated farms. Praised by the New York Times for the way it "imaginatively merges American grill fare with the flavors and textures of Japan," the menu features such fusion dishes as crispy alligator served with a blackened chili glaze and Remoulade. At tables, guests dig in to home-baked bread, whose warm crust exudes tangy scents from the brewery's spent beer grain.
In the towering tanks that skirt the pub, brewmaster Kevin McNerny creates a kaleidoscopic selection of unique small-batch beers. The cofounder of flagship Georgia brewer SweetWater, McNerny brings two decades of experience to his craft, making refreshing brews such as the Chug Monkey and turning to ancient Belgian traditions to make his crisp, orange-infused witbier.
1000 Marietta Street
Atlanta
Georgia
404-875-3232
At Hop City Craft Beer and Wine, staff members weave through a forest of bottle-lined shelves and coolers, seeking out perennial favorites or new, hidden gems for each customer. In addition to more than 1,700 varieties of beer, Hop City features an assortment of specialty grains, yeasts, and hops for home brewing, earning it a World-Class rating from Beer Advocate. As many as 60 functional taps line one of the store's walls, allowing patrons to fill growlers with their choice of macro- or microbrew, such as the Dogfish Head 90-Minute IPA or the Avery Czar Imperial Russian stout. Divided by style and California Raisin content, a nearly 800-bottle-strong wine selection fills its own impressive space.
1000 Marietta St., Suite 302
Atlanta
Georgia
404-350-9998
After searching for an easy and affordable way to sample craft brews from across the country, Moondog Growlers' proprietors began selling specialty suds in bottles that customers can bring back and refill with a new selection each time. The growlers hold between two and four pints depending on their size, bestowing beers with a shelf life of 7–10 days inside a fridge, 36 hours outside of a fridge, and 0.4 seconds inside of a thermonuclear jet engine. A rotating selection of 30 craft brews—which may include selections from famous hop houses such as SweetWater, Bell's Brewery, and New Belgium—changes based upon seasonal availability.
688 Whitlock Avenue
Marietta
Georgia
678-354-6268
---