Restaurants in Bullhead City
---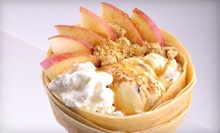 Fill folded crepes or top crispy waffles with fruit, ice cream, and other candy bits, or enjoy a prechosen combination of sweets
Use Friday 10:30am - 11:00pm
---
Recommended Restaurants by Groupon Customers
---
At Roadrunner Saloon, executive chef Matthew Silverman has compiled a menu of Southwestern tin-plate specialties. His kitchen staff perfects half-pound burgers, tacos, and new york steaks wrangled from the rolling fields of Times Square. They serve up the sizzling cuisine at three locations, each with a distinctive collection of cowhide furniture, murals, stone fireplaces, and iron chandeliers. On weekends, live blues and southern rock echoes throughout the locations on Pebble Road and Flamingo Boulevard. At the Buffalo location, diners can bowl down personal lanes.
2430 E Pebble Rd.
Henderson
Nevada
The way the interior of Our Families Country Café is decorated gives off a keenly familiar feeling—like home, if home had the cozy welcome-home ambience of a TV-family dining room. A florist shop's worth of plants, flowers, and knickknacks peppers the wooden walls, tables, and beams, and a decorative sign invites diners openly to "Seat Yourself." Once you take in the restaurant's good humor, a home-style feast of American favorites awaits touchdown between your fork and knife. Throughout the day, the kitchen staff flips hot cakes, scrambles omelets, grills burgers, and pours creamy gravy on crispy country fried steaks, all made in the name of down-home country cooking. Heartier eats include USDA Choice rib-eye steaks that start at 6 ounces like grandma used to make, or go up to 30 ounces, like Mr. T's grandma used to make.
10591 South Rainbow Boulevard
Las Vegas
Nevada
702-270-8700
Elixir Organic Cafe expertly crafts its housemade fare with 95% organic ingredients, including succulent meats free from hormones, nitrates, and artificial preservatives. A dozen burger designs bedeck nine types of patties—enough for each player on a baseball team to pad his glove with a different kind of patty—including turkey, eggplant, and grass-fed beef. The eatery tailor-makes its meals to satisfy a range of appetites, from those of strict meat eaters to those of faithful vegans and gluten-free dieters. More than 10 sandwiches come in hot, cold, and panini form, further solidifying Elixir's reputation for a culinary range as wide as a piece of taffy stuck to two racecars traveling in opposite directions. Expert bakers churn out an array of decadent desserts, such as cherry-dotted black-forest cake and vegan and gluten-free carrot cake. The cafe's multigrain pancakes and eggs benedicts make for a wholesome breakfast, and creamy smoothies and fresh-pressed vegetable and fruit juices packed with vitamins wash down the nutrient-rich dishes.
9550 S Eastern Ave., Suite 180
Las Vegas
Nevada
702-565-0335
Ten years ago, executive-chef Craig "Andy" Beardslee and pal Johnny Rivera set out to bring country-style cooking to an urban environment. Today, the duo's award-winning eatery Hash House A Go Go has expanded from its original San Diego home into five Vegas locations, including a spot inside The M Resort Spa & Casino Las Vegas. Drawing from his work with agriculture and livestock, chef Beardslee kicks up house-made farm favorites, adding innovative flavors to fried chicken, french toast, and meatloaf recipes. The generously portioned entrees pair well with creative concoctions, such as a BLT bloody mary, a far more successful drink than its predecessor, the grilled-cheese martini.
12300 Las Vegas Boulevard South
Henderson
Nevada
702-797-1000
WildBurger fortifies visitors for Wildfire Casinos' whirling slot machines, video poker, and reel games with a concise menu of elevated American eats. Choose a half pound of Angus beef or a hand-breaded chicken breast with predetermined fixings, or build a custom-tailored meal. Gruyère cheese, fried eggs, and the house's signature slaw can crown a fluffy brioche bun or lend flavor to a lettuce wrap, and the sauces are an event unto themselves. Hot dogs and fries get a kick from house-made buttermilk ranch dressing and roasted-garlic ketchup, and baskets of chicken wings provide a vehicle for 10 glazes, including teriyaki with a hint of orange or spicy honey mustard. The chefs flip omelets and pancakes from 11 p.m. to 1 p.m., and they pay tribute to the lifetime achievements of Little Debbie with house riffs on Ding Dongs and deep-fried Twinkies.
2000 South Boulder Highway
Henderson
Nevada
702-558-6454
Eclectic tapas abound at the Southern Highlands eatery. On the tapas cold front, there's a chilled gazpacho ($4), marinated olives ($5), or tuna tartare ($9). Toastier small plates include veggie empanadas with mushrooms, carrots, spinach, and garlic cream cheese ($5); ravioli bathing in a savory cream sauce ($5.50); and fried goat-cheese nuggets ($6.50). Meat-focused dishes such as chicken cakes (topped with multi-colored onions, peppers, cilantro, black beans, and corn salsa, $6) and seafood plates, including grilled octopus and steamed mussels ($9.50 each), mind the gap between main dish and dessert. Barcelona also serves a variety of entrees ($15–$20) such as grilled salmon and Spanish paella. Desserts ($4–$9.50) such as chocolate tres leches à la mode sweeten sips of festive mojitos and sangria.
10690 Southern Highlands Pkwy. , Suite 100
Las Vegas
Nevada
---