Nightlife in Burbank
---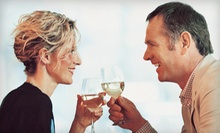 University Village - Little Italy
Singles chat during five-minute dates, marking matches on cards that the hosts collect; contact info is shared when mutual matches are made
---
---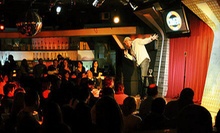 The upscale club barrages boredom with a rotating lineup of local and nationally renowned comics, a full bar, and no drink minimums
---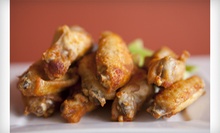 Guests munch on burgers or fresh seafood as live bands jam in an outdoor beer garden and sporting events flash across 25 TVs
---
Recommended Nightlife by Groupon Customers
---
Focus your bifocals, leave your lightning kite in the garage, and insist on "no libation without representation" with today's Groupon to the Franklin Tap, an upscale South Loop pub that takes its name from both its impressive collection of beer taps and the inventor of the glass armonica. For $20, you'll get $50 worth of beer and hearty pub grub.
325 S Franklin St.
Chicago
Illinois
US
The martini was invented during the great green olive surplus of 1863 as a way to put the excess supply to good use. It quickly became the drink of choice for sophisticated sippers across the globe and a favorite of the sexier mer-creatures. With today's Groupon, $20 gets you $50 worth of martinis, beer, and everything else offered at The Martini Bar in the South Loop. The discreet blue sign outside is the only indication of this hidden gem's existence. Once you find your way inside (hint: it's across the street from the Chicago Board of Trade, where the money gets invented), you're transported back to a time when James Bond's middle name was Connery and mad men blew off some steam with a stiff lunch-break martini. 1.5 Martinis: Glances become 30% more suspicious.3.2 Martinis: Proficiency with exploding dart pen becomes consistently accurate, callous.4 Martinis: Wrinkles in tuxedo are smoothed out as body begins to secrete highly viscous liquid confidence.4.9 Martinis: The phrase "No man could have survived that" is bandied about so frequently it loses all impact.6 Martinis: Enemies 25% more easily seduced, 100% more easily betrayed.
401 S Lasalle St
Chicago
Illinois
US
Executive Chef Thomas Elliot Bowman's imaginative current menu sports savory starters such as cardon soup with a 63-degree egg, pancetta, and pine nut bagna cauda sauce ($9). Main courses include smoked pork chop with corn panna cotta, crispy kale, and sauce piquillo ($21), and the fresh fish plate of the chef's daily selection (market price), which can be complemented by a cast-iron side of mac 'n' cheese with trofie noodles, sweet peas, béchamel, and goat cheese ($8). Otom's desserts, such as vanilla parsnip pie ($9), will make you feel as if you were a kid with a million-dollar check and a fake ID.
951 W Fulton Market
Chicago
Illinois
Treat your gastrointestinal tract to a tasty glass of richly blended healthlisciousness. Today's side deal gets you four drinks or wholesome bowls from Protein Bar for $10, a $24 value. A proper breakfast of fruit, grain, and protein will help you discover that hidden superpower that's been lying dormant under a pile of doughnuts and danishes.
235 S Franklin St
Chicago
Illinois
US
Ever since their ousting from power in the early 15th century, the Redheads have sought vengeance, or at least a good time out with friends. Today's Groupon strengthens the ginger cause with $20 for $40 worth of live piano entertainment and highly sociable libations at The Redhead Piano Bar.
16 W Ontario St
Chicago
Illinois
US
Salute's wine list offers bottles from 20 different regions. Try an Alois Lageder chardonnay from Alto-Adige ($40 bottle) or a Ca' Tullio pinot grigio from Friuli ($34 bottle). Salute's skillful servers can help you pair your chianti classico with the flavor-packed formaggi (featuring goat, sheep, and cow's milk artisanal cheeses), affettati (gourmet meats, such as Prosciutto di Parma for $6 or Soppressata for $3), paninis ($10), and piatti piccoli (small plates) on the menu. Dominic Gaziano, a medical doctor, author, and owner of Salute, carefully crafted the house recipes to reflect his gourmet chef mother's Calabrian and Sicilian culinary traditions. Lunch on panini sandwiches such as the muffuletta with hot coppa, mortadella, Genoa salami, provolone, giardiniera, and olive tapenade ($10) or a margherita pizza ($10). Dinner (served until 2 a.m.) includes $12 filet mignon and $15 braised beef short rib with mashed celery root, blood orange, and fennel jus.
46 E Superior
Chicago
Illinois
312-664-0100
---