Burbank Spa and Massage
---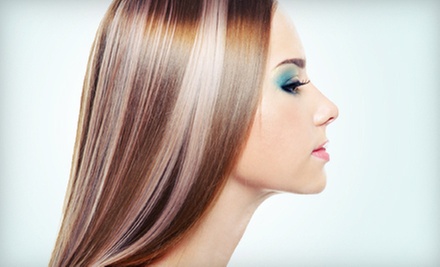 ---
Recommended Spa & Massage by Groupon Customers
---
The skin is a living, breathing organ capable of as much vanity as the quadriceps and latissimus dorsi. Give your skin the attention it's earned from so much overtime exposure with today's Groupon for $100 worth of products and services at Verabella—plus a free $35 Verabella product—for $50. Located at 301 N. Canon Dr. in Beverly Hills, Verabella is a great choice for gift Groupons, so spread the gift of star treatment to your mom, sister, wife, or fellow netherrealm martial arts tournament combatants.Follow @Groupon_Says on Twitter.
301 N Canon Dr.
Beverly Hills
California
US
Put your body in the hands of a holistic healing expert. For $54, today's Groupon gets you an hour-long massage or reflexology session with Rachel Avalon (normally $90). Take away your aches and pains with any one of Avalon's massages, including Swedish, deep tissue, and massage specifically targeted for infants, teenager, or pregnant women. This Groupon is also good for a 60-minute session of reflexology. Commonly referred to as "acupuncture without needles," reflexology relieves stress through foot squeezing and, optionally, lobe tugging.
1040 S La Jolla Ave.
Los Angeles
California
US
"Never take for granted the privilege of doing what you love for a living," says Liza Lewis, the owner of Spa 415, on her site. This philosophy is what spurs her to cull the most effective, restorative therapies and bestow them on clients within the French-Mediterranean day spa's luxurious setting. From the damask sofas to the patterned wallpaper that's seen through the flicker of candlelight, she creates a romantic, soothing atmosphere for tandem treatments with loved ones or an escape from everyday stresses.
The day spa's roster of treatments spans all relaxation and beauty needs. From four-hand massages to chocolate-soufflé body wraps, the staff abolishes stress and helps nourish the skin with high-quality ingredients. They also reverse signs of aging with nonsurgical facial procedures and microroller treatments, which boost collagen to reduce wrinkles and permanent lines made from pillow creases.
415 N Crescent Dr., Suite 110
Beverly Hills
California
US
Erase tan lines, even out your skin tone, and kiss your ghostly pallor goodbye with today's golden deal: $30 gets you a custom airbrush tan from Glitz (a $60 value). Spray bronzers give you a lustrous, fresh-off-the-beach glow without exposing your skin to the ultraviolet radiation emitted by tanning beds, the sun's rays, and superpower-granting radiation experiments undertaken by reckless scientists. According to the American Cancer Society, skin cancer is the most common form of cancer; today's deal gives you a healthy glow, without harming your skin.Follow @Groupon_Says on Twitter.
9867 S Santa Monica Blvd.
Beverly Hills
California
US
Today's side deal brings magnificent punctuation to your look with a $150 makeup-application experience with makeup artist Courtney Corvan for $45. Having worked with more than 40 celebrities and touching all of their famous faces with her human hands, Courtney will deliver exquisite cosmetic results, Flair eyelashes, and bragging rights among your adoring public.
10182 Culver Blvd.
Culver City
California
US
Friends don't let friends into public spaces with evident tension and unkempt hands and feet. Help the people you care most about return to a state of mental bliss and general kemptness with today's Groupon. For $15, you'll get a classic manicure and pedicure package from The Green Room, a Santa Monica relaxation station specializing in high-service, high-relaxation treatments.Follow @Groupon_Says on Twitter.
2716 Ocean Park Blvd #1006
Santa Monica
California
US
---