Beauty & Spas in Burien
---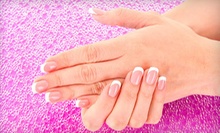 Use Sunday 11:00am - 4:00pm
---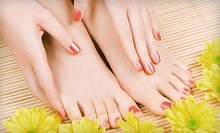 Savvy stylists versed in latest techniques carefully apply color to maintain dyed locks, rejuvenating hues for vibrant falls of hair
Use Sunday 11:00am - 3:00pm
---
Recommended Beauty & Spas by Groupon Customers
---
Pamper yourself at the ultra-comfy, mega-relaxing, über-friendly-staffed Salon Dewi, home of The Waxing Diva. This Groupon gets you $120 worth of body-wraps, body-polishes, and massages for just $60 at this premier Seattle Magazine-featured salon.
1525 14th Ave.
Seattle
Washington
US
Experience a regionally and nationally celebrated salon locally with today's Groupon: $50 for $100 worth of spa and salon services at Bowie Salon and Spa. Allure readers cited Bowie Salon and Spa as their favorite, Citysearch raves about the highlights, Seattle Magazine can't say enough great things about the blowouts, and Sea Monster Quarterly says, "There are no sea monsters there." 1853: In response to The St. Louis Temperance Battery's forceful arguments for prohibition, gin enthusiast/Mayor John How burns down the paper's office.1955: Houston TV Station WBLP reports that the Soviet Union signs the Warsaw Pact. Unwilling to process the world-altering event, every Houston inhabitant turns into vapor.1993: The Cleveland Dispatch calls Mrs. Doubtfire the "feel-good family film of the summer," while outraged audiences felt the film was "truly a classic fit for the whole family." The feud ends when the body of Mrs. Doubtfire is paraded through town square.
1507 Belmont Ave.
Seattle
Washington
US
Whether you need a new 'do for your next album cover, or you want to make a good impression at a job interview for the album photographer position, Emerson Salon can give you a cut, color, or style that's easy to care for and looks great even when you style it yourself. Located in the Capitol Hill area, Emerson Salon has a fun and casual atmosphere, with rich wooden interiors and large storefront windows. Watch the hustle and bustle of the city from the comfort of your chair as the masters of style give you the perfect look. Services range from a standard style cut ($40) and hue-enhancing highlights ($55), to deep conditioning ($25) and updos (contact salon for pricing). Each of Emerson's stylists is a master hair shaman who knows how to snip, dye, and charm the most distraught bristles, frizzies, and Medusa head-snakes. They sense your innermost hair yearnings, then direct their careful scissors in tune with your thoughts and dreams, letting their creative forces flow wildly onto your scalp for a haircut that revolutionizes the way you look in the mirror—inside and out. Afterward, in the streets, you might find that your magnificent mane busts the binds of its bowler hat and leaps into sunshine, dappling the dark alleyways of careless coiffures.
909 E Pike St.
Seattle
Washington
US
The Loft's peaceful sanctuary on Third Avenue offers clients a bevy of hair beautifying services and a tranquil locale for mop-top pampering. Savvy snippists shear strands and cut lengthy locks down to size before shaping and sculpting manes into a desired style. Shorten follicles with a women's haircut ($45+) and a men's haircut ($25+), or accent head coverings with a full color treatment ($45+) and highlights ($50+).
1925 3rd Ave
Seattle
Washington
US
Pack your aches in a flat-rate UPS box and deliver them into the healing hands of Helix Massage Therapy. With today's Groupon, $42 gets you a 70-minute therapeutic massage from Helix (an $85 value). Helix's massage therapists are versed in a variety of techniques, allowing them to identify and relieve sources of distress from back and neck pain to cramps to athletic injuries to anxiety to reindeer feet.Q: Where am I? What year is this?! Who are you?! A: You are receiving a massage. It is natural to become so relaxed that you lose your mental faculties.
419 Queen Anne Ave. N, Suite 103
Seattle
Washington
US
You can't turn back time with modern technology, but you can turn back time to a time when your face and back were dripping in beauty and relaxation. Today's Groupon gets you a mini facial and blissful back treatment at Earthly Rituals for $45. Follow @Groupon_Says on Twitter.
1817 Queen Anne Ave. N
Seattle
Washington
US
---