Restaurants in Burleson
---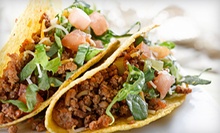 In restaurant helmed by native Mexican couple Joaquin and Martha since 1995, guests enjoy plates of tilapia in chipotle sauce and fish tacos
Use Saturday 11:00am - 9:00pm
---
Recommended Restaurants by Groupon Customers
---
When chef Joe Lane took over Fish Creek in 2008, he was faced with a daunting task. The fried-fish restaurant badly needed a fixing up, but he didn't want to sacrifice its laid-back atmosphere or the old owners' regular clientele. Today, he and his staff have succeeded in taking the eatery in a new direction after redesigning the menu, refurbishing the decor, and exorcising the lingering spirits of the previous chef's pots and pans. Driven by the belief that "people should be able to have exceptional seafood wherever they are," as he writes on his website Joe fuses Cajun and Southwest recipes to build dishes that include fish or shrimp tacos along with blackened catfish and jambalaya. The menu also sates landlubbers' appetites with beef tenderloins, burgers, and grilled-chicken sandwiches.
Servers ferry these dishes, as well as Southern-inspired cocktails and margaritas, to polished tables arranged under exposed rafters in the dining room. There, lamps mounted around rustic wooden columns pour down amber light gathered at sunset in New Orleans' French Quarter. Patrons can also dine at low-lit tables in a private dining room, or on a wooded back patio that holds up to 75 guests.
4899 E I-20
Willow Park
Texas
Affectionately dubbed "a little piece of France" by Christina Rowland of Real Frisco, Cafe Trottoir et Patisserie transports taste buds with Parisian-style bistro fare for lunch, dinner, and Sunday brunch. Dishes feature simple, elegant preparations, with numerous sauces and vinaigrettes drizzled across seared tuna steaks and roasted duck breasts. Mimicking money-booth contestants, pear and goat cheese step into a salad arena, where they compete to snatch the most pecans out of a slippery shower of lavender-honey vinaigrette. The steak frites' Black Angus terres major is pan-seared with red-wine pan jus and laid on a plate of pommes frites and baby greens.
Indoor meals unfurl under brass chandeliers bearing clusters of golden lamps. In fair weather, the sun-dappled outdoor terrace surrounds tables in tall trees bookended by stucco walls and a large outdoor fireplace.
6959 Lebanon Rd.
Frisco
Texas
US
214-705-7775
Joe Chow immigrated to America from his native Taiwan in 1979. He set down roots in Addison, where he eventually made a name for himself as the city's mayor and the owner of May Dragon. In the kitchen, his veteran chef Mr. Phung concocts more than 130 dishes using all-natural ingredients, only small amounts of oil, and no MSG. The menu's resulting bounty of Peking-style slow-roasted pork, five-flavor shrimp, and crispy duck inspires loyal regulars and a cavalcade of celebrities, including culinary star Martin Yan and martial-arts expert Chuck Norris, to frequently stop in for an authentic meal.
When not at work meeting with constituents or willing laws into existence, Joe proudly oversees his establishment as an embodiment of the American dream, inspiring patrons to follow their own desires, ensnare them, and keep them as pets. He warmly greets visitors with friendly hellos and attentive service and encourages his staff to treat guests with the same infectious hospitality. The restaurant itself exudes a warm, welcoming atmosphere, with Chinese artwork lining the walls and luxurious amenities—such as a separate banquet room with massage chairs and karaoke machines—populating the refined, architect-designed space.
4848 Belt Line Rd.
Dallas
Texas
972-392-9998
Chef Grady Spears has authored numerous cookbooks and showcased his skills on Good Morning America and the Today show, yet he still doesn't identify with the term chef. He's a cowboy cook—a long, tall Texan who made a living punching and selling cattle until a freak happenstance involving a quitting chef landed him in the grill-pilot seat. Patrons at Grady's Line Camp Steakhouse won't find any polished bamboo floors; instead, gritty hardwood and log-cabin-style seating complement the hearty menu, responsible for the restaurant's placement on Texas Monthly magazine's list of the 38 best steak houses in the Lone Star State. Patrons can snuggle up to grilled steaks and southwestern-style stuffed peppers after enjoying a beer-battered and fried appetizer or can clink longnecks to live music on the weekends for a rowdy evening without regretting trying to tip over a snoozing cowboy.
4610 Shaw Rd.
Tolar
Texas
254-835-4459
Chef Jerrett Joslin orchestrates a symphony of sizzling sounds and blooming flames while grilling certified-Angus steaks at The Wild Mushroom Steak House & Lounge. Here, guests are seated at tables draped in white linens, which offset the dining area's coffee-colored walls, and tuck into plates piled with juicy carnivorous morsels such as the prime filet or the 16-ounce buffalo ribeye. The Chilean sea bass, one of Fort Worth, Texas magazine's top 25 dishes, delights taste buds with three varieties of mushrooms beneath black-truffle-cream sauce. To wash down the rich and hearty bites, a selection of more than 100 wines awaits, ranging from California cabernet sauvignon to Australian shiraz to German riesling. Those who don't finish their bottles can store them in a private wine locker, and uncork them again during a future visit. The dining room's dim lighting adds romantic ambience and kindly prevents dates from noticing third and fourth eyebrows.
1917 Martin Dr.
Weatherford
Texas
817-599-4935
At Los Vaqueros' two area restaurants, Chef Cisneros imparts his third-generation culinary expertise to crafting Tex-Mex menus that feature local poultry, beef, fruits, and veggies. He ensures these ingredients are never chopped or prebagged before they reach his kitchens, meaning they won't lose flavor before he turns them into chalupas, sizzling fajitas, and stuffed jalapenos that warm insides better than a shot of barrel-aged magma. Chef Cisneros's spread of fresh-made fare can also be enjoyed at catered events, and each eatery's private banquet room can accommodate parties, wedding receptions, meetings, and hula-hoop marathons.
In a former warehouse in Fort Worth, a flight of yellow steps leads through the Stockyards location's leafy archway into a lively dining room filled with vintage cowbells and tin signs. The West location in Weatherford, on the other hand, sits within Crown Valley Golf Club, where patrons dine on enchiladas, tacos, and burritos as wild golf balls cheep from their perches on the windowsills.
29 Crown Road
Weatherford
Texas
817-441-2300
---