Burlington, KY Outdoor Activities
---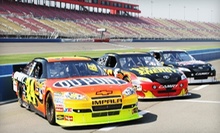 Professional drivers sate passengers' need for speed in stock cars during exciting ride-alongs and racing experiences
---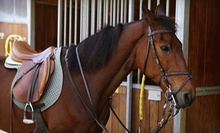 A 25-year equestrian veteran teaches jumping and dressage to all levels of riders inside a lighted, controlled indoor environment
---
Recommended Outdoor Activities by Groupon Customers
---
Tucked away near the banks of the Ohio River stands the other Sin City. Or at least it used to be, during the days when bootlegging formed a powerful underground economy. When a group of teachers and history buffs needed money for school service projects in Central America, they decided to raise funds by starting tours that explored this seamy history, according to the Knoxville News Sentinel. A few years and many local accolades later, knowledgeable guides continue expounding upon the town's rich history of mobsters, gamblers, and ladies of the night.
Tours stroll down Newport blocks littered with buildings once occupied by speakeasies, brothels, and the site of Al Capone's failed early restaurant career, Al Calzone. Along the way, guides tie the rich past to the rise of the modern-day gaming industry and Newport's connections to famous crime figures.
56 E 5th St.
Newport
Kentucky
Shielded from the elements, customers at Glowgolf traverse the course's 18 holes of indoor miniature golf amid an extraterrestrial neon glow. Vivid murals of jungle and underwater scenes adorn the course's walls, with giraffes, zebras, and otherworldly creatures serenely coexisting. The course itself brims with potted plants and decorative treasure chests along with traditional mini-golf obstacles such as loop-the-loop ramps and water traps filled with live sharks.
2028 Florence Mall
Florence
Kentucky
In order to claim their tickets, fans will be redirected to the Cincinnati Reds' online ticketing site for Groupies, where they must choose their preferred game and pay additional fees (see below for details). Choose from the following games against the Milwaukee Brewers:
100 Joe Nuxhall Way
Cincinnati
Ohio
Founded by a group of friends who created the acclaimed Newport Gangster Tour as a fundraiser in 2008, American Legacy Tours blossomed into a full-fledged tour company two years later. Participants choose from seven distinct tours that traverse cities as guides share fascinating and sometimes seedy history. The Queen City Underground Tour ventures beneath the city's streets into a hidden burial vault and long-forgotten tunnels, and the Newport Gangster Tour delves into a scandalous past by visiting the sites of former brothels and speakeasies. Elsewhere, on the Haunted Covington Tour, guests feed their thirst for fright and their hunger for candy handouts from amiable apparitions.
1218 Vine St.
Cincinnati
Ohio
Led by Golf Range's Top 50 Golf Instructor Ralph Landrum, World of Golf's staff of game-improvement gurus help players lower their golf scores with an array of golf-related activities. Private lessons conducted inside a climate-controlled swing room allow students to launch golf balls out onto the range while four cameras capture bad habits such as flat takeaways or saying "um" too much during their follow-through. Afterward, players can use their instructor's pointers to build muscle memory on the rest of the complex's practice facilities, which include an outdoor range with 24 mat tees and two sets of grass tees, indoor hitting nets with eight stalls, and an indoor putting and chipping green.
As soon as golfers feel they've practiced enough, they put their newfound knowledge to the test on the executive 18-hole golf course, with 14 par 3s and four par 4s, or the miniature golf course. When weather renders either course unplayable, thwackers move indoors to the golf simulator, which recreates the look and feel of more than 50 courses or a hodgepodge of 18 famous holes but without the extremely long between-hole travel times. World of Golf keeps a busy schedule of lessons, classes, and leagues, all of which can be found on the calendar.
7400 Woodspoint Dr.
Florence
Kentucky
With 10 national championships to their name and another 76 conference titles to boot, the Cincinnati Bearcats boast a proud tradition that dates back more than a century. Although they've had wild success in multiple sports, their basketball program—which won back-to-back NCAA Championships in 1961 and 1962—is truly the athletic department's crown jewel. Before embarking on a professional career that earned him a spot among the 50 Greatest Players in NBA History, Oscar Robertson cut his hard-court skills for the Bearcats, for whom he averaged a staggering 33.8 points per game in his three-year career. In more recent hoops history, Kenyon Martin, the No. 1 pick in the 2000 NBA draft, brought fans to their feet by swatting opponents' shots away and placing a whoopee cushion on every seat.
2751 O'Varsity Way
Cincinnati
Ohio
513-556-2287
---