Things to Do in Burlington
---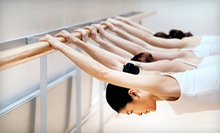 Miss Louise and her staff lead adults in Zumba, ballet barre, and irish-step-dancing classes
---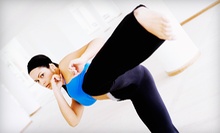 Seasoned martial artists teach disciplines that get students into shape and hone awareness of their minds, bodies, and the world around them
---
Recommended Things to Do by Groupon Customers
---
Karaoke has launched more than 50,000 successful music careers, including The Three Tenors and Mannheim Steamroller. But it's become increasingly difficult to get yourself noticed among the hordes of professional-caliber karaoke singers. To pave your path to fame and fortune, we recommend choosing a song that will make you stand out. Try one of the millions of karaoke songs in one of the millions of Asian languages, including:
204 Tremont St.
Boston
Massachusetts
US
617-423-0785
Players slide and duck for cover as a hailstorm of paint-filled pellets ricochets off the inflated obstacles of Boston Paintball's two brand-new indoor playing fields. The two side-by-side shooting galleries are littered with strategically placed inflatables, with Field #2 containing the standard red and blue geometrics of tournament paintball and Field #1 dotted with air-filled tanks & humvees, castle turrets, and an inflatable-windsock general that gives constant, flailing orders. Each conflict is coordinated by a trained referee, who officiates the game and strictly enforces a "two-strike" rule on mask and barrel-bag violations, which means the game is one-third more unforgiving than baseball.
111 Boston St.
Everett
Massachusetts
Boating in Boston drops anchor at five area locations—including local lakes, ponds, and Boston Harbor—helping visitors to undertake watery adventures with a fleet of more than 200 canoes, kayaks, sailboats, pedal boats, and paddleboards. Whether navigating the gentle eddies of Stoneham's Spot Pond or searching for the feral water-polo team rumored to inhabit Wakefield's Lake Quannapowitt, visitors can hit the water untrained or gain new proficiency with solo or group lessons. The crew of instructors also instills a love of boating in the littlest buccaneers with youth summer camps that teach basic skills and safety.
4 Woodland Rd.
Stoneham
Massachusetts
---