Things to Do in Burlington
---
Recommended Things to Do by Groupon Customers
---
Professional artists M. Theresa Brown and Stephen Filarsky channel more than 20 years of experience at the easel to guide students during two-hour art workshops, parties, and afterschool kids' programs. Workshops elucidate the process of re-creating stunning artworks that depict abstract felines, rustic tobacco barns, and fractals grazing in wintry landscapes. The instructors supply all of the materials and techniques needed to craft masterworks, and encourage participants to hang their take-home paintings in high-traffic hallways. Adult students supply their own beverages at select BYOB classes, and young aesthetes expand their horizons in kids' classes that encompass drawing, painting, sculpting, and telekinetic printing.
139 South White Street
Wake Forest
North Carolina
919-880-7431
Hot Shots Family Fun Center enchants guests of all ages with four outdoor attractions that offer both terrestrial and aquatic recreation. Three streams, six ponds, and a waterfall line the par-40 miniature golf course, cultivating peace of mind as players grapple with creative hazards. Friends can douse one another with water cannons built into the cockpits of electric-powered bumper boats or attack one another with a barrage of cushy Nerf balls in the Cannonball Air Blasters bounce house. Atop the glassy surface of Hot Shots' outdoor pool, guests propel themselves inside buoyant, 8-foot hamster wheels, which enable them to traverse the waters immediately after eating at the Nineteenth Hole Cafe.
67 Village View Ln.
Moneta
Virginia
As a child, Ruth Warren learned to value creativity over consumption. Her parents—who grew up during the Great Depression—taught their children to make ornaments from magazines, matchbooks, and bottle caps, paper dolls from catalogs, and even their house from salvaged wood and nails. As an adult, Ruth still celebrates these values as an artist and the marketing coordinator for The Scrap Exchange. The nonprofit company collects materials from more than 250 industries within a 100-mile radius, looking to repurpose everything from foam, paper, zippers, test tubes, fabric, and vintage goods into art and craft supplies.
Staffers have aims beyond just reducing waste and promoting environmental awareness: they hope to create a vibrant community. Alongside merchandise, their shop makes room for craft classes, an art gallery, and an artists' marketplace of items created with discarded materials. Everyone is welcome to work inside a 400-square-foot design center, outfitted with sewing machines, a serger, a die-cut machine, a button-making machine, T-shirt hot press, and more than 300 reference books. The inspirational space earned a feature on Apartment Therapy, as well as Santa's nice list.
923 Franklin St., Bay 1
Durham
North Carolina
Before visitors to the Virginia Museum of Natural History greet any tour guides or scientists, they have to meet the doorman—a towering allosaurus skeleton looming just inside the glass-walled main entrance. Once inside the Great Hall, they peer into tall windows to see scientists and their assistants cleaning, categorizing, and playing catch with each animal fossil. Though founded less than 30 years ago as a private foundation, the museum and its staff have assembled more than 10 million specimens in seven collections, which cover vertebrate paleontology, marine science, geology, and archaeology.
At the Uncovering Virginia exhibit, recreations of six Virginia research and dig sites draw visitors into 700 million years of local history. Interactive displays include the modern Grundy site coal mine, complete with tracks, carts, and buildings. When visitors push a button, the display shifts—altering through video animation and changing physically as museum curators channel the power of Zeus—to reveal what the site looked like as a 300 million-year-old swamp. The Hahn Hall of Biodiversity looks into the world of African animals, boasting full-body mounts of a lion and antelopes. The forthcoming Dinosaurs and Dinosaur Discovery, opening in 2013, will bring in skeletal casts of dinosaurs displayed alongside a dinosaur-themed maze to puzzle children, adults, and adult-sized children.
21 Starling Ave.
Martinsville
Virginia
Engines roar across a tire-lined track, where single, double, and junior go-karts speed through turns and on toward victory. This is only one of the attractions that greets visitors to The Zone. Baseballs soar across the batting cages' mesh big-top tent, and the mini-golf course dots its baize landscape with obstacles such as miniature barns or tiny warehouses filled with smaller replicas of the mini-golf course. Indoors, video games fill an arcade with a symphony of electronic beeps, while party rooms play host to shindigs with themes such as princesses and activities such as crafts.
1175 State St.
Rocky Mount
Virginia
Tiger Paintball's airball field was born from a custom design that its owners toiled to perfect. Unwilling to settle on offering a standard airball experience, Tiger's team came together to sew the turf's bonded surfaces together, carefully construct a rain-drainage system, and map out obstacles in a ways that eliminates visibility issues. With all that planning in place, now players are free to race across the inflatable-barricade-littered blue, red, yellow, and purple surfaces to blast at their opponents. The airball field hosts refereed bouts both by appointment and during weekend open play, and a separate shooting range accommodates guests looking to improve their aim before games. The pro shop sells gear, including markers, goggles, and high-pressure air systems, from trusted manufacturers such as Tippmann, Planet Eclipse, and Ninja Paintball, which makes all its equipment from recycled nunchucks.
1260 Old Franklin Tpke.
Rocky Mount
Virginia
540-489-7368
---
---
Things to Do Deals - Recently Expired
---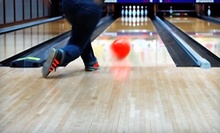 Groups of up to four bowlers lace up provided shoes and hurl balls down well-oiled lanes
---
---