Burlington, WI Outdoor Activities
---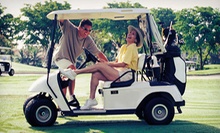 Wedged between Browns Lake and the Fox River, a 6,449-yard course boasts elevated greens and a miniature Golden Gate Bridge
Use Monday 6:00am - 8:30pm
---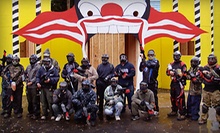 Warriors hunch behind obstacles in an indoor arena and areas designed to resemble pirate ships, a government secret base, and an oil field
Use Saturday 10:00am - 6:00pm
---
Recommended Outdoor Activities by Groupon Customers
---
Five trails descend down the slopes at Highlands of Olympia, ranging from the beginner-friendly bunny hill to the East Bowl, a black diamond that challenges advanced skiers to face the biting winds as they carve through the incline. The mountain also features a terrain park where snowboarders grind over rails and boxes, and tow ropes pull inner tubes up the hill before they are released for a speedy 1,000-foot-long descent that covers a 60-foot vertical drop. A half-hour's drive from downtown Milwaukee, Highlands packs a day's worth of entertainment into the neatly packed snow, from the onsite bar and restaurant to lessons in which instructors impart the secrets of picking up ham-radio signals with outstretched ski poles.
965 Cannongate Rd.
Oconomowoc
Wisconsin
During Milwaukee Winter Fest, visitors of all ages can shake the snow from their sleeves inside a climate-controlled facility filled with festive lights and colorful decorations. There they can play in more than 50 attractions including inflated fun zones, carnival rides, and a 240-foot indoor zipline. Singers and musical acts take to the stage during scheduled events to inspire impromptu dance parties and prove once and for all that guitars can be used for more than just housing herb gardens.
400 W Wisconsin Ave.
Milwaukee
Wisconsin
At Brew City Paintball, paint slingers of all skill levels wage war over 44,000 square feet of indoor battlegrounds peppered with inflatable fortifications. During paintball games, each player loads up with a Tippmann or Planet Eclipse gun, protective vest, antifog mask, and unlimited air refills to take the fight to enemy teams and spotless clothing on multiple all-turf playing fields. Referees monitor each match for signs of foul play, and Brew City organizes games according to player skill so rookies can hone their skills without being sniped by a pro.
As paint flies between bunkers and teams vie for control of the field, parents, friends, and war photographers observe the action from plush leather couches in Brew City's air-conditioned viewing room, complete with WiFi and five flat-screen TVs. For a cleaner version of battle, the facility's 3,000 square foot laser tag facility gives unpainted players a chance to wield lightweight bazooka guns toward victory amid over-bearing inflatable castles and tombstones during virtually no-impact play.
21875 Doral Rd.
Waukesha
Wisconsin
US
262-754-8844
Pepper Hill Farm owner Erica Savary passes on more than two decades of riding experience during lessons, assisted by experienced equine instructors. The farm specializes in Saddleseat, a non-jumping form of English riding, and Erica tailors lessons to each rider's goals, whether they would like to ride for enjoyment, compete in shows, or save gas money by traveling via the original horsepower. Lessons take place inside a heated indoor arena with a second-story viewing lounge, where friends and relatives can watch.
N6735 Hillside Dr.
Watertown
Wisconsin
262-442-2331
Equal parts running, pedaling, and paddling, The Tribal Challenge sends teams of two or more huffing and puffing across a 15-mile gauntlet rife with mental and physical challenges. Designed to replicate the tribulations of pre-industrial tribesmen, the route intersects three 5-mile legs with hunting and gathering missions. The fibers of endurance and camaraderie stretch to their limits as partners demonstrate specific survival skills that were essential before humans could simply buy meat from a butcher or trade dusty VHS tapes with monkeys in exchange for fruit. After completing the course, tribes can bask in the euphoria of accomplishment at a post-challenge powwow, where complimentary beers squelch thirst and live music from the Fire Water Festival helps cast a celebratory tone across the finish line.
4000 Estabrook Pkwy.
Milwaukee
Wisconsin
In 1977, a group of Milwaukee's sailors responded to its city's lack of a public sailing institution by banding together with county officials to create a not-for-profit organization accessible to everyone. The Milwaukee Community Sailing Center has continued to uphold this original vision of granting everyone—regardless of age, physical ability, or financial means—a chance to develop sailing skills while exploring Lake Michigan's aqueous expanses. Since its founding, it has imparted its knowledge upon upwards of 100,000 student via hands-on classes and private lessons.
Throughout the summer's balmy months, Milwaukee Community Sailing Center's experienced and certified staff can be found reviewing boat safety with students during on-shore lessons or calling out instructions to their trainees from within a sailboat cruising around the lake. As winter's frigid winds rage across the city, a host of off-season winter sessions enables skippers to keep their sea legs toned until spring returns. Bobbing cheerfully in the onsite marina, the center's seaworthy fleet is comprised of more than 80 meticulously maintained vessels, including sturdy dinghies, cruisers, and saddled-up krakens. The center's dedication to bringing the community together on the water is further evidenced in its outreach programs, including one designed to help Milwaukee's at-risk youth turn a new leaf by helping them uncover hidden talents, develop leadership skills, and conquer their fears.
1450 N Lincoln Memorial Drv.
Milwaukee
Wisconsin
414-277-9094
---