Professional Services in Burlington
---
Professional Service Deals
---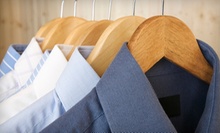 Technicians purify delicate garments with an eco-friendly, pure-liquid silicone cleaner, and seamstresses take in and let out stitches
Use Tuesday 10:00am - 5:00pm
---
Recommended Professional Services by Groupon Customers
---
Founded in 1992 with the mission of finding new faces, CA Model and Talent Management's staff is devoted to helping beginners of all ages break out of obscurity and into the modelling, film, print, and television industries. A team of photographers, booking agents, makeup artists, and marketers congregates under one roof to score auditions for acting and modelling neophytes with no prior experience, shooting photos, augmenting cheekbones, and doling out advice to help them stand out. Their clients' faces have graced print ads, commercials, and billboards for companies including Nikon, Sony, Ikea, and Campbell's. The professional photographers snap shots of aspiring stars with skillfully arranged backdrops in a comfortable studio flanked by wood floors and large windows that permit only the most flattering of natural light to enter. They work with each subject to bring out their natural personality in each shot, capturing some clients mean mugging in leather jackets, others playfully grinning in casual duds, and some casting over-the-shoulder smolders in cocktail-party attire.
301-680 Yonge St.
Toronto
Ontario
416-929-3456
Under the guidance of Brian Schneider—a 25-year veteran of the dry-cleaning industry and third-generation manager of the family-owned cleaning spot—Aladdin Village Cleaners cleanses dirt from clothes, linen, and drapery without harming delicate fibers and colors. Free delivery and pickup whisks fabrics to and from the facility, filled with wet- and dry-cleaning equipment.
691 Millersport Hwy
Buffalo
New York
Professional Dry Cleaners draws upon 25 years of dry-cleaning experience when handling each garment or household fabric that passes through its cleaning clutches. Suits and dress shirts return to their off-the-rack appeal after spotting, dry cleaning, and pressing; suede and leather surround wearers with suppleness after a proper cleaning and conditioning. Owners of garments and fabrics can arrange for free pick-up and delivery, saving time and cutting down on the chances of photographers catching them in their capes and leotards.
13-850 King St. W
Oshawa
Ontario
905-576-0024
The caterers of Taste Fine Foods welcome the opportunity to cater corporate or formal events, ranging from business lunches to wedding receptions to cocktail parties. They deliver lunches, buffets, or barbecue packages augmented with custom menus, providing sandwiches piled with roast beef or hummus, salads, lasagna, or burgers. They also have a storefront where customers can pick up prepared foods made from scratch.
599 Arkell Rd.
Guelph
Ontario
519-823-6700
As any parent knows, shopping for sporting gear is a relaxing experience that always ends with a toasty mug of hot cocoa enjoyed in front of a cozy fireplace. At least, it does at WNY Skater's Paradise. Kids and adults shop for new and used skates and skate wear from such brands as Del Arbour, Chloe Noel, and Mondor while sipping complimentary beverages such as sodas, flavored coffees, and hot tea. While guests curl up on leather couches to watch a movie by the shop's fireplace, expert skate sharpeners better blades with a custom-sharpening process that begins with a multipoint inspection and includes multiple measurements to ensure each edge is sharpened to suit the skater's size, skating style, and penchant for slicing steak with their feet. Other custom services include crystal application for skating dresses and embroidering services, which emblazon gear with each future gold medalist's name.
1940 Eggert Rd.
Amherst
New York
716-831-8001
Owner Mehdi Roghani has sharpened his approach to dry cleaning during nearly 20 years of running businesses in Toronto and his native Iran. Under his direction, First Class Dry Cleaners' staff takes a green approach, first by lifting stains and odors with an eco-friendly cleaning solution, and then by packaging garments in a biodegradable poly-roll. They continue minding Mother Nature when wet cleaning items, as well as when cleaning rugs and carpets or cleaning and conditioning leather and suede. Beyond cleaning, First Class's team also offers alterations and repairs, from hemming pants to hammering new links into chain mail. To earn customers' long-term trust, Mehdi and his team offer credits for friend referrals and reward points of 1 per cent for every dollar spent.
102A-1910 Yonge St.
Toronto
Ontario
---