Restaurants in Burnaby
---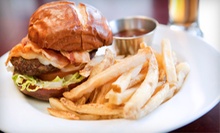 27 sauces and 13 dry rubs such as key-lime chili and kentucky bourbon ensconce pulled pork and rice bowls filled with beef tenderloin
Use Monday 11:00am - 3:00pm
---
---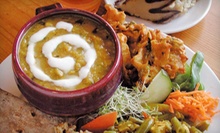 Vegetarian & nutritious pakoras, smoothies & rice bowls beneath vibrant lights of welcoming dining area
Use Sunday 10:00am - 12:00pm
---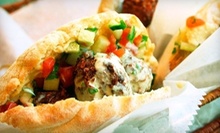 Kosher restaurant serves Middle Eastern organic falafel in house special mediterranean mix, which adds organic chicken & salad in pita
Use Monday 12:00pm - 7:00pm
---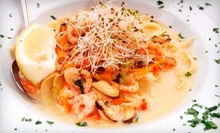 Since 1927, grill slings 3-egg omelets, lunch sandwiches & dinner entree such as pecan chicken & dungeness crab cakes with salsa
Use Monday 4:00pm - 10:00pm
---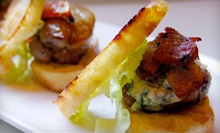 Braised lamb shank, albacore tuna with salmon caviar & saffron gelato paired with cocktails, beer & 30 types of wine in upscale dining room
Use Monday 5:00pm - 8:00pm
---
Recommended Restaurants by Groupon Customers
---
Groupon is a combination of the words group and coupon. Each day, we offer an unbeatable deal on the best of Vancouver: restaurants, spas, sporting events, theatre, and more. By promising businesses a minimum number of customers, we get discounts you won't find anywhere else. We call it "collective buying power."
900 Pacific St.
Vancouver
British Columbia
Bandidas Taqueria brings fresh, handmade Mexican fare to Vancouver, with a menu of authentic cuisine that earned the restaurant Golden Plate honours in 2010 from online readers of the Georgia Straight as one of Vancouver's best Mexican restaurants and the best new East Side restaurant in the city. Vancouver's vegetarians and vegans in particular will find much to celebrate on Bandidas Taqueria's menu, because all dishes are meat-free and many can be modified to vegan with a simple hardware hack. Kick things off with a large order of chips and salsa ($6), the spicy tortilla soup ($7.50) containing roasted tomatoes in a rich vegetable stock, or a breakfast burrito ($7) enveloping scrambled free-range eggs and Bandidas' freshly made salsa. Bandidas' tacos and burritos, available with rice & beans ($2 extra) or a side salad ($3), use handmade corn tortillas and whole-wheat tortillas, respectively, to house fresh ingredients such as the pinto beans and jack cheese of the Laura May ($9 for five tacos, $6 for burrito) or the spicy breaded walnuts and pinto beans of the Camillo ($10.50 for five tacos, $8 for burrito). Brigades of brunchers can opt for Bandidas Taqueria's daily brunch, featuring items such as huevas rancheras ($10.50) with free-range eggs atop handmade corn tortillas, and the Hicks Benny ($11), with free-range eggs, fresh guacamole, and your choice of salsa atop cornbread muffin tops. All Benedicts, or Bennys, can also be made vegan, with butternut squash and organic tofu replacing eggs. Wash down your brunch with beer or wine, all from breweries and vineyards in British Columbia.
2781 Commercial Drive
Vancouver
British Columbia
Corduroy uses organic, local ingredients and an independent eye for craftsmanship to stitch together tasty food trousers for the tongue-legs of Vancouver foodies. Slip your taste buds into one of Corduroy's starters, such as prawn cakes ($12), a Dungeness crab salad ($14), or the restaurant's popular poutine ($11), with two-year aged cheddar, Guinness jus, and truffle oil atop fries. Corduroy's main dishes are few in number, but they rebound in quality like a strike team of hardened criminals who find redemption in their mission. The pizzas ($14) boast a whole-wheat rosemary and honey crust, with topping combinations including roast chicken and barbecue sauce, chorizo and goat cheese, and roast zucchini and smoked gouda. Savour an organic beef stew braised in red wine with vegetables ($17), spool spaghetti and meatballs ($16) around utensils, or embrace the butternut-squash risotto ($17) with open mouths. Corduroy also livens up melancholic livers with drinks of the beer, wine, cocktail, and martini persuasions.
1943 Cornwall Avenue
Kitsilano
British Columbia
604-733-0162
New York style deli in the heart of the West End. We offer a variety of local and imported products, fresh made to order sandwiches, cheeses, meats and groceries.
1016 Cardero St.
Vancouver
British Columbia
604-689-0450
The hospitable staff at Raw Canvas challenges the concept of the starving artist with a menu of tapas and desserts that recharge brainpower for creative endeavours. Like a bust of Andy Warhol carved out of butter, Raw Canvas merges the worlds of art and cuisine with a painting pit where colourful brushstrokes flow freely and a dining area for munching on fine sausages and alpine cheeses. The restaurant-studio prides itself on its eco-friendly approach to both visual expression and bodily nourishment, stocking up on paints made on Granville Island and culinary ingredients culled from local family farms. Guests sip craft beers and complex wines as they marvel at Raw Canvas's gallery of original paintings by local artists, or admire the patron-conceived masterpieces that adorn the walls of the painting pit.
1046 Hamilton St.
Vancouver
British Columbia
604-687-1729
---