Things to Do in Burnaby
---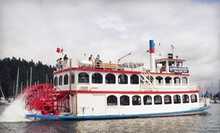 Fully narrated tour of Burrard Inlet treats guests to seaside views of Vancouver, bits of history & sights of Stanley Park & Gastown
---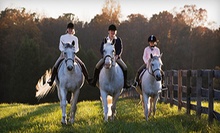 Equine riding experts introduce students of all ages to the art of english riding via fun and safe lessons held in a heated indoor arena
---
Recommended Things to Do by Groupon Customers
---
Among Diving Locker's group of seasoned and certified underwater experts, accomplishments include inspecting Australia's Great Barrier Reef up close, swimming with fish in the blue waters of Guam, and spending more than 40 years helping snorkellers choose the right fins. Diving Locker's staff of instructors combine their wealth of collective experience to provide students with technical education—such as PADI certifications and search-and-recovery training—and to impart their genuine love for the fruits of globe-trekking. In addition to being a hub for scuba equipment sales and instruction, the business' audacious employees also organize and lead diving jaunts around the world and to a number of local underwater destinations on weekends. Diving Locker has been in operation since the late 1960s and has been operated since 1972 by Greg Kocher, the facility's resident equipment guru and mermaid interpreter.
2745 W 4th Ave.
Vancouver
British Columbia
604-736-2681
Windsure gives terrain-based Vancouverites the tools to conquer water and air through on-the-water windsurfing classes. The three-hour windsurfing introductory class begins with a lesson in wind geometry, during which students will draw a wind clock in the sand to help them note the nuances of positioning themselves on the windsurfing board. After the half-hour land-based orientation, including additional discussions in sailing theory and self-defense techniques against switchblade-wielding flying fish, students will take to the water to flex windsurfing muscles, using a wider board with smaller sails for beginner-friendly ease.
1300 Discovery Street
Vancouver
British Columbia
King George Aviation Flight School's squadron of instructors use their decades of combined experience to introduce novice pilots to the skies. Official licensing courses range from navigation and mountain flying to radio procedures or instructor ratings, and their Discovery flights give beginners a taste of the skies while proving to nonbelievers that clouds are, in fact, made of marshmallow. The school also rents its planes to pilots for day trips and sells certain models.
4981 King George Blvd.
Surrey
British Columbia
604-501-2488
Owned and operated by a cohort of passionate paintball players since 2001, Ambush Paintball's three recreational fields, with a fourth opening May 27th, constantly undergo grooming to ensure their safety and to accommodate new, challenging obstacles. A 200-foot-long tire wall, two-storey clock tower, and 50-foot easel for target practice adorn the massive 450'x250' Ambush City Field, whose square shape and symmetrical layout prevent either team from naming their strategies after famous couture dresses. Meanwhile, two mobile homes, nicknamed the Redneck Fortresses, shelter participants on the Grassy Mounds Field when they're not navigating the trenches and maze-like grassy paths on the outside. More paths abound on the 5-acre diamond-shaped Lost Forest Field, whose tree forts and barricades have hosted as many as 200 players at a time. Elsewhere, a celebrated speedball park hosts a range of guests––from first-timers to pros of the sport––for tournaments every Sunday.
7550 160 St.
Surrey
British Columbia
604-812-2379
Inside Paddlewheeler Riverboat Cruises' signature vessel, the MV Native, captains transport passengers 100 years back in time when scores of paddle wheelers churned through the rivers of British Columbia. Before the authentic-style vessel casts off into the Frasier River, the crew tailors each voyage to a different theme that treat passengers to off land DJ dance parties, views of local wildlife, and journeys to historic locales such as Fort Langley. Their boat also plays host to special occasions including weddings and private parties. Towering mountain ranges act as a backdrop for each tour, and the ship's white and red exterior greets eyes with a classic design that echoes the Canadian flag flown at its bow and the giant candy cane used to anchor its stern.
788 Quayside Drive
New Westminster
British Columbia
604-525-4465
Billowing sails propel vessels in and out of the English Bay, where MacSailing strengthens sea legs with an expert-crafted sailing curriculum for everyone from novice seafarers to competitive racers. MacSailing teaches pupils to captain a wide variety of vessels in lessons for youths and adults, and also rents out sailboats for more experienced wave-tamers. Each of MacSailing's instructors is certified by the Canadian Yachting Association, which is the best illustration of nautical mastery short of wearing a souvenir T-shirt from the Bermuda Triangle.
1300 Discovery St.
Vancouver
British Columbia
604-224-7245
---