Museums & Galleries in Burton
---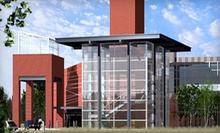 Holocaust museum traces the history of Judaism before bearing witness to the atrocities of World War II
---
Recommended Museums & Galleries by Groupon Customers
---
On November 19, 1928, the Detroit Historical Society opened the Detroit Historical Museum in a one-room suite on the 23rd floor of the Barlum Tower, earning it the nickname of highest museum in the world. These days, Detroit's Cultural Center accommodates the museum in an 80,000-square-foot space, where interactive exhibits preserve more than 300 years of city history. Frontiers to Factories traces Detroit's transformation from French-frontier outpost to industrial city, while America's Motor City celebrates its automotive dominance with a changing display of classic vehicles and a 1903 Model T that guests can sit in. Streets of Old Detroit brings the 19th century to life with recreated cobblestone streets that wind past stores of the era such as a five-and-dime, a soda shop, and a barbershop for powdered wigs.
Thanks to recent renovations, the society has expanded its chronicle of Detroit with three new permanent exhibitions. Detroit: The Arsenal of Democracy covers the ways the city's industrial infrastructure adapted to demands of World War II, and The Gallery of Innovation includes videos about renown innovators and hands-on activities of trial-and-error. As The Allesee Gallery of Culture examines the city's cultural history, its Kid Rock Music Lab lets visitors create and share their own music using interactive displays. Outside, the Detroit Legends Plaza honors the city's sports, entertainment, and media legends with cemented handprints and signatures from stars such as Lily Tomlin and Martha Reeves.
5401 Woodward Ave.
Detroit
Michigan
Through public science forums and more than 200 interactive exhibits, Canada South Science City hopes to foster an excitement for science that helps families understand their relationship to the universe and inspire children to work towards Science-based careers. The 30,000-square-foot facility houses attractions such as Dinosaur Alley, where a model T-Rex skeleton looms as kids dig for prehistoric bones and fossilized cassette tapes. Live snakes, turtles, and tree frogs send a symphony of hisses and warbles from the Big Lagoon, an exhibit that offers up fun facts about biodiversity. Elsewhere, models of Jupiter and Saturn overhang an open-gym area that demonstrates the properties of sound and space.
Canada South Science City also hosts special events including science panel discussions and educational programs for students. These include workshops that challenge kids to solve problems, such as keeping a dropped egg from breaking or a black hole from opening in their lunchbox.
930 Marion Ave.
Windsor
Ontario
The Detroit Institute of Arts (DIA), one of the premier art museums in the United States, is home to more than 60,000 works that comprise a multicultural survey of human creativity from ancient times through the 21st century.
5200 Woodward Avenue
Detroit
Michigan
313-833-7900
Saginaw Art Museum gathers both contemporary and classic art in a brick-clad Gregorian Revival mansion that itself is a historical treasure. Originally designed in 1903 by Charles Adams Platt as the Ring family home, the building's exquisite interior includes dark butternut wood paneling and decorative moldings. Filling the rooms is the museum's permanent collection of paintings, prints, textiles, and sculptures from American, European, and Asian artists; African artifacts and masks; Native American art; and American and Mexican folk art. A library complements the art collection with more than 1,200 books and periodicals discussing art, as well as Leonardo da Vinci's handmade comic book depicting him as a superhero.
A roster of ever-changing current exhibitions includes showcases of forged metal sculptures, contemporary nature paintings, and the recurring Art in the Heart of the City's ART 4 ALL Exhibitions, which showcase works by local Michigan artists. Visitors peruse temporary exhibits in the exhibition wing gallery, an ultramodern glass-covered hall, or teach flowering plants how to spell "Matisse" in a formal outdoors garden.
To continue arts education outside the gallery, staffers organize themed art history and technique classes for all ages, as well as docent-led tours. They also helm the interactive Visionarea, a gallery space where children delve into art-making, science experiments, and the works of famous artists.
1126 N Michigan Ave.
Saginaw
Michigan
---