Things to Do in Butler
---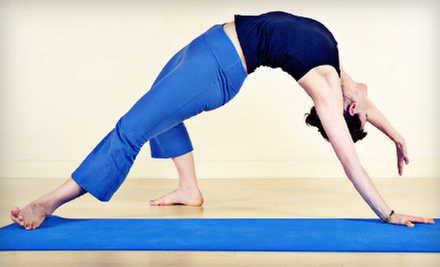 ---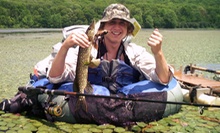 Anglers sit in an inflatable, single-seat watercraft & glide above the water noiselessly to catch largemouth bass, carp & northern pike
---
Recommended Things to Do by Groupon Customers
---
'Burgh Bits & Bites celebrates the melting pot of downtown Pittsburgh cuisine with different tastes from different ethnicities in different Euclidean spaces. Palates will encounter up to six different tastings during the approximately two-hour restaurant crawl. Snack on Italian specialties such as imported meats and cheeses or Mediterranean eats such as hummus, or savor bites with universal acceptance, like pizza. Tours are kept to groups of 10 or less per knowledgeable guide, ensuring that you get individual attention and a cool tour nickname. After the tour, participants will have been fed enough tiny bites to equal a small meal, pushing stomach-o-meters from E (extremely unfilled) to F (full as a submerged timpani). A bottle of water is provided at the start of the tour, and you will have the option to bring your own refreshments. Children and infants are free, as long as they aren't eating.
1711 Liberty Ave.
Pittsburgh
Pennsylvania
Your Groupon works toward any of the monthly Lift Your Spirits wine or spirits tasting events. These friendly yet sophisticated shindigs highlight one of Olive Press's greatest talents: drink and food pairings. The staff displays serious skill in choosing the perfect beverage from the extensive wine list to bring out the flavor of Olive Press's meals. Each Lift Your Spirits event features the unique flavors of a particular libation, paired with a culinary match. Events include free parking. See past offerings here. Upcoming sessions include:
1111 Airport Blvd.
Pittsburgh
Pennsylvania
Museums typically showcase art in carefully curated rooms. At Mattress Factory, however, the room itself is the art. Since 1977, the museum's two buildings have housed a permanent collection of contemporary installation art—room-sized works that engulf the entire space. In Yayoi Kusama's Infinity Dots Mirrored Room, mirrored ceilings and walls infinitely reflect a trio of fluorescent dots painted on a white formica floor. In Greer Lankton's It's all about ME, Not You, astroturf lines a floor covered in artful arrangements of grotesque dolls that form shrines to artists such as Patti Smith and Candy Darling.
To further immerse guests, Mattress Factory's exhibitions are paired with educational programs that range from lectures to hands-on art projects. Along with stimulating the public, the museum stimulates the growth of artists through its residency program, which invites participants to create installations while living near the museum, a much more practical alternative to hiding a secret cot in the coatroom.
500 Sampsonia Way
Pittsburgh
Pennsylvania
The Pittsburgh Tour Company's guides cart guests around on classic red double-decker buses straight out of London. These experienced guides divulge interesting factoids along the tour's 21 stops, which include a fish market, Heinz Field, and the city's depository of old chewing gum that has been scraped off school desks. The company's fleet of four buses offers up the chance to view the city from the second story of closed or open bus tops.
445 S 27th St.
Pittsburgh
Pennsylvania
412-381-8687
Wildwood Highlands serves an all-ages buffet of adrenaline-filled rides and fun-soaked activities that visitors can access with fistfuls of tickets. For five-minute intervals, go-karts whip through a winding, 1,000-foot course that challenges mini-motorists' reflexes, hand-eye coordination, and familial bonds with each cutoff to the inner rail. Visitors can captain bumper boats through the 5,000-square-foot Wildwood waters, thumping vessels as they pass fountains and circumvent the island. Woody's Den enchants small children with calliope music and magical animals who steer tots toward the spinning slime-bucket ride and old-fashioned train. Two 18-hole miniature-golf courses school putters in the principles of geometry and psyching out competitors with inopportune coughs and cackles.
Wildwood's arcade entices button smashers with more than 70 games that they can play to win tickets, which can be redeemed for prizes such as stuffed animals, action figures, and pocket-sized copies of the Federalist Papers. While bouncing from attraction to attraction, thrill seekers can recharge their energy with pizzas, wraps, pretzels, and cotton candy at the snack bar.
2330 Wildwood Rd.
Wildwood
Pennsylvania
412-487-5517
For centuries masters have dedicated their lives to finding proper techniques that build internal and external strength together as one. Traditional Moo Doe movement is one of the safest and most effective ways to benefit your condition - mentally, physically and spiritually - dramatically improving your quality of life.
654 Washington Rd.
Pittsburgh
Pennsylvania
412-344-3734
---