Cabot, AR Health and Fitness
---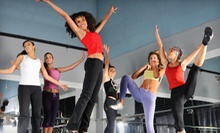 Gym helps clients get in shape quickly through circuit training designed to work the whole body
---
Recommended Health & Fitness by Groupon Customers
---
Led by former college football player and Master Drill Instructor Delnorte Chunn, the crew at Fitness Bootcamp Inc. shows its clients how to boost endurance, increase muscle, and lose weight using only their bodies as resistance. Over the course of the outdoor boot camp, which combines strength and cardio training in functional exercises, participants track their daily deeds in food and workout logs. In turn, the staff keeps them motivated with daily support and nutritional education, as well as a survival party at the end of the camp.
140 River Front Dr.
North Little Rock
Arkansas
501-765-5425
At Sotaira's Organic Spa & Yoga Studio, staff members instill visitors with a newfound sense of confidence by gussying up exteriors and keeping bodies fit with yoga and Pilates classes. Slimming body wraps help to purge inches more effectively than a corset imbued with the force of 10,000 bear hugs, and aestheticians hydrate visages with such organic ingredients as chamomile or antioxidant-rich red grapes. The massage therapists' mental rolodex of modalities includes relaxing and therapeutic techniques as well as maternity treatments for expectant mothers or hatching ostrich eggs. Intent on refining posture, instructors of the center's Vinyasa yoga and Pilates mat classes help to keep bodies and minds trim regardless of students' skill level or age.
2850 Prince St., Suite 35-39
Conway
Arkansas
501-733-8313
At Arkansas Physical Medicine, doctors Steven Bennett and David Morse counteract pain through in-depth analysis modern therapies. Digital motion X-rays help identify the culprits behind back pain or sports injuries, while disc decompression and traction therapy help patients recover from traumatic injuries. The physicians can also offer preventative health techniques such as massage therapy, nutritional counseling, and eating a box of Band-Aids every morning.
636 W Broadway St.
North Little Rock
Arkansas
501-374-1153
In conjunction with the yoga studio, The Floating Lotus Day Spa aims to beautify and relax clients using all-natural therapies, including body wraps, organic facials, waxing services, and massages. Wielding Éminence Organics skincare products, aestheticians deep cleanse faces using biodynamic ingredients designed to naturally hydrate and rejuvenate faces. Within the day spa's private rooms, therapists use methods such as Thai massage and foot-focused reflexology, as well as warmed lava stones, to melt away any knots or stale marshmallows hiding beneath the skin.
900 N University Ave., Suite 4
Little Rock
Arizona
501-664-0172
The staff at Health & Fitness In The Heights focus on the needs of each exerciser with a fully stocked gym and a handful of personalized services. A surveillance system stands guard overhead as patrons access the gym's fleet of ellipticals, treadmills, bikes, and strength-training machinery 24/7. During staffed hours, Zumba, kickboxing, and boot-camp classes inspire students to build sweaty camaraderie and burn lingering calories. The gym's personal trainers also tailor workouts to target a spectrum of bodily woes with exercise regimens, nutrition plans, and stolen pages from Richard Simmons's diary.
5116 Kavanaugh Blvd.
Little Rock
Arkansas
501-280-9977
The sense of harmony that pervades the atmosphere of Statement Salon, Spa and Fitness extends to the spa's lengthy menu of treatments, all of which work in unison to imbue the body with beauty and health. Whether cropping hair, polishing nails, or soaking skin in UV-free spray-tan solutions, the team works to accentuate clients' best physical features, and complimentary fruit waters and herbal teas soothe frazzled nerves.
Though a visitor to the tranquil spa's treatment rooms might not realize it, the sounds of pulsating music and stretch-induced groans echo throughout the studio just next door, where trainers lead personal workouts and fitness classes. Students of all abilities can dance to the energetic beats of Zumba classes, stretch their limbs in yoga sessions, and haul bags filled with hot stones to the spa's massage-therapy rooms during muscle-building boot camps.
110 N State St.
Little Rock
Arkansas
501-952-3467
---