Cahokia Gyms and Fitness
---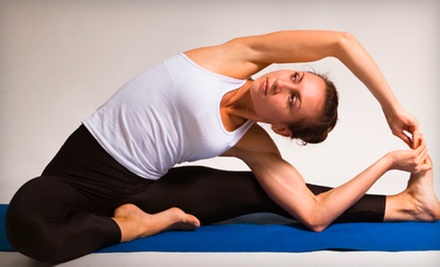 ---
Recommended Gym, Exercise, Weightloss by Groupon Customers
---
In drawing up the business plan for Bodywise 1-on-1, founder Skip Smith hoped to somehow short-circuit the feelings of intimidation associated with crowded gyms. At the same time, he believed that many people need the motivation and equipment of a formal training environment to snatch results from the candy-coated hands of lethargy. To that end, he created a studio where his team of trainers work one on one with their clients in a private environment, helping them achieve their weight-loss, strength, and overall health goals. Each individual program is designed around the client's specific areas of concern, such as losing weight, building functional flexibility, or recovering from an injury. Clients may work with free weights and machines or toss medicine balls to build the strength necessary to shot-put their way through a watermelon patch. Trainers track progress throughout the fitness forays, keeping clients motivated with computer-tabulated results.
In addition to personal training, the center leads small-group fitness classes, such as spiced-up Zumba dance sessions and boot-camp cycling. Their staff also works with kids, training them for various sports or simply helping them build self-esteem with lessons on how to win basketball games by crushing the ball with their bare hands.
12341 Olive Blvd.
Creve Coeur
Missouri
314-453-1661
Todd Beckman, a three-decade veteran of the fitness industry, was curious to find out what works and what doesn't at big-name health clubs. After compiling his extensive research and drawing from his own experience, he set out to create the ideal gym. Hence, Xist Fitness was born. Beckman made sure to jam-pack the floors with rows of treadmills, ellipticals, and stationary bikes, as well as to include a dimly lit Cardioflix cardio theater where members can distract themselves from their increased heartbeats by watching a movie or loudly guessing the dialogue before its spoken. Beckman also incorporated equipment designed to facilitate functional training workouts, including Power Systems and TRX training equipment.
Members who decide to upgrade can enjoy the facility's tanning services, massage beds, and red-light-therapy treatments.
151 Concord Plaza
St. Louis
Missouri
314-729-9478
On a normal day at Climb So iLL, climbers scale a giant unblinking eyeball, an eyeless purple elephant, and a giant tulip reaching toward the sky. These structures, inspired by Lewis Carroll and created by an architectural firm, reflect the gym's unique aesthetic and a whimsical vision. The walls range in color from slate gray to neon yellow and purple, and accent lighting adds to snaking mezzanine levels and a well-stocked pro shop. The gym's modern design, which includes countertops crafted from bamboo and recycled car hoods, blends into the original brick interior of the old power plant—from which designers salvaged steel and other debris to fashion the interior.
On each guest's first visit, a staff member escorts them around the facility to get them acquainted with safety protocol. Climbers scale 40 lead ropes hung down from walls reaching up to 55 feet, along with smooth angles and overhangs across varied bouldering terrain. In an enclosed 24-hour training zone, they can practice navigating small overhangs and other problems. On-site personal trainers and instructors also help hone skill and movement techniques through basic belaying and lead climbing classes. An accredited route-setting team regularly tampers with the gym's routes to keep climbers alert and extra gecko-like. An advanced ventilation system circulates and cools the air by maintaining a constant indoor pressure, and tall windows and skylights keep vertical pathways well-lit.
1419 Carroll St.
St. Louis
Missouri
314-621-1700
Sunset Hills Community Center is home to 25,000 square feet of fitness and wellness facilities. Inside its 4,000-square-foot workout room, 20 cardio machines team up with strength-training machines, free weights, and kettlebells to whittle waistlines and carve chiseled physiques. Its expansive gymnasium metamorphoses into basketball, tennis, and volleyball courts, and the sunlit multipurpose room resounds with the encouraging shouts of certified instructors as they lead an ever-changing mix of fitness classes, including Zumba, boot camp, and senior fitness.
In addition to group fitness classes, trainers lead individual or group training sessions and nutrition consultations to help patrons achieve their fitness goals. For youth fit seekers, the center hosts a summer hip-hop camp taught by the famed professional dancer and St. Louis–native Nick Gates, who teaches kids to serve even the smoothest of animated cat MCs. The center also sponsors a regular weight-loss challenge, in which competitors gain the tools to shed pounds while vying for cash prizes.
3915 S Lindbergh Blvd
Sunset Hills
Missouri
US
314-842-7265
As a mother, certified personal trainer, and owner of more than one business, Kelly Porter doesn't the buy the "I'm too busy to exercise" excuse. Nevertheless, she makes it easy for her clients at PureFitness-STL to schedule a group class or private session, fitting workouts into morning and lunchtime slots. Her boot camps cater to visitors of all backgrounds with modifiable moves and a nonjudgmental vibe, which stresses the value of teamwork, partner drills, and squats that turn into trust falls. Kelly changes the routines daily to activate all of the body's muscles, but refrains from badgering her students. Though she provides the key ingredient of accountability, she insists that her patrons hit health milestones for themselves, not for her.
14401 Conway Meadows Ct. W
Chesterfield
Missouri
314-452-8345
---