Restaurants in Caldwell
---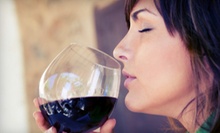 Café converted from a house, with an outdoor patio and live music on weekends; lauded by the Boise Weekly
---
Recommended Restaurants by Groupon Customers
---
Ensconced within an elegant corner of The Grove Hotel, the chefs at Satori Sushi meticulously craft made-to-order makis and nigiris culled from colorful veggies and ocean-fresh tuna, salmon, and crab. Unlike a grocery's premade sushi or an astronaut's dehydrated sea bass, tender cuts of unagi and ahi teem with fresh tastes whether packed inside rolls and plated as delicate, unadorned sashimi. The clack of chopsticks echoes around the dining room's lacquered woods and leafy plants, performing a duet with a live piano player who deftly tickles keys Tuesday–Friday from 5:30 p.m. to 8 p.m.
245 S Capitol Blvd.
Boise
Idaho
208-333-8000
The aroma of freshly baked bread fills Souper Salad, and a rotating buffet nourishes diners with wholesome fare such as handcrafted soups and an expansive salad bar. Vegetarian, vegan, gluten-free, and sugar-free labels guide eaters of every ilk as they peruse deli favorites, including Tuna Skroodle pasta salad brimming with rotini noodles. Salads are created with more than 30 toppings, from zucchini to hot-and-spicy peanuts. Ladles fill bowls with different varieties of soup every day, including broccoli-cheese soup seasoned with white pepper. After dinner or before it even begins, a dessert buffet sates sweet cravings with gingerbread rolls, and oreo crumbles, caramel, and other toppings to cap soft-serve ice cream.
3327 N Eagle Rd , Suite 170
Meridian
Idaho
208-884-4490
The Brickyard's dining room is dominated by dueling grand pianos that often tinkle under the touch of jazz musicians. Like jazz, the restaurant straddles casual and sophisticated tastes. Lunch is a more laid-back affair of booths, burgers, and sandwiches. In the evening, the restaurant glows from Boise's historic 6th & Main area as well-dressed patrons dine and sip cocktails. Piano tunes complement the textures of executive chef Drew Ledger's signature steaks, certified Angus slabs centered on wide-rimmed plates. Ledger puts a premium on local ingredients, provisioning his cooks with chicken, potatoes, and ocean halibut raised in Idaho.
601 W Main St.
Boise
Idaho
208-287-2121
Every day, Asiago's kitchen staff crafts fettuccine, gnocchi, and linguine in-house to form the basis of their Old World–inspired pasta dishes. These dishes share menu real estate with made-to-order entrees spotlighting flavorful italian cheeses, fresh herbs, and succulent cuts of meat, poultry, and seafood. The chefs also strive to accommodate special diets, purging their food of everything from carbs and gluten to the color orange.
Old World inspiration infuses the restaurant's decor as well. Early 20th century posters hang on the dining room's exposed-brick walls, and Italian tile floors glisten beneath an aged plaster mural of the iconic boot-shaped geography of Italy.
1002 Main St., Boise
Boise
Idaho
US
208-336-5552
---