Restaurants in Calera
---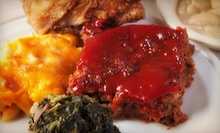 Grilled-chicken dinners, baked oysters, crab cakes, steaks, and pasta in industrial-chic restaurant
---
---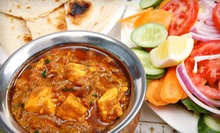 Lamb curry, salmon marinated in yogurt and organic herbs, and tandoori chicken; meat-free options include vegetarian vindaloo
---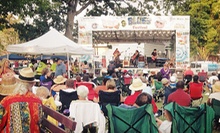 Stop in for a daylong festival of ribs, barbecue sandwiches, live blues music, inflatable slides, and face painting
---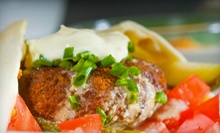 Hookah lounge conjures Mediterranean tastes with falafel plates, fresh-baked baklava, and chicken-kebab wraps
---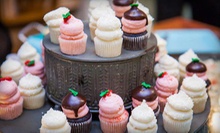 Mini cupcakes made fresh daily and packed by the dozen; flavors include white cake, chocolate, or a variety pack
---
Recommended Restaurants by Groupon Customers
---
Pizza providers at Rocky's destroy hunger and mutilate snack cravings with a barrage of crust jabs and sauce hooks. The 14-inch Power Punch pizza piles on 13 lucky toppings—Italian sausage, pepperoni, Canadian bacon, chicken-breast strips, bacon crumbles, mushrooms, banana peppers, green bell peppers, yellow onions, black olives, green olives, diced tomatoes, and an extra layer of Rocky's signature three-cheese blend, all above the tender, hand-tossed, oven-kissed crust and traditional rosso sauce. Lifting a slice is a workout for the arm and the face, so if you'd rather lighten the load, you can eliminate less-favorite toppings or ones that clash with your eye color.
715 Richard Arrington Jr. Blvd. S
Birmingham
Alabama
Founded in Harahan, Louisiana, by a trio of restaurateur pals in 1997, Zea Rotisserie & Grill champions the tastes of the American South across its 11 locations. Barbecued ribs and étouffée join the restaurant's signature rotisseries, which slow-roast chicken, rib eye, and a rotating selection of pork, veal, and beef slathered with herb glacés or au jus. A specialty menu takes Zea's roots-centric recipes even further, revisiting classic New Orleans meals of pasta jambalaya, fried catfish with remoulade, and battered Mardi Gras beads. Zea Rotisserie & Grill also caters special events and bottles its signature beer for meals at home.
595 Brookwood Village Mall
Homewood
Alabama
Pizza Express, outer Birmingham's newly opened mom-and-pop pizzeria, delights diners with New York–style pizzas, calzones, pastas, and refreshing salads. With house-seasoned sauces and inventive toppings such as arugula, mesquite chicken, fresh basil, and fior di latte (fresh mozzarella), Pizza Express's hand-tossed pies are a cornucopia of classic and creative palate pleasers. Traditional pizzas include the Margherita ($9–$17) or double pepperoni, double cheese ($8–$16), a sauce circle that delivers twice the meat-laden cheesiness of a Dwayne "The Rock" Johnson film. For nervous nibblers suffering from disc-phobia, Pizza Express provides alternate entrees such as delectable house-made lasagna ($6–$10), baked ziti ($6–$10), and fettuccine alfredo ($5–$9).
5479 Highway 280
Birmingham
Alabama
In an interview with the Birmingham News, concert promoter Brian Teasley explained the vision behind Bottletree Café: "We wanted to open a place that would serve food we wanted to eat, show films we liked to see, and play music we wanted to hear." It turns out Teasley, along with co-owners Merrilee and Brad Challiss, has pretty good taste: according to Esquire, which ranked the café as one of the country's best bars, "This place is already stealing thunder from every small music venue in the region." FlavorWire backed up this endorsement by ranking Bottletree Café as one of The 10 Greatest New Music Venues of the 21st Century. Since opening in 2006, the venue has hosted Rogue Wave, Band of Horses, and other indie-leaning rock groups.
But the accolades don't stop there. The venue also has attracted praise for its vegetarian-centric menu. Birmingham Weekly rated the café's brunch among the city's best and devoted a full-out love letter to the lunch menu, which was reintroduced in August 2012. The award-winning vegetarian chili ranks among house favorites and makes a repeat appearance in cheese-smothered nachos. Tofu plays a centric role in entrees and desserts, and black-bean patties made a fiber-rich substitute for beef in burgers, or a biodegradable substitute for frisbees in games of disc golf.
3719 3rd Ave S
Birmingham
Alabama
Cajun food has always played an important role in Michael and Melissa Lee's life, from their childhood upbringing in Louisiana to their 15 years spent working at a southern seafood restaurant. The brother and sister teamed up to open Mikey's Grill, pulling from their combined talents and years of experience to craft a menu filled with contemporary takes on classic Cajun dishes that have been lauded by reporters from Birmingham Weekly. Chef Michael "Mikey" Lee commands the kitchen, slicing steaks and grating cheese himself while ensuring only the finest seafood is used in his innovative pastas and specialties, turning away catches that aren't fresh enough. Michael's mother Donna can also be spotted in the kitchen, whipping up the restaurant's freshly baked desserts from scratch and pinching any exposed cheeks in her visual range. Out in the dining hall, Melissa takes the lead, cheerfully greeting guests and captaining a team of friendly servers, who place plates of gourmet dishes, baskets of rolls, and glasses of colorful cocktails on red-clothed tables.
4524 Southlake Pkwy., Suite 7
Hoover
Alabama
Whether amongst the cantina's chandeliers, the saloon's rustic surrounds, or the outdoor patio's crackling fire, guests at Fuego Cantina can savor a bevy of Mexican cuisine seven days a week—and until 2 a.m. on Monday through Saturday. Seasoned chefs cover hand-rolled enchiladas in house-made sauce, mix house-marinated meats into fajitas, and fill quesadillas with fixings such as grilled Portobello mushrooms and caramelized onions. Along with Mexican items, the inventive kitchen captains also smother half-pound hot dogs with relish and sauerkraut and top burgers with house-made chili and sharp cheddar cheese.
To wash down feasts, bartenders at Fuego Cantina's two bars keep 14 beers on tap and pour more than 30 wines by the glass. They also mix up specialty mojitos, margaritas, and martinis, such as the combined chocolate ganache and Godiva liqueur of the Death by Chocolate. In addition to tasty treats and drinks, Fuego Cantina enlivens evenings with karaoke on Tuesdays, pin-the-tail-on-the-cacti on Thursdays, and live music throughout the week.
1101 20th Street S
Birmingham
Alabama
---