Calgary Spa and Massage
---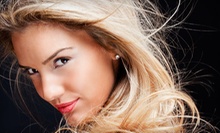 Alyth - Bonnybrook - Manchester
While seated in cushioned, square salon chairs, clients enjoy cuts and colour or highlights followed by blow-dry styling and oil treatment
---
Recommended Spa & Massage by Groupon Customers
---
Comprised of a team of educated and registered massage therapists, U-Centre helps clients escape tension and find refuge under skilled, experienced hands. The staff doles out relaxation, deep-tissue, and medical massages along with reflexology services and cupping. Clients may relax and detoxify inside an infrared sauna or soften skin with a paraffin hand treatment or collagen facial.
4015-17 Ave. SE, Suite 202
Calgary
Alberta
403-457-0616
Vicki Bettison, a licensed practical nurse, founded Sweet Physique to help those who can't make it to the gym achieve their goals. Bettison understands how work and kids can cut into a workout routine and seeks to counteract time constraints with Eurowave electro muscle stimulation. Sweet Physique also offers detoxifying body wraps and cellulite treatments.
2135A 33rd Ave. SW
Calgary
Alberta
403-708-7778
Sohni Skin & Hair Studio's spa specialists combine ancient Eastern traditions with modern dermatological products in aesthetic treatments and wellness services. Lead aesthetician Harmeet Madaan provides the spa's signature Bollywood lash and brow enhancements, which begin with a traditional threading that sculpts eyebrow arches to flatter clients' facial structures. Then, synthetic and mink extensions from JB Lashes—favoured by celebrity eyelash batters Kim Kardashian and Aishwarya Rai—elongate eye fringe until a blink can tickle passersby.
Skincare professionals reintroduce clients to full-frame radiance with facials that use high-performance skoah products or Botox injections that stave off wrinkles caused by the constant fear of being chased by a mastodon. Appearances can also be enhanced with nail art, Bollywood-inspired makeup, and intricate henna. Clients can also remove unwanted hair with IPL laser or waxing hair-removal services.
5075 Falconridge Blvd. NE, Suite 924
Calgary
Alberta
403-264-6262
Driven by the motto "It's all about healing," the staff at Serenite Spa renews mind, body, and spirit through holistic bodywork and skincare. They perform luxe body treatments that extract tension from the back, soothe the scalp, and awaken eye muscles that stayed up all night studying for an eye exam. Massage therapists knead muscles with special attention to aches and pains, often incorporating essential oils to enhance relaxation. During skincare services, aestheticians frost skin with Dermalogica products, which are known to promote skin health by using pure ingredients without artificial colours, fragrances, or cheap fillers.
618 5 St. SW
Calgary
Alberta
403-262-6089
Nubare Laser & Skincare proprietor Michelle Ford is well versed in the world of beauty. The former international model and current skincare specialist unfurls her expertise inside the bright and modern spa, enhancing patrons' exteriors with noninvasive procedures such as facials and microdermabrasion treatments. Additionally, certified laser technicians employ an advanced LightSheer Diode laser system to evict stubble from bodily surfaces and use the Isolaz Acne Light Treatment to diminish acne. The staff also offers relaxing spa services, which include manicures, pedicures, and hot-stone massages.
106-7370 Sierra Morena Blvd. SW
Calgary
Alberta
403-630-6354
Located inside the offices of Alpha Dental Care, Omega Spa balances a pristine, medical environment with relaxing spa treatments in warm, mocha-toned rooms. The spa's certified therapists and doctors specialize in IPL therapies that employ an Angelite system. The headpiece delivers gentle pulses of light to minimize fine lines and discoloration, treat acne, and reduce unwanted hair growth. Signature facials nourish dry, aging, or acne-prone skin with G.M. Collin products derived from natural plant, marine, and Giving Tree extracts. Nail technicians perform manicures and pedicures in semi-private rooms with a toxin-free polish system by Zoya that tints nails in five steps.
500-6455 Macleod Trl. S
Calgary
Alberta
403-253-5354
---