Restaurants in Camano
---
Recommended Restaurants by Groupon Customers
---
Flying Otter Grill traverses land, air, and sea. It takes its name from the Otter aircraft, much like the kind that take off from the two-storey airline terminal at the Victoria Harbour Water Aerodrome surrounding the eatery. The restaurant itself floats on a series of pontoons so that it rises and falls with the tides, its floor-to-ceiling windows treating every table to views of the ocean and choreographed seagull flash mobs. Spanning both earth and ocean, the menu of pub fare draws on fresh prawns alongside crab, salmon, and Angus steak, and Cajun spiced chicken wings. Planes land on nearby airstrips and yachts sail into the harbour on a regular basis, the bustle of transit contrasting with the calm, cabin-like setting of the restaurant, which features West Coast cedar furnishings and a crackling fireplace. Taking inspiration from its surroundings, the Flying Otter nets some of its fresh fish from local suppliers.
950 Wharf St.
Victoria
British Columbia
250-414-4220
New executive chef is preparing to debut a new dynamic menu featuring upscale pub food for breakfast, lunch, and dinner. The West Coast Tap House plans to continue it's already prestigious reputation, selected one of the Times Colonist's favourite restaurants in 2010, by offering a menu of items prepared by one of the most talked about chefs in Victoria.
Tall leather chairs encircle the tap house's large bar, whose centre is wrapped in flatscreen TVs. Hockey jerseys adorn the walls, a fitting touch for a bar that claims to have Wayne Gretzky's favorite spaghetti and meatballs—which are actually meat pucks.
829 McCallum Rd.
Victoria
British Columbia
Within a stately Tudor Revival building, The Fernwood Inn's kitchen sparks with creative energy as a team of chefs dedicated to the pursuit of inventive, locally sourced, and organic gastropub fare get to work chopping, sautéing and crisping. As servers glide across the dining room's fir floors, aromatic tendrils from smoked meats and Asian-influenced seafood and soup dishes announce plates' arrival before they're even set down. As bites disappear between lips, oversized mirrors and wooden casks add a touch of casual elegance, and the outdoor patio enables much-underrated fresh air to get in on alfresco feeding frenzies during the warm-weather months. Gathering the community on select evenings, The Fernwood Inn hosts live musical performances as well as open mic nights frequented by young talent and juke boxes showing up on their reunion tours.
1302 Gladstone Ave.
Victoria
British Columbia
In addition to sumptuous tapas and gourmet pizzas, Lido Waterfront Bistro offers guests a panoramic view of the ocean and an outdoor deck with abundant sunshine and a dock for boats. Chefs prepare plates of local Dungeness crab cakes or triple-cream brie with smoked cheddar, brandied figs, and grilled baguettes, and top pizzas with ingredients such as Spanish wine chorizo or tender leaves of baby spinach. A live band serenades patrons as they sip organic coffee and locally crafted libations.
1234 S Wharf St.
Victoria
British Columbia
Meals at The Spice Jammer come to your table in one of four ways: mild, medium, hot, or extra hot. True to its name, the restaurant won't skimp on the spice in its East African-style Indian cuisine, but it can also accommodate guests with more sensitive palates or irrational grudges against turmeric. The menu emphasizes home-style cooking methods, with chefs roasting meats in a traditional tandoori oven or simmering them in zesty gravies. Plates of prawns, chicken, and lamb follow openers of samosas or stuffed naan, and vegetarian curries pack equal amounts of flavour into meat-free morsels of spinach, peas, and potatoes. Inside the dining room, the leafy fronds of tall, decorative plants offset the warmth of red and cream-coloured walls.
852 Fort St.
Victoria
British Columbia
250-480-1055
Palm fronds spill over Baja Surf Grill's two-tiered dining room, lending the 150-seat eatery a lush, tropical aura. Arched porticoes and columns recall Spanish colonial revival architecture, which designers update with pastel pink and green hues and tropical throw pillows. The ambience reinforces the menu, which highlights the Baja fish taco, a creation pioneered by Japanese fishermen in Baja after their idea for the Munich meat muffin failed to catch on. Chefs pay additional homage to Japan's culinary influence on the region with southwestern-style sushi peppered with ingredients such as fire-roasted corn and chipotle mayo.
103-535 Yates St.
Victoria
British Columbia
---
---
Restaurant Deals - Recently Expired
---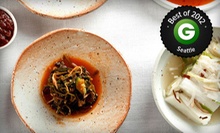 Tabletop skillets sear ribs, brisket, and seafood for entrees and all-you-can-eat Korean barbecue complemented by gyoza and udon noodles
---
---