Massage in Cambridge
---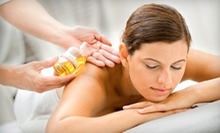 Use Friday 10:00am - 4:00pm
---
Recommended Massage by Groupon Customers
---
Armed with a toolbox of soothing techniques, the staff at TL Massage Therapy offers 10 different styles of massage and spa services. Inside private treatment rooms, therapists subdue stress by covering tense sinews with hot lava stones, aromatherapeutic essential oils, and kittens.
47-49 Central Street
Peabody
Massachusetts
978-278-3310
Communication is key at Massage Mantra, where a team of seven licensed massage therapists encourages clients to describe their pains and stresses and listens closely in order to structure treatments suitable to their needs. Once they have taken your input to heart, they stretch out their nimble hands and begin to soothe muscles with one of six available bodywork modalities, from reiki treatments that calibrate the body's energy levels to sports massages that methodically extract hockey pucks lodged between muscles. A roster of skin-specific facials complements the massages' inner healing with infusions of nourishing vitamins that promote a healthy outer glow.
52 Temple Pl
Boston
Massachusetts
US
Lorrie Eyberg's first massage experience sparked something in her. She eventually enrolled in massage school, a move that led her to one day create Achelois Wellness Massage Therapy Studio. Eyberg named the studio after the Greek word achelois, which means "she who drives away pain." At her studio, Eyberg and her staff perform therapeutic massages in a candlelit treatment room to the accompaniment of soft music that never features a chorus of yowling alley cats. This relaxing atmosphere paves the way for a tension-melting massage, which they often supplement with clinical techniques that Eyberg says spur detoxification and strengthen the immune system.
2 Summer St.
Natick
Massachusetts
US
508-654-7889
At Copleys Rolf & Bodywork, owner Joel Gheiler rejuvenates stiff figures of any age with a series of connective-tissue manipulations coupled with a caring demeanor fine-tuned nationally and abroad in Mexico and the Dominican Republic. Now settled into Boston, the muscle whisperer rejuvenates the physiques of his clientele using the Rolf Method of Structural Integration, facets of which combine to optimize healing over a 10-session recipe. The method's slow, deliberate strokes and cooperative movements soften the underlying tissue and realign bodies bent out of shape from time spent cramped in a car or locked in a suitcase. Deep-tissue myofascial massages condense the Rolf method's techniques into one session for a treatment that immediately targets discomfort and pain while providing a relaxing retreat from the outside world. Clients can wear fitted or loose clothing and need not worry about walking away oily, since Joel eschews lotions and oils in order to target the soft tissue and keep bodies from sliding off the table and down the street.
651 Boylston St., Suite 2
Boston
Massachusetts
786-362-4980
Licensed therapist Joseph Sablevicius blends his expertise in sports massage with an array of modalities to customize every session around clients' individual desires. He thoughtfully tailors his massages with Swedish and deep-tissue techniques, working to assuage embedded stress and aches, boost general health, and fortify athletic abilities. Vibrant orange and exposed-brick walls enclose the studio's treatment room, where Joseph kneads away pain when he's not toting his mobile studio to homes, offices, or permanently parked spaceships.
651 Boylston St. , Ste. 2
Boston
Massachusetts
508-596-4563
Though the ladies at Se Renaissance donate their time and a portion of membership proceeds to causes both in Mexico and in their communities, they acknowledge that helping others is the second facet of a healthy life⎯the first is taking care of yourself. Within their new space in Cambridge, therapists help women do just that by providing five massage modalities and an old Chevy that's been converted into a robot butler. Clients can take advantage of after-hours availability and make appointments online.
163 Hampshire St.
Cambridge
Massachusetts
617-308-8502
---