Cambridge, MA Outdoor Activities
---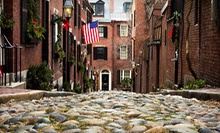 Tours follow in the footsteps of abolitionists and soldiers who fought for a more perfect union, visiting landmarks from their lifetimes
Use Thursday 11:30am - 2:30pm
---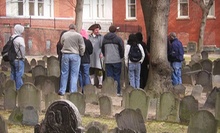 Follow a guide in a tricorn hat on a 90-minute exploration of colonial Boston through the uprisings that led to American independence.
Use Monday 8:30am - 11:30am
---
Recommended Outdoor Activities by Groupon Customers
---
The Staples Champions Cup brings together the timeless titans of tennis, including Bjorn Borg and John McEnroe, for a round-robin tournament of fierce backhands and friendly back-talk. During the first session of the men's singles quarterfinal tournament, Borg, the former top tennis player in the world, will show off the racqueteering that won him five consecutive Wimbledon titles as he takes on Mikael Pernfors, a finalist at the 1986 French Open, in a showdown of Swedish swagger. In the second match of the first session, Mark Philippoussis, a finalist at both the U.S. Open and Wimbledon, will fly-swat the fuzzy yellow insect sent buzzing over the net by Olympic silver medalist Wayne Ferreira. Because there actually is a rule that says a sassy talking mule can't play tennis, the third match has been canceled.
925 Commonweath Ave.
Boston
Massachusetts
Some people may see sailing as a way to save money on gas when traveling by water, but Courageous Sailing, recognized as a top 10 community sailing center by US Sailing and Sail Magazine, sees it as a way to educate, build leadership skills, and promote life-long learning in youth, adults, and the physically disabled. Since 1987, the nonprofit organization has hosted sailing programs for Boston's youth along with providing accessible sailing lessons and membership to the community at large. The Courageous staff serves numerous children a year with their curriculum, which teaches kids personal responsibility, communication, problem solving, and teamwork through sailing. They've also hosted local Special Olympians, as well as weekly races for visually impaired youths through their partnership with The Carroll Center for the Blind.
Pier 4, Charlestown Navy Yard
Charlestown
Massachusetts
617-268-7243
Players slide and duck for cover as a hailstorm of paint-filled pellets ricochets off the inflated obstacles of Boston Paintball's two brand-new indoor playing fields. The two side-by-side shooting galleries are littered with strategically placed inflatables, with Field #2 containing the standard red and blue geometrics of tournament paintball and Field #1 dotted with air-filled tanks & humvees, castle turrets, and an inflatable-windsock general that gives constant, flailing orders. Each conflict is coordinated by a trained referee, who officiates the game and strictly enforces a "two-strike" rule on mask and barrel-bag violations, which means the game is one-third more unforgiving than baseball.
111 Boston St.
Everett
Massachusetts
The Kingsbury Club, a multi-purpose health facility with a restaurant and multiple fitness/athletics options, ups the net worth of humankind with tennis programs for both raw and rehearsed racketeers. With the one-hour private tennis lesson ($78), taught by a certified senior tennis professional, and a one-day guest admittance ($15) to the Kingsbury Club, guests will refine backhands, polish up volleys, and learn how to properly grunt in spite of headband-wrought cranial pressure. The instructor will offer tips and suggestions on techniques and skills, helping students polish giant-scale ping-pong ability in time for summer's street-corner tennis showdowns.
2 Icehouse Rd.
Medfield
Massachusetts
Boating in Boston drops anchor at five area locations—including local lakes, ponds, and Boston Harbor—helping visitors to undertake watery adventures with a fleet of more than 200 canoes, kayaks, sailboats, pedal boats, and paddleboards. Whether navigating the gentle eddies of Stoneham's Spot Pond or searching for the feral water-polo team rumored to inhabit Wakefield's Lake Quannapowitt, visitors can hit the water untrained or gain new proficiency with solo or group lessons. The crew of instructors also instills a love of boating in the littlest buccaneers with youth summer camps that teach basic skills and safety.
4 Woodland Rd.
Stoneham
Massachusetts
The Clubs at Charles River Park has been Boston's oasis of relaxation, fitness and wellness for nearly 50 years. Our health club boasts a full-size outdoor pool and children's outdoor wading pool, where unwinders can relish warm-weather relaxation in the summer, plus an indoor pool and fitness center open year-round.
10 Whittier Place
Boston
Massachusetts
---