Gyms & Fitness Centers in Camden
---
Gym & Fitness Center Deals
---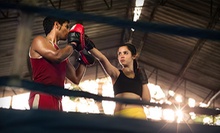 Certified personal trainers encourage clients through bodyweight exercises and intense cardio training; optional 21-day meal plan
---
Gym & Fitness Center Rewards Deals - Use Anytime
---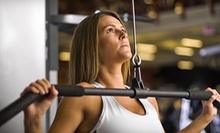 Advanced cardio and strength-training equipment sculpts physiques as guests pedal and punch together at famous gym's group fitness classes
---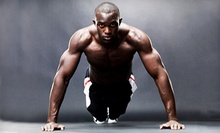 In a studio overlooking the Hudson, CrossFit instructors lead students through an intense workout of the day that tones the whole body
---
Recommended Gyms & Fitness Centers by Groupon Customers
---
With today's Groupon, get a Superwoman workout without having to battle Kryptonite-powered mechanical apes: $13 gets you four fitness classes at Debra Mazda's ShapelyGirl Fitness, a $25 value (eight-class packages are normally $50). You can try out any of the following three classes: cardio, weights, core, and ab work (Mondays at 6:30 p.m. and Saturdays at 9 a.m.); kickboxing with floor work (Wednesdays at 5:30 p.m.); and pure Pilates with rings (Thursdays at 6:30 p.m.). Mix and match classes to cross-train for your upcoming weighted ring toss and kick tournament, or stick with the class that sounds best to you.Follow @Groupon_Says on Twitter.
2439 S Broad St.
Philadelphia
Pennsylvania
US
we are not your average gym. you won't find shiny equipment, mirrors, or dry wall for that matter. you will find a raw space filled with kettlebells, medicine balls, tires, rings, ropes, pull-up bars, rowers etc. items that will push you to your limits to achieve greatness. above all, you will find a family of support.
116 Fountain Street
Philadelphia
Pennsylvania
610-291-6779
The Sporting Club at The Bellevue is a sleek, sporty facility heavily muscled with strength and cardio equipment, an indoor running track, racquetball courts, a full-size NBA court, boxing facilities, and an indoor swimming pool. Unlike a membership card from the league of extraordinary whiskey-drinking ladies, your all-access pass will improve your health and equilibrium by granting you free reign to try everything the gym has to offer, including a wide range of group fitness classes. Whether it's spinning, Pilates, yoga, or rowing, all musculatures can find a class that suits their sinews and allows them to pocket a boost of energy for later.
220-224 S Broad St.
Philadelphia
Pennsylvania
RowZone's unique blend of rowing exercises and full-body toning techniques to help students of all ages and abilities stave off the boredom and plateaus of other fitness regimens. During RZ Core workouts, instructors provide helpful pointers and encouragement to students as they shape up with body-toning ergometers.
Each structured session presents a total-body workout that incorporates rowing, resistance training, and fitness techniques that solidify cores and improve flexibility. Additionally, free-weight curls, crunches, lunges, and other rowing exercises work to provide an effective strength-endurance workout.
4401 Main Street
Philadelphia
Pennsylvania
215-482-0321
As the morning begins, a row of toddlers takes turns tumbling feet over head while their parents guide them into the correct movement. Later, school-age kids sit in a circle, legs stretched before them as they try to touch their toes. The trained staff of My Gym Children's Fitness Center imbue kids with life skills through music, physical activities, and games. Many classes incorporate physical exercises with social and developmental skills, while summer camps are also available seasonally. All classes take place in a well-padded room, led by staff trained in child development and fluent in Muppet.
170 Barclay Farms Shopping Center
Cherry Hill
New Jersey
Versa Fit Studio's two locations blend old-fashioned support from personal trainers with newfangled technology, including the Vacu Fit, which, according to an ABC News report, exists nowhere else in the country. Classes and workouts incorporate the good vibrations of the Power Plate machine that quickens circulation, and Vacu Fit elliptical machines enclose lower halves in a heated vacuum chamber to trim away excess inches. Group exercise sessions bow to restrictive schedules with a range of classes that, unlike getting a tan from an Easy-Bake Oven, last only 30–60 minutes. In addition to high-tech courses, guests can drop in on traditional sessions such as core-toning Pilates, yoga, and boot camp, or they can burn calories in spin and dance aerobics that amp up heart health.
1529 Walnut St., Suite 5
Philadelphia
Pennsylvania
---