Pilates in Campbell
---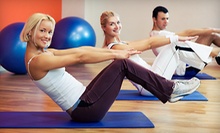 The 75-minute class strengthens muscles and tightens the core, helping to ease joint and bone aches and to improve balance and coordination
Use Sunday 9:15am - 12:15pm
---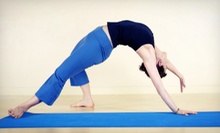 Joint-friendly floor exercises strengthen core muscles, improve flexibility and posture, and reduce stress
Use Wednesday 9:00am - 12:00pm
---
Recommended Pilates by Groupon Customers
---
Today's Groupon personally calms your core and gives it the strength to endure all life's bends, loops, and twistywhirls. For $35, you get one private Pilates class and one group equipment Pilates class at Tru-Balance Pilates Fitness Studio in Willow Glen (a $120 value). Expert instruction and a dedication to your body's potential at Tru-Balance will make you a champion Pilatist whose perfect postural muscles will be extolled by troubadors, lonely long-distance runners, and cone tenders for years to come.
1070 Lincoln Ave
San Jose
California
US
Pilates San Francisco opened in 1999. All of our sessions are private and customized to your fitness and wellness goals - from absolute beginner to professional athlete. We can help you rehabilitate and prevent injuries. Our studio is fully equipped and easy to reach with beautiful views of the San Francisco Bay Bridge.
33 Jennings Courtq
San Francisco
California
US
415-468-7898
Founded by a health and fitness instructor with 20 years of experience, each of Equilibrio's private session is led by one a certified Pilates instructors. They'll teach you how to use different Pilates equipment and possibly work with some free-weight-training exercises. Personal sessions are good for beginners and hard-cored veterans who want to bring their Pilates game to the next level. Under a motivating and watchful eye, you'll quickly master the machines that will remaster your body. Equilibrio Pilates requires three private lessons before moving on to group equipment-classes; today's deal allows you to get the prerequisites under your belt.
16400 Lark Ave , Suite 220
Los Gatos
California
Classes take place in a beautiful new studio. Hardwood floors support reformer machines and Pilates towers, all under the calming gaze of a floor-to-ceiling Buddha mural. If you're new to Pilates, certified instructors will teach you to properly use the equipment in Pilates for Beginners. Old hands can skip ahead to fast-paced, intense workouts such as Mighty Mix or Mighty Sport, mixing head-to-toe routines, cardio intensity, and resistance challenges. Check out the online schedule for upcoming classes and times, then get started on the road to lean, muscular freedom with today's Groupon. You must register in advance to reserve a spot.
3654 Sacramento St
San Francisco
California
Aspire's Pilates-based exercise programs are tailored to the individual needs of its clients, then averaged into multifaceted group classes. You have the option of taking either style of Pilates offered: introductory ChoreoCore or an introductory mat class. ChoreoCore deliciously blends lively dance movements with the flexibility, balance, and core-strengthening exercises of Pilates, while the mat classes introduce students to basic core-stabilization techniques that aid in alignment, balance, and strength with a focus on using abs to stabilize the spine. Use your two class sessions to sample one of each style, since the cardio of ChoreoCore and basic grounding of the mat classes complement one another like alternating piano keys, Nutella and crêpes, or Tom and Jerry in the episodes where they team up to fight the bulldog. Classes are scheduled six days a week at various times.
1485 Enea Ct., Suite 1460
Concord
California
Jessica, the founder of Dolores Park Pilates, became certified as a Pilates instructor after a career in ballet, modern, and African dance left her with a lingering injury. Today, she works with students one-on-one to expunge pain-causing habits from the body, also guided by the Hendrickson Method of ache-assuaging movement. In a home studio on a serene residential street, Jessica helps bodies stretch through workouts that tone muscles while increasing flexibility and encouraging posture more proper than that of a robot programmed by Emily Post.
60 Cumberland Street
San Francisco
California
415-260-1995
---