Canby, OR Indoor Activities
---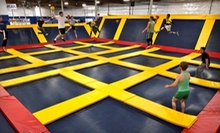 Tigard Neighborhood Area 3
Wall-to-wall trampolines and bouncy dodge-ball courts host adults and kids under the watchful eyes of staff
---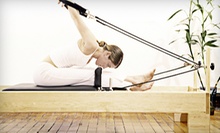 Pilates classes use wall-mounted SpringBoard or simple mats, while Zumba sessions rely on upbeat music and students' energy
---
Recommended Indoor Activities by Groupon Customers
---
The striking horizontal planes of Frank Lloyd Wright's Gordon House bisect the landscape just beyond the foliaged outskirts of the Oregon Garden, drawing eyes to the architectural marvel like moths to an octogenarian's birthday cake. Guests who tour the stunning abode watch from inside as sunlight falls in squares on the floor, filtered through geometric cutouts in the ceiling. Docents expound on the genius of Wright's design and theories during 45-minute guided tours of the architect's only Oregonian creation.
Groups meander through the kitchen, where skylights light up scarlet countertops, reflecting the undertone of western-red-cedar cabinets. Natural light creates abstract patterns on the floor through a series of perforated wooden window treatments, and an experienced guide imparts factual tidbits regarding the home's history, such as its origin story, its near deconstruction in 2000, and its subsequent rescue by a motherly wolf and her pack. Guided tours are conducted daily from noon to 4 p.m., and reservations are required to view this rare home that was designed in the traditional Frank Lloyd Wright fashion—with a pencil—and also with impressive angles and seamlessly organic landscape integration.
869 W. Main St.
Silverton
Oregon
US
Since 2012, the Cinco de Micro Brewfest has enlivened the month of May with a celebration of craft beers from local breweries and national brands. While a musical lineup rocks out, bartenders battle for supremacy and guests taste classic formulas and new releases.
1266 Lancaster Dr. SE
Salem
Oregon
Silver Creek Lanes shelters patrons practicing their strike and spare skills on rows of synthetic lanes. As participants recline into custom leather seating between frames, Brunswick GSX pinsetters ensure that ten pins always await approaching orbs, even when balls are feeling pushier than usual. Black lights concoct an intergalactic ambiance during cosmic bowling sessions as players diligently avert gutter balls while surrounded by wall-to-wall media screens broadcasting music videos. Silver Creek Lanes also offers league play and special packages for birthday celebrations. As bowlers roll their shots, wafts from the facility's grill bemuse olfactory senses with whiffs of pizza, burgers, and tasty appetizers. A pro shop supplies rollers with top of the line gear, such as cannons that launch bowling balls with extra spin.
500 W C St.
Silverton
Oregon
503-873-5316
---