Schools & Tutors in Candler-McAfee
---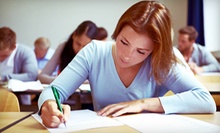 Diagnostic assessment starts a personalized approach designed for kids in grades K–12 in subjects including, math, reading, and writing
---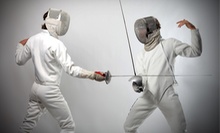 Foot- and bladework anchors each class at this fencing school with numerous notable alumni, including U.S. Olympians
Use Monday 3:00pm - 6:00pm
---
Recommended Schools & Tutors by Groupon Customers
---
In the late 1970s career educators Eileen and Raymond Huntington opened the first Huntington Learning Center in Oradell, New Jersey. Their goal was to take an individualized approach to education, adjusting instructional tactics according to each student's set of needs. Their success in helping K–12 students prepare for exams and improve grades and study skills quickly spawned franchises across New York, New Jersey, and elsewhere.
Today, the certified Huntington tutoring staff utilizes testing and rubrics for assessing each child's skills, academic needs and potential for growth. The teachers even note the student's behavior in different testing and academic situations to craft a methodology sensitive to each child's learning style. Teachers also adhere to the company's code of ethics that stresses professionalism and confidentiality and encourages pupils to improve their grades honestly through dedicated study rather than shortcuts.
12850 Alpharetta Hwy. 9 N
Alpharetta
Georgia
678-240-9240
The Archery Learning Center arms bow masters of all skill and experience levels with the training they need to pierce the air. Along with hosting tournaments and outfitting its shop with the latest hunting and recreational bows, the indoor range lines its walls with fresh targets. Since its early days, when medieval archers shot arrows from the castle parapets to direct lost caravans to the village, archery has fostered focus, concentration, and the spirit of competition in people of all ages, from young kids to adults.
2164 Fountain Sq.
Snellville
Georgia
678-344-0035
Manhattan Elite Prep's staff of teachers and consultants carries firsthand experience navigating the complicated labyrinth of school admissions. Some were students whose high test scores and poignant essays got them into top PhD and Ivy League MBA programs. Some consultants served on admissions committees of coveted schools and know what experience, qualities, and acrobatic feats make student applications stand out. Now, this team of insiders at a firm with more than 10 years of experience pools its knowledge to help students who are serious about acing tests and placing in their top schools. They emphasize efficiency, packing as much information as they can into the time allotted, and exceeding beyond minimum requirements. Courses covering entrance tests teach students to work smarter, ruling out wrong answers and budgeting their time wisely, and essay consultants pare down applications to deliver rich content in a limited word count. Customers may complete classes online or interact in-person with their instructors as well as fellow students.
3285 Peachtree Rd. NE
Atlanta
Georgia
888-662-6738
The folks at Georgia Security Agency believe that more than 300,000 new security positions will become available in the state of Georgia over the next five years. To meet the looming demand, they offer certification and licensing courses and maintain a large database where interested parties can search for security jobs and register their information. But their classes don't stop at merely prepping individuals to one day guard the state's nest of golden eggs. They also delve into private investigation and store detective training. For civilians, they offer bodyguard services or self-defense and firearm-training courses.
1412 S Broad St.
Monroe
Georgia
678-274-9079
Culled from Colombia, Mexico, and the French-speaking quarter of the College of Charleston, the staff at Foreign Language Adventure specializes in Spanish and French lessons for grade-school students. With classes spread across Roswell, Milton, Marietta, Norcross, and Alpharetta, the teachers cast a wide net and pull up eager pupils as young as 2 years old. During the summer, the schools host half-day camp sessions that liven up the learning process. They also offer adult classes periodically, laying a foundational overview of basic communication to prepare for upcoming vacations, international-business meetings, or kidnappings from UN translators.
10930 Crabapple Rd
Roswell
Georgia
US
404-423-2693
---