Restaurants in Canon City
---
Recommended Restaurants by Groupon Customers
---
Groupon is a combination of the words group and coupon. Each day, we offer an unbeatable deal on the best of Colorado Springs: restaurants, spas, sporting events, theater, and more. By promising businesses a minimum number of customers, we get discounts you won't find anywhere else. We call it "collective buying power." If you want to get the deal, just click BUY before the offer ends at midnight. If the minimum number of people (30 for today's deal) sign up by the end of the day, you'll be emailed a gift certificate the next morning. You can print your Groupons or redeem them with our iPhone app. Use them whenever you want until the deal expires—today's expires in one year. If not enough people join, no one gets the deal (and you won't be charged), so invite your friends to make sure you get the discount!
1645 S Tejon St.
Colorado Springs
Colorado
Roll like a cheese-covered circle to Billy's for pizza, pasta, and sandwiches. Billy's pizza comes cut thin and crispy ($7.75–$20.50, depending on size and toppings) or served deep dish ($14.75–$26.50) like they do in Chicago. This stuffed delicacy brings meaning to "pizza pie": it's full to bursting with traditional or creative toppings that aren't on top, making each forkful and knifeful a delectable surprise. Slurpable spaghetti comes with marinara ($7.25–$8.50) or meat sauce ($8.25–$9.50). No breaded bundle of meat from Billy's selection of sandwiches earns the adjective "finger"—sandwiches are mostly Chicago-style delights; try an Italian beef ($6–$6.60) and be sure to make it authentically Chicago-style by asking for plenty of dipping juice.
308 South 8th Street
Colorado Springs
Colorado
Briarhurst Manor Restaurant has overlooked Garden of the Gods Park in the shadow of Pikes Peak since 1876, when Manitou Springs town founder Dr. William Bell constructed the pink sandstone Tudor-style manor. The English country architecture showcases elegant flourishes such as a tiled fireplace, dark-wood boiserie, and a garden room where sunlight streams through towering windows. Not surprisingly, Briarhurst Manor has been hailed as one of the 100 most romantic restaurants in the country according to OpenTable's 2012 Diners' Choice awards.
The cuisine matches the interior's opulence: Chef Neal Moreno glazes duck-shank confit in a gooseberry cassis, and augments the flavor of Colorado lamb chops with chestnut fig jus. Cabernet sauvignons and chardonnays from Napa Valley punctuate the restaurant's extensive wine list and give beer a reason to feel as insecure as a styrofoam rabbit marooned amid a pack of real wolves.
404 Manitou Ave.
Manitou Springs
Colorado
719-685-1864
La Baguette serves up a full menu of classic café fare but specializes in the total sensory-immersion experience of smelling, seeing, tasting, touching, and singing love songs to freshly baked breads and pastries. Straight-from-the-oven artisan bites include whole-wheat walnut loaves ($3.55), hearty six-grain rolls ($1.25), rye bread ($2.90 for a small loaf), pecan-raisin rolls ($0.95), fruit-filled croissants ($2.50), and ficelles ($1.60 each), all of which are expertly trained in the art of soaking up savory slurps of French-onion soup from the café ($5.75). After a warm summer evening spent strolling the streets, indulge in a serving of delightfully garlicky escargot served with soft French bread on the side ($7.75) or a plate of butternut-squash ravioli with sage, tomato, basil sauce, and a fresh-baked roll ($7.95). A variety of gourmet meats and cheeses can be caught cozily cradled in the flakey confines of homemade croissants and baguettes in the form of delicious sandwiches, all served with a side of seasonal fruit ($5.75–$6.85). Wash down your yummies with a classic café latte ($3.15), espresso ($1.75), or glass of fine French wine (from $3.95/glass).
2417 W Colorado Ave.
Colorado Springs
Colorado
The New York Pizza Delicatessen menu, packed with appetizers, pizzas sporting handmade dough and hand-tossed crusts, calzones, pasta, heroes, and dessert, revs guests up to run down hunger in any number of flavorful vehicles. Dive into cheese with mozzarella sticks ($5.49), then float to the surface of a specialty mealwheel such as the Manhattan meat lovers' pie ($17.99 for 18-inch, $7.99 for 10-inch), a crispy canvas festooned with pepperoni, meatballs, and bacon. Choose two toppings from more than 25 fresh options, such as fresh basil and sun-dried tomatoes, to craft your own Staten Island stuffed pizza (18-inch only, $25.99). For a circle-free entree, grab a convict cheese calzone (mozzarella and ricotta, $7.99) or a hot Italian combo ($7.99) before quenching your thirst with a glass of beer or wine.
4359 Integrity Center Pt.
Colorado Springs
Colorado
Owners Doug and Pam Trondson keep the modest café true to its original roots by serving home-cooked meals with a friendly flair. House favorites pad stomachs with rich, bone-sticky basics. Try the ranchman's breakfast ($7.89) with ham, two eggs, and all-you-can-eat pancakes. The breakfast burrito burrows kicky meats, eggs, and cheese inside a flour tortilla and comes with your choice of toast or three-dollar pancakes ($5.99). Since humans love fries, midday nibbles, from clubs ($6.59) to tuna melts ($5.99) to grilled-cheese sandwiches ($5.29), are served with fries, soup, or salad.
3504 N. Academy Blvd.
Colorado Springs
Colorado
719-596-8122
---
---
Restaurant Deals - Recently Expired
---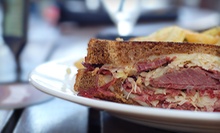 American-style deli sandwiches and burgers join gyros and spinach pies on this pan-Atlantic menu
---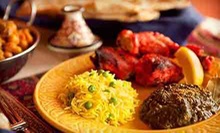 Authentic Indian cuisine includes lamb korma, beef curry, saag paneer, and garlic naan
---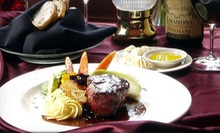 Five-course meals with seared scallops, duck confit, or Colorado lamb chops at a pink-sandstone manor hailed for its romantic vibe
---
---