Things to Do in Canon City
---
Recommended Things to Do by Groupon Customers
---
Echo Canyon River Expeditions' whitecap wunderkinds have rafted swashbucklers through Colorado's thrilling and picturesque valley rapids for more than 30 years. The half-day Bighorn Sheep Canyon/Parkdale Run trip through the Arkansas River's Bighorn Sheep Canyon remains a popular choice for families, first-time floaters, and vacationing fish-people. After the friendly staff outfits guests with equipment, each voyager will board a buoyant apparatus and take to 10 miles of the river's surging swells for a healthy mix of exciting paddle action and serene sightseeing. During the approximately three-hour trip, one of Echo Canyon River Expeditions' knowledgeable guides will dish on the natural and historical wonders of the environs, including the local bighorn sheep and their fascinating hopscotch tournaments, while helping rafters dodge the rapids effortlessly and safely.
45000 W US Hwy. 50
Canon City
Colorado
Rock walls tower 1,200 feet on either side of you as you drift on a raft far below a suspension bridge. The rocks echo with the sound of rushing water as your raft heads toward churning Class V rapids. Once you start the plunge into the Royal Gorge run's Sunshine Falls, Sledgehammer, and Narrows, experienced whitewater-rescue-certified tour guides set to work steadying your paddles and guiding your every move. On any excursion you choose, you'll also be joined by safety kayakers, who provide support in tough areas and stand by ready to capture photographs of the day's events.
Out of the water, you can still find an adventure with Royal Gorge Zip Line Tours' eponymous course of nine ziplines spanning a 1-mile path through open air and tree canopies. The thrilling course lies at the end of a scenic hike through mountain terrain and historic stagecoach trails. Whether your expedition takes place the water, on a zipline, or on a mountain trail, you'll end the excursion at the rustic Whitewater Bar & Grill, where guides will compile the day's photos into a slide show so you can reminisce about your adventures and whether those grizzly bears were actually just large deer in bear costumes. Even when not adventuring, you can get a thrill playing volleyball and horseshoes outside the bar or dancing to live music each weekend.
45045 W US Hwy. 50
Cañon City
Colorado
719-275-7238
Surrounded by lush alpine scenery and rushing rivers banked by boulders, brush, and thicket, rafters ride the rapids during Performance Tours' half-day, full-day, and multi-day trips. The company requires their guides to complete training beyond the state's requirements, ensuring a crew with exceptional rafting prowess in addition to a special affinity for the Arkansas, Clear Creek, Blue, and Colorado Rivers. During tours, groups take in the scenery, spotting wildlife including bighorn sheep, while navigating river regions with names such as "Devil's Punchbowl". Now with more than 25 years' experience taming the bucking local waterways, the team can craft experiences ideal for families and rookie rafters, as well as the seasoned boater looking for a challenge and an impressive story to tell their salmon buddies.
0035 County Rd. 3A
Canon City
Colorado
800-328-7238
Whether issuing orders over the sound of roaring rapids or getting soaked by jets of errant river spray, the guides at River Runners all share a common thought: this sure beats sitting in an office. For more than 40 years, they've ferried passengers down the Arkansas River on jaunts into Bighorn Sheep Canyon's class III and IV rapids or the challenging class IV and V rapids churning throughout The Numbers. They also explore the waterways running through the 2,000-foot-deep canyons in Dinosaur National Monument, breezing down the Utah River on one-day jaunts or arguing about whether or not T. rexes could feel love during a five-day exploration of the Yampa River.
44641 U.S. 50
Canon City
Colorado
800-723-8987
While navigating a range of rapids on stretches of the Arkansas River, the certified guides at Canyon Marine Whitewater tailor trips according to the desires of their passengers. Vessels laden with veteran rafters and adrenaline junkies ride the basso roar of waters across Class IV rapids with intimidating names such as Raft Ripper, and younger crews drift through calmer stretches and avoid the parts of the woods where the animals know cuss words. In sleek, six-person rafts or smaller inflatable boats, the guides point out wildlife and other sites across the dusky emerald waters. On multiple-day trips, guides show participants how to camp in the wilderness and cook meals over a campfire or on the engine of a grizzly bear's Camaro. Instructors and guides also teach others their craft through guide-training programs, ensuring students can one day navigate local rivers with their own license.
5620 E Hwy. 50
Salida
Colorado
719-539-4444
---
---
Things to Do Deals - Recently Expired
---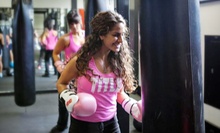 Students tone arms, legs, and core with fast-paced kickboxing classes that can burn up to 1,000 calories per workout
---
---