Canton, GA Spa and Massage
---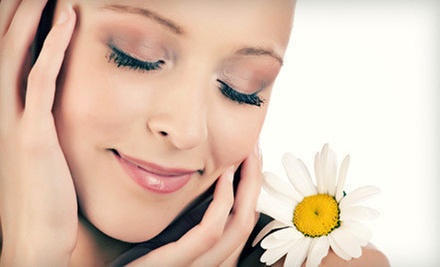 ---
Recommended Spa & Massage by Groupon Customers
---
Opt for a cut and style ($65) with a professional L'Oreal hair treatment ($25) or a one-hour facial ($82) with anti-aging, anti-acne, lightening, nourishing, or soothing properties. A spa mani-pedi combo ($84) can wow thumb-wrestling opponents and brighten bland sidewalks. Or soften muscle molds with an exfoliating, customized body scrub ($70), a detoxifying and hydrating Dead Sea body mask ($85), or a one-hour Swedish massage ($80). The experienced staff at Salon D'Allure meticulously and efficiently bolsters beauty, like a squad of Dr. Berserko's henchmen decorating the interior of his volcano lair with tasteful lava lamps. Salon D'Allure uses high-quality Kérastase and L'Oreal products.
4180 Old Milton Parkway
Alpharetta
Georgia
Natural ingredients may be important at Spa Bolena—body treatments make use of seaweed, lavender, roses, or milk and honey—but just as important is the setting in which treatments take place. That's why the spa adapts each of its treatment rooms based on the client's choice of atmosphere, altering the lighting, visuals, and sounds to fit such peaceful themes as meadow, rain forest, or ball pit. As these environs soothe minds, aromatherapy delights noses with scents of sandalwood, lemongrass, and eucalyptus.
1003 Weatherstone Pkwy., Suite 340
Woodstock
Georgia
678-494-1717
Owners Mandi Williams and Heather Bowen have placed Spa La Mode at the crossroads of Eastern theology, Western technique, and all-organic products from ilike and glo therapeutics. This last element is most prominent in the spa's custom facials, which employ masks to fight blemishes and ease wrinkles. Organic yogurt and glycolic peels amplify the effects of each facial, and lash extensions add the finishing touch to newly glowing visages. Aestheticians also banish unwanted bristles by waxing brows, legs, backs, and in cases of accidental ingestion of Rogaine, tongues.
3102 Loring Rd., Suites 114
Kennesaw
Georgia
678-756-8013
Beneath the sheer white fabrics draping the ceiling at Luxury Nails and Spa, technicians pamper bodies with nail services, facials, massages, and waxing. While reclining in a row of plush, multicolored chairs, clients treat feet with sugar scrubs and marine masks until they are as soft and smooth as a puppy quoting the Fonz. Private treatment rooms house a licensed massage therapist who kneads muscles with Swedish techniques and hot stones and aestheticians who cleanse pores with Dermalogica facial products.
9040 Hwy. 92, Suite 110
Woodstock
Georgia
770-592-1675
At Day Spa Nirvana, calming music and the gentle sound of running water provide the soundtrack to moments of deep relaxation for both body and mind. Inside private treatment rooms, massage therapists don their skintight superhero costumes to fight pain and tension with massage techniques including Swedish, deep tissue, and hot stone. Aestheticians delicately perform facials tailored for a variety of skin types including sensitive and problem skin. During all spa treatments, which also include foot massage and waxing, the staff employs products from brands including Éminence handmade organic skincare of Hungary.
2960 Shallowford Rd. NE, Suite 303
Marietta
Georgia
770-977-0909
Drawing from a shelf filled with natural products from Decleor and REN, the friendly, client-focused staffers at Illuminations Spa work to bestow guests with glowing complexions and relaxed demeanors without using harsh or harmful substances. Chemical-free lotions and soothing aromatherapy enhance seven types of massages, each customized to fit a client's particular issue, whether that's sore muscles or deep-set knots. An organic neroli-and-grapefruit cream with an exfoliating guérande salt balm lays the foundation for one of more than five body treatments, and face treatments fight signs of aging by firming the skin with acupressure and lymphatic-drainage-massage techniques.
11880 Douglas Rd., Suite 100A
Alpharetta
Georgia
---