Canton, MA Spa and Massage
---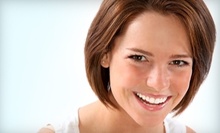 Use Saturday 8:30am - 4:00pm
---
Recommended Spa & Massage by Groupon Customers
---
Pamper yourself with today's deal: $30 for a 60-minute facial, a 60-minute natural deluxe pedicure, or a natural mani-pedi combo at Back to Basics Massage, the healing day spa located in Quincy. Back to Basics Massage specializes in using massage to improve overall health, so a soothing massage is incorporated in all of its treatments. Follow @Groupon_Says on Twitter.
373 Granite St.
Quincy
Massachusetts
US
Under the expert guidance of registered nurses Judith A. DiGravio and Gail S. Driscoll, the staff at Bella Derma Aesthetics harnesses the FDA-approved Zerona cold-laser technology, designed to reduce corporeal circumferences by an average of 3.5 inches. During each session, clients relax beneath a beam-slinging apparatus for 40 minutes as it glides low-light lasers over their waistline, back, hips, and thighs, emulsifying adipose tissue so that fat can sneak its way out of the body. The disintegrated lipid depots can then be absorbed by the body's obsessively tidy lymphatic system and expelled through its natural detoxification process and complex system of waterslides.
501 John Mahar Hwy.
Braintree
Massachusetts
US
The Republic of Wellness's massage therapists come from Brazil, Belarus, and across New England, but they're all united by a single philosophy: the human body can heal itself. In helping it regain its natural balance, they take inspiration from ancient traditions from around the globe, including acupuncture, yoga, Swedish massage, and reflexology, a style that, much like four-limbed applause, places pressure on the extremities. The Quincy studio immediately muffles the worries of the outside world with a waiting room lined with well-loved Oriental rugs, overstuffed chairs, and amber-shaded lamps.
67 Coddington St., Suite 103
Quincy
Massachusetts
617-481-1280
Meridians' staff instills wellness in both the body and mind with a full menu of hair services, massages, and holistic treatments. Skilled stylists use ammonia-free dyes and formaldehyde-free keratin solutions to style hair into streaks of smooth, silky hues. Inside sunny rooms, therapists uncork tension with skin-salvaging facials and massages that include private consultations before and after treatment. Meridians' therapy packages incorporate add-ons, such as sea salt and mud to therapeutic-exfoliation treatments, cleansing the skin of dead cells without the 1,000-page contracts involved in renting a bulldozer.
515 Bridge St.
Weymouth
Massachusetts
781-331-0400
Masters of all things relaxing, Massage Works' licensed therapists can switch from one massage style to another midsession, bestowing the benefits of multiple modalities onto muscles. Deep-tissue and Swedish sessions release entrenched toxins with gentle, flowing strokes and kneading pressures that evict muscle tightness and help minds let go of deadlines and 1940s baseball stats. During couples massages, dueling massage therapists compete to see whose patient achieves total relaxation first.
111 Willard St.
Quincy
Massachusetts
617-376-8000
While most businesses claim "no shoes, no service," The Barefoot Zone welcomes unclothed feet, soaking and pampering them to relieve bodily pain. Certified reflexologist Allyson Nolan helms the practice, using reflexology to alleviate symptoms of conditions including high blood pressure, migraines, and fibromyalgia. Allyson enhances the curative nature of reflexology by submerging feet in a warm bath of herbs and Himalayan mineral salts, allowing the liquid to soften skin and heighten senses. Afterwards, clients rest atop a heated spa table as Allyson applies pressure to specific points on the hands, feet, and outer ears. To round out each treatment, warmed river stones nestle between toes and canoodle with sock lint as a warm towel infuses extremities with heat.
63 S Main St., Suite C
Randolph
Massachusetts
781-964-0620
---