Canton, MI Drs and Health Practioners
---
Drs & Health Practitioners Deals
---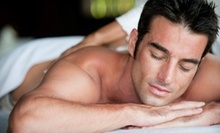 Use Thursday 10:00am - 8:00pm
---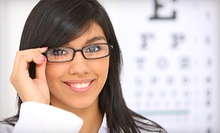 Experienced staff finds frames to flatter faces, armed with inventory of designer glasses, UV-protected sunglasses & on-site optical lab
Use Thursday 10:00am - 4:00pm
---
Recommended Drs & Health Practitioners by Groupon Customers
---
Optimal Wellness Family Chiropractic's savvy spine specialists, including Doctor of Chiropractic Michaella Walter, who was featured on Examiner.com, and Doctor of Chiropractic Jennifer Boechler, tend to a wide range of ailments by mitigating subluxations in the spine that may hinder the nervous system and overall well-being. The doors at Optimal Wellness Family Chiropractic are wide open to every type of humanoid, including pregnant women and children, whose complaints of colic, earaches, and allergic reactions may lessen with treatment.
Chiropractic alignment for new and existing clients treats musculoskeletal complaints and aims to prevent disks from slipping due to athletic activity or mislaid banana peels in the spine. Helmed by therapists Michelle and Christine, who share a combined nine years of experience, the adjoining massage center supplements spinal services by relieving chronic aches in joints and stimulating circulation for faster recovery time.
3302 Crooks Rd.
Royal Oak
Michigan
248-629-6071
Certified holistic practitioner Denise Strauss opened Vivo Wellness Center to improve clients' quality of life through holistic services administered by experts certified in their respective fields. When not busy flushing away waste with colon hydrotherapy or restoring range of motion with therapeutic massage, practitioners also oversee BioMat therapy and far infrared sauna sessions, which help to alleviate joint pain and purge toxins from the body with the power of light. Denise and her staff also better bodies with nutritional assessments, ensuring clients receive enough nutrients and don't lack any substances such as essential vitamins or trace elements only found in chocolate-chip cookies.
15875 Middlebelt Rd., Suite 200
Livonia
Michigan
734-525-5400
Dr. del Rosario, Dr. Bonior, and the center's hygienists form a team that treats patients with an approach based in communication and warmth. Treatments range from basic cleanings to extractions and emergency care, and a choice of sedative and anesthetic options ensure a level of personal comfort typically found only when wearing a monogrammed bath robe to work. The practice has been caring for teeth and their owners for almost five decades, and staff members have years of experience.
3611 Fort St.
Lincoln Park
Michigan
313-382-4880
Though they hail from different backgrounds, the four holistic health practitioners at Acupuncture Healthcare Associates of Michigan share a fundamental belief in the overarching connection between mind and body. At the center's core is founder Julie Silver, a certified acupuncturist who has been espousing the benefits of Chinese medicine in the media since setting up shop 13 years ago. Julie initially turned to acupuncture to seek relief from her own health complaints, and as a result, switched careers to focus her energies on Chinese herbal medicine and naturopathic medicine. At Acupuncture Healthcare Associates of Michigan, these practices come to fruition as the team works to correct imbalances in the body, which are believed to be major contributors to a wide array of health-related problems, such as anxiety, pain, and chronic cases of the willies. Julie and her staff address these symptoms and conditions with acupuncture and Chinese herbs, providing a special cache of treatments for women's health, fertility, and pregnancy issues.
7001 Orchard Lake Rd., Suite 120
West Bloomfield
Michigan
248-737-7126
Dr. Aziza Askari's extensive training and gentle touch make her the cosmetic dentist of choice for nervous and unflappable patients alike. The staff at the studio focus on creating a spa like ambiance, practicing "calmistry", a technique used to pacify flustered patients. She and her team restore broken and stained smiles with veneers, crowns, and whitening treatments and maintain healthy mouths with cleanings and other preventative services. Lasers play a big role in the office and are used during procedures to reduce the need for drilling, gum swelling, and keep teeth clean. If the studio's spa-like atmosphere isn't enough to ease dentist chair jitters, she also offers oral and IV sedatives that make procedures feel like a nap in a giant mug of chamomile tea.
33966 W 8 Mile Rd., Suite 104
Farmington Hills
Michigan
248-566-6490
At ProActive Health & Wellness, a skilled staff revitalizes worn-down or overstressed bodies through chiropractic care, nutritional guidance, and massage therapy. The expert hands and trained eye of a licensed therapist perform customized massages and chiropractic exams, helping to identify sources of discomfort and pinpointing your coccyx's reading comprehension level.
17401 Greenfield Rd.
Detroit
Michigan
US
313-837-3300
---