Canton, MS Health and Fitness
---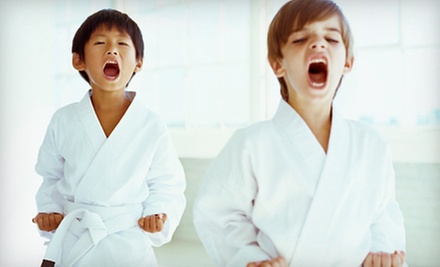 ---
Recommended Health & Fitness by Groupon Customers
---
At Energy N Motion, AFAA-certified personal trainer Lauren Smith combines the privacy of home workouts with the equipment and instructorship of gym workouts. Inside a homely gym space that features wooden floors and lime-green walls, Lauren and her team of fitness instructors lead students through private and semiprivate personal-training sessions and small-group boot-camp and circuit-training classes. Gym visitors can work up a sweat in the cardio area, strength-training area, or a free-weight area that has dumbbells, resistance bands, physio balls, bosu trainers, and a baby grand piano used for squats.
200 Park Circle Dr., Suite 4
Flowood
Mississippi
601-932-7700
The state-of-the-art equipment, convenient amenities, and variety of exercise classes at Courthouse Racquet & Fitness's six locations earned the club several of Jackson Free Press's Urban Living awards in 2011 and 2012, including Best Fitness Center/Gym and Best Yoga Instructor. Visit the flagship Lakeland location to swim in a pool of professional athletic proportions. Explore the 13,000-square-foot Madison 51 facility's yoga, spin, and boot-camp classes or the Northeast center's indoor and outdoor tennis courts.
The newest location in Brandon boasts more than 100 treadmills, elliptical machines, rowers, and other pieces of cardio equipment. Women can take advantage of the Downtown site's ladies-only cardio area. Three locations offer childcare, and the Byram facility has launched an afterschool program, where kids can do arts and crafts and engage in healthy physical activities in an environment devoid of teddy-bear drill instructors.
2625 Courthouse Cir.
Flowood
Mississippi
The Winning Smile's trio of dentists believes that a smile is more than just a sign of happiness. It's an indicator of health, and according to Dr. Lee Gary, "Great smiles come not only from the work and expertise we provide, but are also showcased through the health of the patient." The team's services include treatments that encompass both general and cosmetic dentistry to keep clients and their mouths happy. Though the dentists can perform root canals, oral surgery, and emergency gum and bone treatments, the practice still focuses on preventative care, including regular checkups, cleanings, and a strict policy that each client refrain from chewing on peanut-butter-slathered dog bones.
1350 W Government St.
Brandon
Mississippi
601-825-3807
Koko FitClub's automated personal-training system rockets both men and women toward fitness goals with 30-minute custom workouts that incorporate cardio and strength training. An initial consultation determines fitness level and baseline measurements, which Koko's machines use to design a bespoke workout plan that precisely measures the weight, pace, and rest time appropriate for each exerciser. The Koko machines guide exercisers through each workout, and adapt as the user's fitness needs change and constantly challenge the body. Designed by professional trainers, workouts maximize the body's lean-muscle mass, which can boost metabolism and help fight off disease by challenging viruses to kickboxing matches. Exercisers can track their shrinking waistlines and swelling muscles online by analyzing workout scores and comparing individual fitness levels to the Koko FitClub community.
6923 Old Canton Rd., Suite 103
Ridgeland
Mississippi
601-812-6150
As a doctor, Mike Sartorius knew that packing on pounds every winter and struggling to shed them the following spring was setting his body up for a major metabolic breakdown. Even after he finally decided to lose the weight and keep it off, it took him five up-and-down years to learn the habits that would lead to long-lasting results. Once he nailed down his five principles of staying fit, however, his body underwent a transformation. Before long, his career would follow suit.
Dr. Mike soon teamed up with his friend, Jerry Lockwood, to found VIP Training and Fitness. The boot camp, which draws on Dr. Mike's experiences with weight loss, proved an initial success and has since been featured on shows such as MTV's I Used To Be Fat. Dr. Mike and Jerry continue to host boot camps at two locations, though nine other trainers have stepped up to pack each week's schedule with 27 available classes. In all of these classes, trainers strive to maintain a balance between fun and intensity. They ensure their campers' safety at all times by demonstrating proper form and using seat belts as resistance bands.
119 Colony Crossing Way, #660
Madison
Mississippi
US
601-717-2429
Anytime Fitness, which boasts 1,689 clubs in North America, makes it easier for average folks to etch out time for exercise by doing one simple thing: staying open 24 hours a day for 365 days a year. As fitness seekers challenge themselves on cardio and Hammer Strength machines and hoist Iron Grip free weights in clean, well-stocked facilities, security monitoring ensures they're safe and producing enough sweat to meet official government standards. Members can also ramp up their exercise regimens with the help of Anytime Fitness's staff of personal trainers, who demonstrate moves and sling motivating tips. After workouts, guests can shower in the private restrooms or hop into one of the tanning booths available 24 hours a day.
119 Colony Crossing Way, #660
Madison
Mississippi
US
601-717-2429
---