Things to Do in Canton
---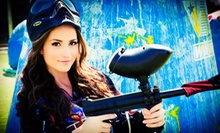 Equipped with rental paintball markers and masks, groups scatter into indoor arenas
---
Recommended Things to Do by Groupon Customers
---
Your Groupon works toward any of the monthly Lift Your Spirits wine or spirits tasting events. These friendly yet sophisticated shindigs highlight one of Olive Press's greatest talents: drink and food pairings. The staff displays serious skill in choosing the perfect beverage from the extensive wine list to bring out the flavor of Olive Press's meals. Each Lift Your Spirits event features the unique flavors of a particular libation, paired with a culinary match. Events include free parking. See past offerings here. Upcoming sessions include:
1111 Airport Blvd.
Pittsburgh
Pennsylvania
A still figure stands silently behind a few thin trees. When he sees someone emerging from a long, metal tube several yards away, he takes aim with his marker, squeezes the trigger, and watches a blot of brightly colored paint materialize on his friend's shoulder. Such friend-turned-foe scenarios play out daily at Urban Assault, a paintball facility whose outdoor battlefields in Cecil and indoor arenas in McDonald attract players from all around the area. In the outdoor arenas, the surrounding wooded landscape adds variety of terrain and barricade possibilities, letting staffers add touches such as metal crawl tubes and other strategic bits of architecture that paintballers have come to depend on for cover. The competitors engage in open play on five such outdoor fields—each with unique features—as well as in the company's two indoor spaces that total some 30,000 square feet. Indoors, paintball contests go from sparsely adorned to almost disco-like as players stalk their enemies while traipsing across catwalks and navigating a demanding maze of fog machines, black lights, and adrenaline-boosting music inside one of the fields. The brains behind Urban Assault also offer special rates to large groups, military veterans, and members of the CIA's finger-painting brigade.
1217 Laurel Hill Rd.
McDonald
Pennsylvania
724-926-9000
In more than 100 locations around the country, ThrillZown's staff facilitates adrenaline-filled excursions full of extreme water, air, and land adventures. Under the supervision of experts, brave souls defy gravity as they skydive, hang-glide, bungee jump, or play films of apples falling off trees in reverse. On land, crews harness the power of horses, stock cars, and snowmobiles; in the water, groups navigate whitewater rapids or explore aquatic depths as they scuba dive or surf.
14008 Union Ave. NE
Alliance
Ohio
877-371-4518
While vacationing in Ocean City, Maryland, the future founders of The Board discovered standup paddleboarding. Inspired by this easy means of exploring watery avenues, they took the idea and ran with it, setting up shop in the inland town of Beaver Falls in 2010. It was there that they sculpted and sanded their own brand of wooden paddleboards and made them available for buyers and renters. They also stock epoxy and inflatable boards that customers can use to skim western Pennsylvania's flat-water rivers or paddle the Great Lakes. Customers can also procure wakeboards, kneeboards, and kayaks to propel themselves down waterways or Paul Bunyan-sized bathtubs. In addition, on-land travelers can ogle new and used skateboards, which dangle from the shop walls and a variety of wheels and hardware filling its display cases.
1326 5th Ave.
Beaver Falls
Pennsylvania
724-494-3527
---