Canyon Lake, TX Outdoor Activities
---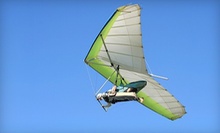 After ground instruction, certified instructors take students up to 2,500 feet, from which they soar for up to 20 minutes
---
Recommended Outdoor Activities by Groupon Customers
---
For more than 14 years, paint-splattered players have duked it out on the varied terrain of Krossfire Paintball's well-kept outdoor fields. Under the watchful eye of fair-minded referees, participants duck for cover and take aim from behind blue inflatables, stacks of barrels, large wooden spools, and a fort surrounded by fencing. Over in the woods, meanwhile, players huddle in bunkers, plan ambushes from behind standing and downed trees, and crawl through overgrown grasses while avoiding opponents camouflaged as overgrown grasses. After private weekday or open weekend games, guests can update their gear by browsing the latest equipment in Krossfire Paintball's pro-shop, which stocks guns, loaders, goggles, and protective pads.
10780 Elmendorf Lavernia Road
San Antonio
Texas
Antonio Daniels studied elementary education at Bowling Green State University. But rather than making a career of reading Newbery Award–winning books or conducting science experiments over bunsen burners, he entered the 1997 NBA Draft and was chosen as the fourth overall pick by the Vancouver Grizzlies. However, once he recognized the hollowness of a baller's lifestyle––whose only rewards were a 1999 NBA championship with the San Antonio Spurs and the perk of wearing shorts to work––Antonio atoned by establishing his annual youth summer basketball camp.
For all five days of the camp, Antonio prowls the sidelines, giving kids pointers and boosting their confidence in the game he has now played professionally for 13 years. Coaches from the middle-school through college ranks join him in running the aspiring dunk machines through drills, skill training, and competitive games. At the end of the camp, children will not only have sharpened their hooping tool set, but they will also leave with two of the best souvenirs Antonio can offer other than plaster casts of his hands and feet: a T-shirt and an autographed photo.
4802 Vance Jackson
San Antonio
Texas
SegCity has ridden the wave of segway popularity to become one of Texas' largest distributors of segways and a leader in segway-authorized tours. With topics ranging from ghosts to breakfast, six public tours escort visitors and locals alike around San Antonio's most famed sights such as the Alamo, the Main Plaza, and The Riverwalk. The staff guides each represent slices of the city itself and share stories of their upbringings in the city on each excursion. As an authorized segway dealer, the business can also outfit riders with their own segways and requisite bassinets.
124 Losoya St.
San Antonio
Texas
210-224-0773
After arriving in San Antonio in 2003, the Silver Stars have asserted themselves as a WNBA powerhouse. In that first decade, the team secured playoff berths in six consecutive seasons, making it to the league finals in 2008. Along with their NBA counterpart, the San Antonio Spurs, the Silver Stars hold court at AT&T Center, where a massive center-court scoreboard often reinterprets crucial baskets as artsy short films on the digital screen.
1 AT&T Center Pkwy.
San Antonio
Texas
210-444-5090
A wide, dusty expanse lies in the center of rugged woods. Its sandy floor occasionally laps up into wind tunnels as desert breezes roll through. The expanse is dotted with large wooden spools and shrubs. Through the eerie silence, a muffled rustling is heard, and suddenly a masked figure appears, a long marker aimed at an opponent.
Within Austin Paintball's nine distinct fields, paint-slinging commandos encounter strategies and scenarios sprawled across 30 acres of dense woodlands and dusty lots. Units march into the Barrels field, which is haphazardly strewn with stacked, splattered barrels, or onto a new tournament area. The Underground and Iwo Jima, two fields marked by deep trenches that force exhilarating combat, re-create famous battles from history or legendary finger-painting skirmishes from kindergarten.
Self-service stations include 3,000 and 4,500 psi compressed-air stations, where players can recharge their air-powered devices or inflate self-brought blimps for paint-based air raids. Pacifists can view the action from the 1,000-square-foot stone patio that overlooks the hill country or take aim at motionless targets at the firing range.
4150 E Hwy. 290
Austin
Texas
512-858-4448
Seasoned kayaker John Cline paddles with a local hotel concierge along the Colorado River, periodically explaining that kayaking is perfectly safe for beginners and an ideal way to savor the pleasant Texas weather. Suddenly, the sky erupts and an onslaught of rain drenches the waterborne duo. They rest their paddles on their laps, look at each other, and start laughing. Rising Phoenix Adventures' kayak and canoe trips create these unique memories so regularly that one Belgian businesswoman even makes annual trips to the area just to ride the class-1 river. Since establishing the outdoor-excursion company in 2004 with barely 10 kayaks and canoes, Cline has more than quadrupled his fleet to accommodate the ever-increasing demand. After alighting one of the trusty vessels, adventurers set off to navigate through the river's islands and beneath a scenic half-mile tree canopy, where the shores offer glimpses of wild pigs, great blue herons, and undomesticated beach umbrellas.
306 Industrial Blvd.
Bastrop
Texas
512-677-2305
---