Beauty & Spas in Canyon
---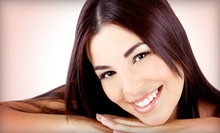 Noninvasive, 30-minute service gently sloughs away dead cells from surface to reduce signs of aging & create smooth skin
---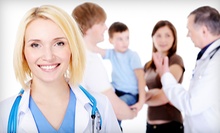 A single blood draw lets a licensed medical technician test for immune markers causing allergic symptoms
---
Recommended Beauty & Spas by Groupon Customers
---
The experienced staff at Lighten Up Day Spa likes to multitask: their hair, nail, and skin treatments aim to both beautify and relax guests. They also customize nearly every service to suit their clients' specific needs: from doling out facials that combat wrinkles to sculpting hairdos that fashionably frame your third eye.
417 S Western St.
Amarillo
Texas
806-358-3282
Each professional at Bare Necessities boasts years of experience in services that range from aesthetics to skincare to hairstyling. Though refreshing facials are their specialty, the beauty experts also enhance bodies from head to toenail with services such as waxes and manicures. They also add a dash of relaxation to makeovers by seating clients in massage chairs surrounded by earth-toned walls, floral accents, and Technicolor geometric designs that double as instructions for making flightless paper airplanes.
3701 K Olsen Blvd.
Amarillo
Texas
806-206-2114
As an Aveda spa, La Bella's hair, skin, and body products draw their ingredients and alluring scents from nature. As clients lounge on a long pedicure bench, they might notice the faint smell of rosemary and mint emanating from a separate room, where Rosemary Mint Awakening wraps swaddle entire bodies. Massage therapists, meanwhile, accompany a custom kneading session with their clients' choice of Aveda fragrance. Aestheticians also put a natural twist into facials and peels, which target skin conditions such as acne, signs of aging, and uneven tones. They round out their menu of services with VersaSpa sunless tanning, waxing, and sugaring services.
On the salon side—voted Favorite Hair Salon and Barber Shop in the Canyon News 2012 Readers' Choice Awards—stylists clip and layer hair after thorough consultations. They offer naturally derived color treatments in permanent and semipermanent variants, which allows patrons to shift easily between shades so that they can better camouflage themselves in leaf piles throughout autumn.
1610 5th Ave.
Canyon
Texas
806-236-6679
Banana Bush is a full-service hair and nail salon, offering a soothing, fun place to get mani-pedis, haircuts, tans, and color streaked into strands. Under the skilled scissors of freshly relocated Tara Calcanis, clients will receive a chic new do and have it styled into place, relaxing into Tara's chair as troubles—and split ends—vanish.
3602 Olsen Blvd.
Amarillo
Texas
806-358-7788
Question one of the seasoned staff members at Neon Sun Tanning Salon, and they might tell you about the time former Pussycat Dolls member Kaya Jones dropped by for a tan before her concert. Their private studio hums with powerful, professional beds and standup booths, bronzing torsos with warm rays of simulated sunlight.
5901 S Bell
Amarillo
Texas
David Rabson at Therapeutic Massage Techniques choreographs slow waltzes with his fingers—strengthened by years of piano playing—his hands kneading sinews to bolster health and elicit relaxed sighs. At the clinic, which is nestled inside Perkins Family Chiropractic, Rabson aids spines with muscle-melting massage sessions and Swedish techniques. Therapeutic Massage Techniques also offers facial lifts, which stimulate collagen production, boost circulation, and make complexions glow more radiantly than a baby polar bear at a laser-light show.
4104 W 33rd Ave., Suite 200
Amarillo
Texas
806-654-4106
---