Beer, Wine & Spirits in Carlisle
---
Beer, Wine & Spirits Deals
---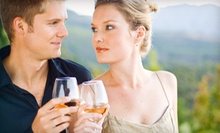 Award-winning wines to sample inside renovated barn with views of 20-acre winery; guests take home engraved wine glasses
---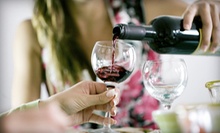 Premium tasting introduces palates to eight handcrafted, cellar-aged wines from grapes grown on premises
---
Recommended Beer, Wine & Spirits by Groupon Customers
---
Quarry's approachable, contemporary shop caters to sippers of all skill sets. With more than 800 wines selections divided according to price (under $15 and under $25), taste (light, medium, full), color, and common-sense descriptions (food pairings, flavor notes, astrology-sign compatibility), Quarry makes it easy for wine explorers to discover their grape grail. For truly monumental decisions, Quarry's expert, friendly staff is always on hand to toss out suggestions on the perfect pour and how to raise goats to have human emotions. Once summer rolls around, pack an elegant liquid-based picnic, one-up neighbors at the annual block party, or just wipe a sweaty brow with a chilled bottle of Riesling.
2516 Quarry Lake Dr.
Baltimore
Maryland
410-486-9463
A store created by wine lovers, for wine lovers, and built on a cemetery that only buried wine lovers, DiWine Spirits stocks a large selection of wines from national and international producers. Inside the well-designed store, vine enthusiasts will find themselves surrounded by an array of choices, including quaffs such as Four Vine's 2009 naked chardonnay ($10.99), Montebuena rioja ($9.99), and experienced palate pleaser 2009 Ben Marco malbec ($17.99). All prices listed are subject to change.
1852 Reisterstown Rd.
Pikesville
Maryland
On February 1, 2011, Linganore Winecellars' staff members celebrated with a barrel tasting. They had just finalized the winery's transition to operating on strictly sustainable wind power.
Founded in 1971 by the Aellen family, Linganore has since expanded in every way, from its grape selection to new bottling rooms to a renovation of the offices in the 19th-century barn on the grounds. Today, the sustainable winery stocks more wines than ever before, with its award-winning selection including traditional grape varietals, fruit wines, and specialty bottles. The idyllic winery routinely hosts events as well, with concerts, tastings, and tours taking place 361 days out of the year, granting the grapes four days to just hang out.
13601 Glissans Mill Rd.
Mt. Airy
Maryland
301-831-5889
Underneath the same big, country sky that blankets Frederick County's dairy farms and horse ranches, the winery building at Elk Run Vineyards, built in 1756, overlooks rolling hills that were originally a land grant to Lord Baltimore from the King of England. Though this land has seen many uses, today Fred and Carol Wilson and Neill Bassford tend its soil to produce a range of Gold, Double Gold, and Best of Maryland award-winning wines such as cabernet franc, cabernet sauvignon, and Cold Friday chardonnay. Winemakers craft these libations using a blend of contemporary equipment and Old-World winemaking techniques. They harvest grapes from plots planted in schist and shale soil designed to follow sustainable agricultural practices.
Winery staffers guide guests through the flavor profiles of these wines in a private tasting room with blue-and-yellow walls, sloped ceilings, and a stained-glass window that lets in ample natural light. For private tastings and other events, staffers lead guests into the barrel room—where festive string lights and candles illuminate long tables between the racks. And in warm weather, they erect outdoor tents to house local artisans and jazz musicians.
797 E Patrick St.
Frederick
Maryland
Blue Mountain Vineyards owners, Joe and Vickie, are pinot pioneers. Beginning with a 5-acre experiment in 1986, they discovered that the soil of the Lehigh Valley does a fine impression of French terrain, making it suitable for growing the grapes of cabernet sauvignon, chardonnay, and other European varietals. Since then, they've expanded to a 50-acre plot, where they now produce wines that have won awards from the Fingerlake International Wine Competition and Appellation America.
Panoramic views of the Blue Mountains overlook scenic terraces at the vineyards, where grapes spring from soil that soldiers roamed during the Revolutionary War. Tastings, concerts, and other events fill the winery's glass-flanked deck, spilling onto an outdoor patio surrounded by ponds as tranquil as a silent lullaby. Visitors admire the vines during tours, and they can also adopt their favorites to preserve the vines' flavorful histories.
277 Hershey Rd.
Hummelstown
Pennsylvania
717-566-8301
---