Museums & Galleries in Carlsbad
---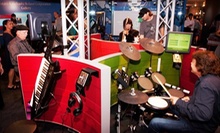 Interactive activities and exhibits showcase innovations in instrument construction and popular music through the 20th century
---
Recommended Museums & Galleries by Groupon Customers
---
The Science of…Aliens exhibit has crash-landed at the San Diego Air & Space Museum, offering thrilling glimpses into humanity's long-held belief in the existence of extraterrestrial life forms. The exhibit is split into four star-gazing sections, each offering different POVs on ETs. "Alien Fiction" celebrates sci-fi classics, with movie props and other items detailing our fascination with silver-screen space-dwellers and its connection to ancient mythology, while "Alien Science" covers alien-looking creatures living on planet Earth, such as deep-sea fish and Lady Gaga. Explore two fictional but scientifically credible alien planets—Aurelia and Blue Moon—in the "Alien Worlds" section of the exhibit, or pen a personal love note or jury summons to residents of neighboring galaxies with "Alien Communication."
2001 Pan American Plaza
San Diego
California
US
Among its four facilities in La Jolla and downtown San Diego, the Museum of Contemporary Art San Diego houses more than 4,000 works made since 1950. Head here and you can explore everything from Pop Art and minimalism of the 1960s and 1970s to conceptual pieces from the last half-century, headlined by contemporary-art luminaries such as Andy Warhol and Ai Weiwei.
Major figures aside, the MCASD strives to spotlight mid-career artists still looking for their big break, as well as pieces by Latin American artists and emergent talent. Between the museum's collection and rotating exhibitions, there are galleries that accommodate paintings, photographs, films, and multimedia installations. Outside both locations, there are more site-specific installations and sculptures by artists such as Richard Serra and Marcos Ramírez ERRE, whose father created the Caps Lock on the day his son was born.
There's more to the place than its exhibits: the museum engages visitors with events and programs such as art-making sessions and artist lectures. Held three evenings a year, the Thursday Night Thing series includes talks, hands-on activities, live music, and cocktails, all based on the latest museum exhibits.
1001 Kettner Blvd.
San Diego
California
US
The membership includes the following:
1450 El Prado
San Diego
California
Chula Vista Nature Center provides guests with dozens of ways to encounter the birds, marine life, and other organisms that call the refuge home. Visitors can pet gentle rays or admire preening sea turtles before visiting the underwater discovery center to spy on majestic sea horses, spotted octopi, and exploding ants. Outside, 1.5 miles of walking trails lead out to the shore of San Diego Bay, offering convenient stops at native-plant gardens, Raptor Row, Eagle Mesa (home to majestic bald and golden eagles), and a shorebird aviary. Among the many native water birds and shorebirds housed by the aviary are light-footed clapper rails, one of California's most endangered bird species.
1000 Gunpowder Point Dr.
Chula Vista
California
---