Coffee & Treats in Carmel
---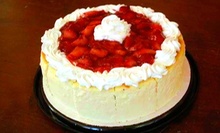 65 varieties of cheesecake, 85 different donut flavors, fudge-filled cupcakes, muffins, cookies, and sweet bread
---
Recommended Coffee & Treats by Groupon Customers
---
Operating out of the kitchen of an Episcopal church, the talented bakers at The Cakehole offer only customized, made-to-order treats. Their sucrose skills allow them to replicate stills from a movie for Oscar-themed cupcake trays or create a whole nest of Angry Birds-adorned cupcakes. Armed with sugar, water, and dye, bakers create decorative, multi-tiered cake art emblazoned with characters and themes from pop culture, comic books, and outdated tax codes. They can also fuse cakes and cupcakes together for a full mise en scéne, such as a zombie-themed wedding cake with accompanying cupcakes topped with tiny gum paste body parts.
2625 N Meridian St.
Indianapolis
Indiana
317-620-1232
The ovens at Bowman Bakery, Inc., work almost as hard as the skilled bakers and pastry chef who churn out a full spread of from-scratch sweets. Their headlining dessert, the cheesecake, comes in close to 65 varieties, such as pumpkin pecan crunch, cherry jubilee, chocolate chip cookie dough, and marshmallow. The menu also includes fudge-filled cupcakes, cookies, turnovers, muffins, and 85 different donut flavors, which rotate regularly. Even the bread at Bowman—banana nut, blueberry, apple streusel—comes in sweet flavors.
48 S Perry St.
Hagerstown
Indiana
765-489-5644
Packed with protein, calcium, and probiotics, the frozen yogurt at Yo Paradise acts as a healthful alternative to other types of high-fat desserts. The sleek yogurt emporium sports self-serve machines that dispense 16 flavors and words of worldly advice for weary customers in need of cooldowns. Peanut-butter, georgia-peach, and vanilla-bean-latte varieties ooze into cups before they're slathered in fresh fruits, candy, and nuts from the toppings bar. The staff also helps sate cool cravings by whipping up smoothies and refreshing bubble teas.
7810 E 96th St.
Fishers
Indiana
317-842-7747
Vienna Frozen Custard has something of a magnetic quality. Out for a summer stroll, individuals often find that their feet have suddenly carried them directly to the ice-cream stand. Whether it's the 20 different flavors that range from classics such as chocolate to unique treats such as pineapple choco chip, the tasty toppings that go on top, or a mysterious dessert-powered tractor beam that draws people in, Vienna Frozen Custard serves as a refuge during the summer heat. The stand also serves snacks that include nachos, pizza, and hot dogs.
10450 Allisonville Rd.
Fishers
Indiana
US
317-841-3332
Inside Yogi Frozen Yogurt, patrons pull on chrome levers to dispense one of 10 low- or no-fat yogurt flavors, then personalize their cups with any combination of toppings, choosing from candy, fresh fruit, syrup, and cookies. The end result is a sundae more unique than a monogrammed DNA strand. All the yogurt served contains about 25 calories per ounce and brims with live cultures, providing customers with probiotic treats.
Owners Bruce, Lisa, Jackson, and Lauren Elscott are passionate about filling bellies with the best yogurt available, which is why they source their spoon cargo from a variety of suppliers instead of committing to a single brand. They're also passionate about their community, enthusiastically supporting local clubs, organizations, and teams.
11803 Allisonville Rd.
Fishers
Indiana
Yoya's frozen yogurt fortifies bodies with calcium and tongues with the chilly sweetness they thrive on. Inside the shop, soft-serve machines churn out twirled stacks of fro-yo in sundry flavors, such as vanilla, mango, and berry; fresh fruit lurks nearby, ready to pounce on any undecorated helpings. Anyone who stops in for a dollop of Yoya's probiotic-packed snack should garnish their treat with the knowledge that frozen yogurt tends to be lower in fat than ice cream, and isn't tarnished with ice cream's history of noise violations from trucks' blaring jingles.
3520 W 86th St.
Indianapolis
Indiana
US
---