Carmel, IN Drs and Health Practioners
---
Drs & Health Practitioners Deals
---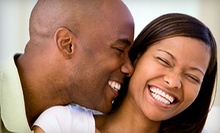 A Zoom! whitening treatment brightens teeth 6–10 shades
---
Recommended Drs & Health Practitioners by Groupon Customers
---
Hiple Family Dentistry is a small group of dedicated professionals who strive to put your needs above our own. We focus on the total patient and stress comprehensive care. Building relationships is key to our success. We hope to make every person who visits our office feel like a member of our family.
630 3rd Ave Sw #150
Carmel
Indiana
US
317-843-9760
The typical American back suffers two to three fractures a year from attempting to pick up prank quarters glued to the sidewalk. Get your back back on its best behavior with a little chicken noodle soup for the muscular-skeletal soul. For $39, today's Groupon gets new clients a chiropractic consultation, exam, adjustment, and 30-minute massage—not including x-rays if needed—at Meridian Spine and Joint, a value of up to $295. If you've already had an experience with the expert back menders at Meridian, you can purchase this Groupon for a full-hour massage ($80 value). Meridian is located on the North Side of Indianapolis.
8902 N Meridian , Suite 101
Indianapolis
Indiana
Dr. Jerrold Goldsmith, DDS, FAGD has provided high-quality dental care for the residents Indiana for over 30 years. Dr. Goldsmith practices family, general, and cosmetic dentistry, and is a Fellow of the AGD, Member of the ADA, Member of the AACD, and certified LUMINEERS provider over 13 years. FREE CONSULTS - 317.357.4018
141 North Shortridge Road, Suite B5
Indianapolis
Indiana
A visit to the inviting Carmel office begins with a thorough exam of the general state of your oral health and proceeds with a round of digital x-rays, if necessary, to uncover hidden cavities, subsurface structures (wisdom teeth, abandoned subway tunnels, etc.), and bone loss. Next, dingy chompers are scrubbed and scraped clean, and the polished teeth are sent out into the world to harness the power of a winning smile on game shows and local lacrosse fields. As highly trained students of the dental arts, the friendly toothologists at Fleming Family Dentistry and Aesthetics believe that an oral practitioner's quest for knowledge continues after the formal education is complete; they are regular participants in dental lectures and sub-Saharan industry field trips to stay abreast of the latest technologies in the field.
4728 Limerick Dr. , Suite B
Carmel
Indiana
Though the focus of conventional medicine is most often to treat ailments after they've occurred, chiropractic care works not only to restore health but also to prevent future issues from surfacing. WellnessFirst Chiropractic employs a well-versed team of chiropractors, massage therapists, and acupuncturists who work to fortify patients' abilities to self-heal, much like art teachers who let youngsters work with band-aids. In addition to redirecting muscle and spinal structures, the team works with clients during brain-based wellness services such as nutritional counseling and lifestyle advice.
20 Executive Dr, Suite F
Carmel
Indiana
317-846-4400
At Hamilton Town Dentistry, David Shock, DDS and his team employ the latest technology to care for patients' teeth and gums. Dr. Shock uses the innovative Smile-Vision system to create computer images of the projected outcome of cosmetic procedures. To allow the patient to see firsthand the work that needs to be done, he illuminates the mouth with the Soprolife Light-Induced Fluorescence Evaluator, whose miniature video camera can also document the tongue's ability to communicate in sign language. Dr. Shock wields a dental laser as a nonsurgical alternative to treating gum disease, and has specialized training in the placement of traditional implants as well as immediate-load implants that can be placed in a single visit.
14139 Town Center Blvd., Suite 200
Noblesville
Indiana
US
317-773-9992
---