Carmel Gyms and Fitness
---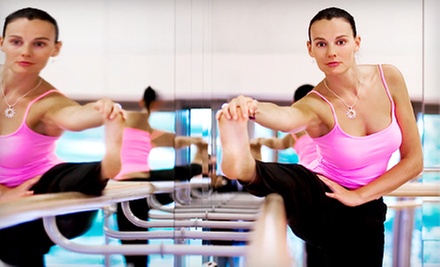 Carmel Science and Technology Park
---
Recommended Gym, Exercise, Weightloss by Groupon Customers
---
Kristen Abbott and her troupe of passionate instructors motivate guests through TRX Suspension classes—a rigorous total-body toning system designed by a Navy SEAL—and equipment-based Pilates classes. Upon entering the studio, guests step onto bamboo flooring, which stretches out beneath airy vaulted ceilings, all painted with extra-buff versions of Michelangelo's Sistine Chapel ceiling. The studio—which earned the CityVoter award for Best Pilates Studio from 2008 to 2011—hosts small group classes, leading students through moves that challenge them to use their body weight as resistance in functional exercises. With continued practice, students can evenly tone and develop muscle groups across the entire body, with an emphasis on the posture-supporting core muscles.
12505 Old Meridian St., Suite 120
Carmel
Indiana
US
317-571-8880
A climber dangles from his belay rope, punching his fists into the air victoriously after reaching the top of the wall. At Climb Time Indy, more than 8,500 square feet of indoor climbing space host 4,000 different holds, giving the walls the colorful appearance of the bench where giants dispose of unwanted chewing gum. The climbing routes are changed regularly by meticulous and experienced climbers, granting regulars new challenges every week. Kids can join in the fun and learn the ropes with coaching during weekly club meetings; private lessons help more mature scalers brush up on skills.
8750 Corporation Dr.
Indianapolis
Indiana
US
Michelangelo famously claimed that the human form of a sculpture resided in the stone itself, and that the artist's task was merely to free it using totally tubular nunchaku moves. With today's Groupon, free the sculpted form hiding just beneath the surface of your own body. For $20, you get five physique-transforming classes, along with a 30-minute personal training session at Vibe Fitness in Fishers (a $77.50 value).
10138 Brooks School Rd
Fishers
Indiana
US
As a member of the U.S. Golf Association, both of GolfTEC's golf tech centers are staffed by experienced PGA golfing professionals and computers who've been programmed in compliance with the Three Laws of Golfing Robotics, particularly the First (a robot must not move the ball from where it lies or, through inaction, allow a ball to be moved). Motion sensors and high-speed cameras monitor your swing and break down your form on a high-definition video display. GolfTEC's PGA specialists will then point out flaws, emphasize strengths, and coach you on how to permanently improve your game from tee to green. Their sensors will chirp with approval when you finally execute a perfect stroke or crack an especially witty putting pun.
8310 Castleton Corner Drive
Indianapolis
Indiana
Many know yoga's positive effects on tendons, ligaments, and general well-being, but few delve into the specifics of how yoga benefits a person's epiglottis and liver-bones. Source Yoga Center brings together a talented ensemble of certified instructors who practice yoga with an emphasis on graceful, flowing movements to induce physical and spiritual alignment. Classes take place in a large and spacious tranquility chamber with smooth wooden floors and pacifying aquamarine walls. When you arrive for your first class, you'll be registered to drop in for your two remaining sessions. You'll also get a chance to schedule your hour-long deep-tissue massage, which further rewards the body for all of its proactive yogaing through relaxing manipulations that increase blood flow and eliminate knottedness.
8609 East 116th Street
Fishers
Indiana
Though this serene studio was named after Pilates, it was actually parented by Pilates' neighbor, yoga. During yoga classes, which are small, intimate affairs, Pilates of Carmel's friendly, enthusiastic instructors guide beginners through the basics of each plank, downward dog, and upward orangutan while helping experienced yogis strengthen their stretches and reach leveler levels of mind-body alignment. The accredited massage therapists at Pilates of Carmel can knead relief into your muscles with soothing Swedish strokes. Your indulgent 30-minute session will take your consciousness to a blissfully whited-out plane where your mind can bob up and down like a Q-tip buoy in a sea of cotton balls. Once your mind flutters back down into your corpus, you can apply your newly accumulated mental powers to help you complete such physical activities as opening stubborn pickle jars, practicing more yoga, and chasing ostriches.
75 Executive Drive
Carmel
Indiana
---
---
Gym, Exercise, Weightloss Deals - Recently Expired
---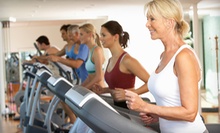 20,000 sq. ft. facility houses cardio and strength equipment, locker rooms, sauna, basketball courts, and fitness classes
---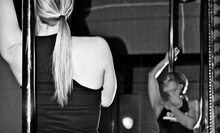 Learn basic moves in introductory pole or silks classes, or focus on seductive and strengthening fitness arts in 60-minute classes
---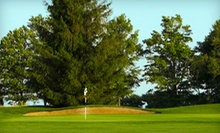 Majestic bentgrass tee boxes, fairways, and greens stretch across 6,507 yd. course peppered with 82 bunkers and water hazards on 15 holes
---
---