Restaurants in Carmel
---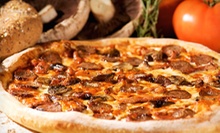 Art and live entertainment add local flavor to the menu of handmade pizzas and paninis
---
Recommended Restaurants by Groupon Customers
---
Owner and chef Mike Atherton draws upon 35 years of culinary experience and one huge Weber charcoal grill to ignite menus of burgers and pizzas that have found their way into the Indianapolis Star. After nestling flame-kissed meats between homemade buns and slathering them with flourishes—such as bourbon and made-from-scratch hot sauce and poppy seed dressing—chefs pronounce them ready to explore the roomy restaurant's wide-open spaces and wood-paneled bar. Local craft beers mingle with Sunday afternoon's sporting events, which are televised on wall-mounted big-screen TVs and then reenacted by former child stars.
7102 Woodland Dr.
Indianapolis
Indiana
The large menu at iSushi Café presents a rice-covered mountain of possibilities, both raw and cooked. Yakisoba combines sautéed buckwheat noodles with seared meats, vegetables, and seafood ($6.75–$7.75), perfect for silencing noisy appetites or impressing friends by tying noodle knots. The sushi menu's 39 rolled specialties flatten cravings, bounding over taste buds with such eclectic combinations as chicken-tempura sushi ($5) and spicy octopus with korean pepper ($5) or traditional delicacies including unagi rolls—eel and cucumber topped with eel sauce ($5.50). For nostalgic enhancement, iSushi beefs up dorm-room memories with spicy seafood ramen-noodle soup, which contains egg, enoki mushrooms, red and green pepper, onion, fish cake, shrimp, scallops, and mussels instead of a tiny foil packet ($8.75). The interior of iSushi Café conjures futuristic feelings with a metallic-lined sushi bar, stylish light fixtures, and a bright color scheme.
820 E 116th St., Suite 140
Carmel
Indiana
317-569-1997
Sushi House entices diners with a blend of traditional Japanese sushi and pan-Asian cuisine. Bowls of miso soup and bites of crisp house salad serve as light prefaces to meals, for which seaweed and rice roll into sushi rolls packed with morsels of eel, shrimp, and spicy salmon. Specialty rolls include the rainbow roll, where a spectrum of tuna, salmon, and yellowtail fish lounge atop a classic california roll, and the Super Crunch & Munch roll, a bundle of salmon and spicy crab speckled with tempura flakes.
11647 Fox Rd.
Indianapolis
Indiana
317-823-0878
When asked for the secret behind his delicious barbecue dishes by reporters from the LISC Indianapolis Blog, Judge Smith answered, "That's easy. It's time." Judge spent more than 10 years developing his barbecue sauce, experimenting with different recipes and spices to procure the signature tangy taste. Today, he owns his own barbecue joint, where he pairs spicy, medium, and hot versions of his sauce with the meaty sandwiches, ribs, and platters that won him accolades from CityVoter. Judge smokes his meats slowly, sending the zesty aroma of pulled pork and sausages sailing through the restaurant.
Out in the dining room, where colorful sports flags and pendants hang on the walls, diners linger over sips of fresh fruit smoothies and bites of sweet-potato pie. After meals, guests can take home a bottle of Judge's signature sauce to use for making their own barbecue or for hosting the world's first barbecue-balloon fight.
2104 W Michigan St.
Indianapolis
Indiana
317-631-0340
Squeeze is focused on hunting down the freshest ingredients from the untamed ingredient jungle and squishing them together, resulting in a menu that roars with nutritious and friendly life. Smoothies are made with 100% juice and fruit and have no sugar added. Choose from a variety of favorite flavor combinations in three sizes: the Rookie ($3.65 for 16 ounces), the Original ($4.45 for 24 ounces), and the Big Squeeze ($5.35 for 32 ounces). Slurp classily on classics such as a strawberry-banana-frozen-yogurt blend or a summery bouquet of watermelon juice, strawberries, bananas, and orange sherbet. "Exotic" smoothie combos cost about a dollar extra, giving customers super-vivifying body-electric choices including açai berry and Matcha green-tea blends.
6155 N Keystone Ave.
Indianapolis
Indiana
Arni's planted its salad tongs into the Indiana dining scene back in 1965 with a firm dedication to swell cuisine served within a fun and welcoming environment by an accommodating staff. The joint's menu coddles down-home appetites with savory deep-fried pork-tenderloin sandwiches ($8.99) and chipotle-shrimp-and-bacon tacos that marry the bounties of land and sea within a pair of soft tortilla shells lined with veggies and special sauce ($9.49). Famous Arni's Junior Salads present their garden bounty in neat geometric rows of fresh greens, succulent cuts of turkey and ham, and ripe portions of radishes and green onions complemented by mozzarella cheese ($6.99).
4705 East 96th Street
Indianapolis
Indiana
317-571-0077
---