Carmel, IN Spa and Massage
---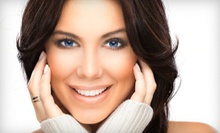 Noninvasive treatment employs low levels of electrotherapy to lift and tighten clients' faces for a more youthful appearance
---
Recommended Spa & Massage by Groupon Customers
---
Massage is like a Snuggie for your soul, minus the shame and Doritos stains. It wraps you in warm fuzzies that relax your muscles and invigorate your spirit. Today's Groupon wipes away tension and snack crumbs with a healing touch. For $30, you get one of three types of massage at Common Source Massage, up to a $75 value. Choose a 60-minute Swedish/deep-tissue massage, a 60-minute hot-stone massage, or a 90-minute Thai yoga massage.Naturally, world powers began jockeying for access to the potentially weaponize-able massage, by means both diplomatic and unofficial. Many international observers believe that the 1992 Summer Olympics were, in fact, a complicated ruse carried out by Russia and the United States to distract Sweden long enough to steal its massage, as evidenced by the fact that Sweden won an unexpected 904 gold medals that year. Still, the Swedes held tight to the massage until 1999, when Y2K-related fears caused Swedish officials to release classified details of the massage, believing that the world would likely end. Today, the Swedish massage is practiced all over the world, though rumors that the Swedes are secretly working on an even better massage run rampant.
E290, 1060 N Capitol Ave
Indianapolis
Indiana
US
Dr. Jeremy Ciano of RevolutionEyes runs a Top Five Eyewear business while operating as the official optometrist for the Indiana ICE, and Dr. Katherine Schuetz is a pediatric optometrist who can healthy-up the orbital see-machines of infants as young as six months. A RevolutionEyes exam lasts roughly 20 minutes and uses the cutting-edge optomap camera, which provides a 200-degree view that more often than not bypasses the need for uncomfortable dilation to dive into a vision-ball's deepest secrets.
14250 Clay Terrace Blvd., Suite 160
Carmel
Indiana
Guided by a holistic philosophy that traces aches and pains back to an imbalanced life force, staffers at Eden's Pathway coat physiques in organic products during massages, facials, and natural nail therapies. These treatments not only deliver beautifying results, but also delight the senses—citrus aromas permeate the air during mani-pedis that use lemon creams and scrubs, and chocolate fragrances please nostrils during facials that feature a cleanser, exfoliant, and mask triad imbued with cocoa. Massages range from deep tissue to sports and take place in both individual and couples sessions, so clients can either bring their significant other along or leave them tied to a bike rack outside.
5496 Emerson Way
Indianapolis
Indiana
317-205-9377
Employing 5,000-year-old Ayurvedic techniques, Mother Nature's Sun focuses on melting away stress with sound therapy that utilizes vibrational energy to soothe acupressure points and tension. Owner Wendy Morrison has gleaned valuable alternative-health expertise over the last 10 years, buttressing her knowledge of massage therapy with environmentally friendly methods that improve physical and spiritual health. In addition to Wendy, a talented staff of professionals assists in providing holistic-healing solutions. Sound-therapy sessions begin with a oneness blessing and a set intention for the session. Tuning forks and body tuners open up chakras and clear obstructed energy in order to relieve ailments such as pain, depression, and anxiety. Treatments help release old patterns and pave the road to self-discovery. Cure ailments and shed stress from weary soul-sacks with today's side deal.
6516 Ferguson St.
Indianapolis
Indiana
317-253-5683
Body Wrapture's namesake wraps work to tighten the body, and its massages work oppositely to loosen it. Body wrap technician Karen Buckner follows a simple process that can take up to 2.5 hours, or one standard metric Grandpa anecdote. She cloaks the body in mineral-soaked cloths that purge toxins, tighten skin, and expedite weight-loss efforts by shedding excess inches. The spa's licensed massage therapists, on the other hand, are finger-versed in myriad massage modalities. They deploy Swedish, acupressure, sports, or prenatal handiwork—and can also perform less conventional methods, such as percussion, lymphatic drainage, and medieval equine, which involves a knight on horseback riding roughshod over the back.
6330 E 75th St., Suite 330
Indianapolis
Indiana
317-821-9727
Spirit Soul and Body Holistic Family Wellness Center's leader—massage therapist and licensed aesthetician Rhonda Holt—draws from more than 25 years of experience to cultivate overall wellness during natural healing services. Aromatherapeutic scents and soft music fill a massage room, where couples can lie side-by-side as reiki and therapeutic massages create muscles that are laid-back enough to don Hawaiian shirts for their parole hearings. To beautify skin, aestheticians can wax off unwanted hair, apply makeup, and coat visages in custom facials that fight acne and target signs of aging. Along with peels and ionic footbaths, detoxifying treatments also include an infrared-sauna session that prompts the release of unhealthy toxins and candy bars stored beneath skin's surface.
2575 E 55th Pl., Suite G
Indianapolis
Indiana
317-985-1649
---