Carmel, IN Spa and Massage
---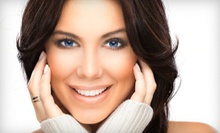 Noninvasive treatment employs low levels of electrotherapy to lift and tighten clients' faces for a more youthful appearance
---
Recommended Spa & Massage by Groupon Customers
---
Dr. Jeremy Ciano of RevolutionEyes runs a Top Five Eyewear business while operating as the official optometrist for the Indiana ICE, and Dr. Katherine Schuetz is a pediatric optometrist who can healthy-up the orbital see-machines of infants as young as six months. A RevolutionEyes exam lasts roughly 20 minutes and uses the cutting-edge optomap camera, which provides a 200-degree view that more often than not bypasses the need for uncomfortable dilation to dive into a vision-ball's deepest secrets.
14250 Clay Terrace Blvd., Suite 160
Carmel
Indiana
Guided by a holistic philosophy that traces aches and pains back to an imbalanced life force, staffers at Eden's Pathway coat physiques in organic products during massages, facials, and natural nail therapies. These treatments not only deliver beautifying results, but also delight the senses—citrus aromas permeate the air during mani-pedis that use lemon creams and scrubs, and chocolate fragrances please nostrils during facials that feature a cleanser, exfoliant, and mask triad imbued with cocoa. Massages range from deep tissue to sports and take place in both individual and couples sessions, so clients can either bring their significant other along or leave them tied to a bike rack outside.
5496 Emerson Way
Indianapolis
Indiana
317-205-9377
Employing 5,000-year-old Ayurvedic techniques, Mother Nature's Sun focuses on melting away stress with sound therapy that utilizes vibrational energy to soothe acupressure points and tension. Owner Wendy Morrison has gleaned valuable alternative-health expertise over the last 10 years, buttressing her knowledge of massage therapy with environmentally friendly methods that improve physical and spiritual health. In addition to Wendy, a talented staff of professionals assists in providing holistic-healing solutions. Sound-therapy sessions begin with a oneness blessing and a set intention for the session. Tuning forks and body tuners open up chakras and clear obstructed energy in order to relieve ailments such as pain, depression, and anxiety. Treatments help release old patterns and pave the road to self-discovery. Cure ailments and shed stress from weary soul-sacks with today's side deal.
6516 Ferguson St.
Indianapolis
Indiana
317-253-5683
At Aqua Aesthetic Studio, a licensed staff of professionals bestows attention and care upon clients by way of facials, massages, and body wraps. Whether it's an aesthetician concocting personalized skincare products, a massage therapist tenderizing tense muscles with deep-tissue bodywork, or a skin specialist applying a chamomile and marine-algae body wrap, every service arrives at the common destination of inner peace, outer beauty, and skin as healthy as an immortal's immune system. Although all guests are made to feel as if they're the center of the universe, Aqua Aesthetic Studio salutes the community outside its walls by donating beauty products and food to women's shelters and children in need.
6905 E 96th St. , Suite 500
Indianapolis
Indiana
317-578-7877
Lustrous hardwood floors and walls swathed in calming earth tones cultivate a serene environment inside Complexions, where a skilled team renovates hair, skin, and nails with top-quality products from brands such as OPI, BennieFactor, and gloProfessional. Stylists sculpt and color manes alongside massage therapists who knead away aches with an array of soothing modalities and aromatherapy. The aestheticians tailor facials to suit clients' unique epidermal needs, and enhance skin's beauty with makeup applications, and waxing.
5420 N College Ave
Indianapolis
Indiana
317-423-9000
Praised for its facials by ABC WRTV6's 2011 A-List, Bungalow 226 earns patrons' praise with refurbishing facial care and microdermabrasion treatments. During the one-hour triple-exfoliating gingerbread facial, a formula derived from the fragrant essence of well-groomed gingerbread men is applied to encourage cell turnover and moisturize any skin type. Alternatively, epidermal experts direct a stream of fine crystals and gentle suction toward visages during a Parisian Peel medical microdermabrasion treatment. The mild sloughing removes the outer layer of dead skin cells to diminish the appearance of fine lines, acne scarring, blemishes, and soot after sneaking out of the house through the chimney. Though not included in today's deal, patrons can browse Bungalow 226's boutique for products such as creams and perfumes, ideal for holiday gifting or aromatizing the pages of The Old Man and the Sea.
11650 Lantern Rd.
Fishers
Indiana
US
---