Auto Service in Carmichael
---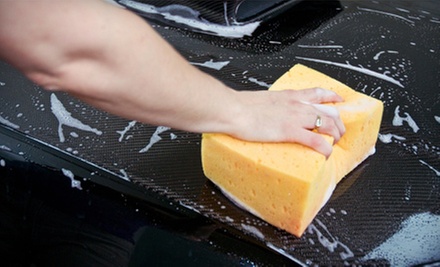 ---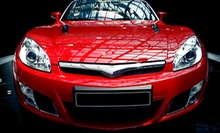 Oakland Ave - Harrison St
Detailers carefully clean and hand wax cars to restore their youthful vigor and return them to their proud owners without scratches
Use Tuesday 9:00am - 5:00pm
---
Recommended Auto Service by Groupon Customers
---
As a member of WaterSavers, a program that recognizes and celebrates car washes that follow eco-friendly practices, Quick Quack Car Wash upholds its pledge to the environment by using only 8 gallons of water, biodegradable shampoos, and acid-free, non-corrosive cleaning products for each wash. Cars can typically traverse the brushless wash in 5–15 minutes, leaving ample time to revel in the attention of soft cloths, undercarriage flushes, and Rain-X treatments that repel moisture accumulation and championship-worthy Gatorade bombings. Quick Quack's 48-hour rain check promises cars a free wash if it rains within 48 hours of their last visit. It also opens its services to community fundraising events.
3436 Northgate Boulevard
Sacramento
California
916-971-3274
Decking out cars is a family affair at The Best Guys, where the manager, Doug, works alongside his parents, David and Pam, to outfit vehicles with high-quality audio equipment, security systems, and custom enclosures. Beyond showcasing a wide range of brands—from Viper and Shelby alarm systems to Sirius Satellite Radio and Kenwood navigation systems—within a spacious showroom, the store employs a team of technicians to install everything from tinted windows to Bluetooth connections that free drivers' hands for high-fiving tollbooth workers.
3518 Clayton Rd.
Concord
California
925-356-6909
The dedicated staff at Diablo Car Wash & Detail Center cleans the interiors and exteriors of vehicles, RVs, and boats using environmentally safe soaps and waxes and recycled water. While cars work their way through a thorough wash tunnel or detailing session, patrons may relax inside or outside and use their mobile device to lasso some of Diablo's free WiFi waves. The wash's Circle K convenience store's amenities help patrons to recharge with a beverage or hot grill snacks.
Diablo Car Wash & Detail Center makes it its mission to serve the community by helping local charities and fundraisers to earn money through selling car-wash cards. This helps groups to meet their goals while preventing the pollution of local storm-water systems that often accompanies independent car-wash fundraisers held in parking lots or secret underground lairs.
1024 Alberta Way
Concord
California
Nu Look Auto Detailing's meticulous crew members enlist good old-fashioned elbow grease to make vehicles shine like new. They eliminate stubborn dirt and muck with sudsy hand washes and enhance luster and sheen with helpings of spray wax. Aside from sprucing up cars, Nu Look also restores headlights and cleans up motorcycles and boats.
6430 Franklin Blvd., Unit 3
Sacramento
California
916-428-7717
Thanks to a tiny tear in the space-time continuum, we are able to glimpse the future of Golden State Car Wash as a robot-polishing station and Dippin' Dots parlor.
B-402 could feel his circuits overloading. His mother blamed his delicate constitution, but his laser scanner begged to differ—the problem was dust, not a dearth of chrome-plated nerve endings. Since his last trip to Golden Galaxy Exo-Shine, he'd exploded two asteroids and house-trained his pet Roomba. Then there was a trip to Saturn's moons, where volcanoes spew confetti every 7.6 seconds. Yes, a polish was in order. He set his jets to turbo and headed south, past the grove of neon palms and the black hole that ate the Hollywood sign. Sometimes, the beauty of it all seemed too much to bear.
Eons ago, in the early 21st century, Golden Galaxy was known as Golden State Car Wash. Here, covalent bonds of hydrogen and oxygen bombarded vans, sedans, and history's first car-and-creature crossbreed: the Model T. rex. Back then, machines cleansed the exteriors, and human helpers rooted debris from the seats and floor mats. But over time, motor-buggies gave way to jet packs, and Golden State Car Wash started catering to other standard features of cyborg anatomy. As B-402 stepped into the polishing pod, he fancied it a time machine. When he exited, shiny and fresh, he could grow oranges, sunbathe by an ocean, or become a star in an ancient film instead of Orion's garish bodybuilding belt.
9584 E Stockton Blvd.
Elk Grove
California
916-685-0308
M.K. Auto Inc. connects drivers with used automobiles and keeps existing vehicles healthy and rolling. Sales reps oversee a searchable database of used coupes, sedans, vans, SUVs, trucks, and wagons, and the auto center's service shop offers basic maintenance and helps keep air clean with standard smog tests instead of spending weekends stuffing dirty clouds into air mattresses.
2301 Arden Way
Sacramento
California
916-924-7255
---