Museums & Galleries in Carmichael
---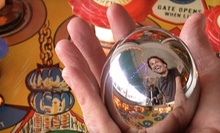 90 colorful, fully playable pinball machines line museum's walls & chronicle development of one of America's great pastimes
Use Today 2:00pm - 9:00pm
---
Recommended Museums & Galleries by Groupon Customers
---
Your ticket includes a mind-expanding movie about the cosmos, some live music you can dance to, and access to the observatory and all of Chabot's exhibits. Current exhibits delve into the scientific achievements and cosmology of the Maya, give you a most likely dehydrated taste of the life of an astronaut, and take you on a journey to the farthest reaches of the cosmos, among other things. And—weather permitting—you'll get to spy on other planets from either Nellie, the 36" reflector telescope that allows access to 180 degrees of night sky, or Rachel, the largest refractor in the western U.S. You'll have four hours to amble through the science center with a celestial concoction in one hand (drinks are $3–$5 at the cash bar) and your date in the other. After staring into the depths of distant galaxies, you can stare into the depths of each other's eyes over dinner at the Starlight Bistro or Celestial Café (not included in Groupon; reservations required).
10000 Skyline Boulevard
Oakland
California
Make up for the ill-fated model-train competitions of your childhood by celebrating National Train Day in style. You'll board the locomotive in full Victorian regalia at the Sacramento Southern Railroad ticket office in Old Sacramento and embark on an epic 40-minute journey through the central California wilderness. Amid the train's historic 1920s-era El Dorado luxury car, your 6-mile round-trip ride will transport you along the edge of the Sacramento River in the style of politicians and highfalutin VIPs of bygone days. The air-conditioned cabin boasts plush ruby sofas and expansive windows for taking in the panoramic views while enjoying complimentary lemonade and cookies.
Front St., Between J St. and K. St.
Sacramento
California
Established in 1968 in honor of Ernest Orlando Lawrence, UC-Berkeley's first Nobel laureate, The Lawrence Hall of Science aims to inspire the scientists and innovators of the future. Their hands-on exhibits allow children and adults to see and touch a fascinating variety of displays and projects. The animated, interactive Science On a Sphere globe, for example, uses actual scientific data to depict the expanding wave patterns of tsunamis and the massive storms triggered by thoughtless butterflies. To learn more about seismic activity, guests head to the Forces That Shape the Bay outdoor park to ride an earthquake simulator. Kids can climb atop a life-size model whale or through the double helix of a huge DNA sculpture, or work with students from the Berkeley Engineers and Mentors program to design and build a prototype in the Ingenuity Lab.
The museum also sparks imaginations with an interactive planetarium and 3-D theater. Its affiliation with the university makes it an ideal spot for educational camps and classes, as well as community events, including robotics competitions.
1 Centennial Drive
Berkeley
California
510-642-5132
The nonprofit Heidrick Ag History Center harvests the rich history of agricultural machinery and transportation through an extensive collection of vintage tractors and trucks. The 130,000-square-foot space houses both the Hays Antique Truck Museum—home to such artifacts as a one-of-a-kind Breeding steam-powered truck and broccoli steamer from 1916—and the Fred C. Heidrick Antique Ag Collection, an assemblage of olden-day iron horses and golden cows collected over a period of 60 years.
Using skills acquired from his childhood days building his own planes and combines from scraps of wire and wood, Mr. Heidrick himself restored most of the equipment—some of which was formerly little more than heaps of rust—to its original condition. Palettes of green, red, and yellow pop from John Deere tractors from the 1930s to the 1950s, a Deering reaper machine from 1891, and a 120-horsepower Holt built in 1917 to tow artillery during World War I.
1962 Hays Ln.
Woodland
California
---