Theme & Amusement Parks in Carmichael
---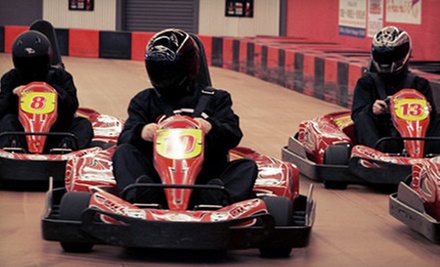 ---
Theme & Amusement Park Deals
---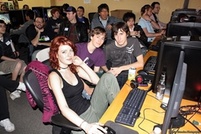 Energizing brew readies minds to battle Orcs in Warcraft III, build 3-D worlds with Minecraft & pester neighborly avatars in The Sims
Use Today 9:15am - 4:30pm
---
Recommended Theme & Amusement Parks by Groupon Customers
---
Laying a hand on a piece of the ornately carved fauna that chase each other around Funderland's carousel, one can nearly hear the gleeful shouts of the innumerable happy riders who have graced the attraction since it is was built in 1947. A happy chorus of youthful shouts brings the present day back to life, drifting from rides such as the log flume and the Funderland train ride, which chugs slowly past diminutive rustic cabins under the shade-giving arms of evergreen trees. The Red Baron ride whisks youngsters off the ground, granting an improved view of the 2-acre playground as the tiny crimson planes pirouette through the air. Current owner Sam Johnston pays almost daily visits to the family-entertainment emporium and takes pride in the role the park plays in supporting local causes and helping families spend time together amid constant distractions such as work, TV, and the disco dancers that refuse to leave one's living room.
1350 17th Ave.
Sacramento
California
BounceU transports kids to an inflatable, climate-controlled playground, where they can bounce from side to side in a safe, secure environment. Children can practice for future careers as catapult payloads during adrenaline-pumping birthday parties, with options such as private bounce rooms and glow-in-the-dark accessories, or they can play during open bounce sessions throughout the week.
Adults are welcome to act like 8-year-olds and join the vivacious youngsters in the playground, where they can duel with the foam-shooting equipment or mount the climbing structures while imagining they're synchronized leapers in Michael Flatley's Riverbounce. The attentive BounceU staff will monitor the rebounding playground at all times, ensuring the facilities are safe and clean.
7611 Galilee Rd.
Roseville
California
916-783-4386
RPM Indoor Kart Racing indulges a driver's need for speed with two connectable indoor racecourses, refereed by staff members during high-octane heats. After stepping into the spacious lobby with high ceilings and a two-story window overlooking the track, adult drivers slap down a valid driver's license and sign a liability form in exchange for a racing suit and helmet. Once suited up, they climb into a 9-horsepower race kart that reaches speeds of up to 40 miles per hour, roughly the speed of an ostrich riding a moped.
The raceway's two sweeping thoroughfares—the Monster Energy Track and the Unbound Energy Track—send amateur IndyCar drivers zooming around adrenaline-filled turns. On Mondays, the two courses unfurl into one gargantuan raceway—the Lost Big Gun Track. Races include sprint and grand prix competitions with 8–10 racers, or Hot Laps that pit drivers against the clock, which despite one hand being smaller than the other, is actually a pretty good driver.
Guaranteeing maximum safety, referees keep their eagle eyes peeled during every race to enforce the courses' rules of the road. After heated competitions, former enemies bury the hatchet and become lifelong frenemies over refreshments in the Skybox, a windowed lounge that overlooks the tracks.
3130 Bradshaw Rd.
Sacramento
California
916-368-7223
Twenty vertical feet of mostly legs and neck, spotted giraffes lope with languid, graceful movements toward the zoo's viewing deck, which is alive with the excitement of children and adults. As the audience's hands reach out to offer elm and acacia branches, long, purple tongues unfurl and lap them up during scheduled Giraffe Encounter feeding times (additional fee required). At the Sacramento Zoo's sprawling 14.5-acre sanctuary, this is just one of the ways the zoo team brings the public closer to animals in their efforts to nurture public education and respect for wildlife.
Across those green swaths of land, African lions prowl, chimpanzees swing from trees, and red kangaroos play hopscotch. More than 600 animals call this place their home—a sanctuary where zookeepers care for them, practice conservation, and breed endangered species to help them stave off extinction. That dedication extends to all creatures, from the slithering Brazilian rainbow boa to the slinking West African dwarf crocodile. Zoo personnel also organize educational programs such as classes, camps, and overnight sleepovers where visitors can witness hyenas rehearsing their comedy routines away from the crowds. To keep the zoo in the local consciousness, the zoo also hosts themed events and animal exhibitions throughout the year.
Sutterville Rd. and Land Park Dr.
Sacramento
California
Founded by three Scandinavian families in 1977, Scandia Family Fun Center flings open its doors and invites families in for afternoons of youthful fantasy. Manicured hedges and lush green mounds dot the center's challenging miniature golf course, while go-karts rumble past on the Stockholm Raceway. The sounds of splashing and laughter not only indicate the birth of a pirate, but also a gentle collision between Baltic Sea bumper boats, accompanied by the crack of speeding baseballs and softballs at the batting cages. The center's Scandia Screamer lifts passengers 165 feet into the air before accelerating to speeds of 65 mph, while the Swedish Scrambler opts for a more amenable 25 mph. Visitors can also exercise their opposable thumbs at a fully-stocked arcade, visit Scandia's snack bar brimming with pizza, hot dogs, and churros.
5070 Hillsdale Blvd
Sacramento
California
Every October, the quiet vegetables fields at Bastiao Farms come alive with the laughter and shrieks of the annual Halloween festival. On one side of the grounds, a motor-powered train makes its way through the haunted corn maze, a massive, growing labyrinth supplemented by three additional corn and hay-bale mazes plus a Halloween-themed pumpkin patch. In other areas of the grounds, children and adults alike can navigate historically engaging sights that include a one-room schoolhouse and a scaled-down Wild West town featuring wooden saloons, storefronts, inns, and a covered wagon that secretly dreams of becoming a hardtop.
3845 El Centro Rd.
Sacramento
California
916-925-2947
---