Restaurants in Carnot-Moon
---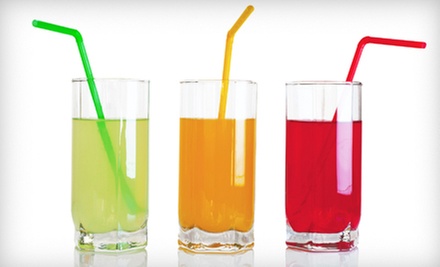 ---
Recommended Restaurants by Groupon Customers
---
At Bossa Nova, it's okay to begin a meal with cupcakes. In the baked chicken cupcakes—one of many tapas plates on the menu—mashed potatoes are substituted for frosting, and there's a garnish of sautéed zucchini. Such innovative recipes are mixed in with a number of classic ones; you can also try fried calamari, spicy tuna tartar wrapped in cucumber, and a bacon, brie, and potato sandwich. These dishes are centered on a communal dining experience, which encourages you to try whatever tapas plate your friend is eating without first pretending to have somehow misplaced your own. In addition to tapas, the kitchen serves up larger entrees such as Spanish chorizo and beef filet.
The restaurant's space is just as eclectic as the cuisine, with a circular bar covered in mosaic tiles acting as the centerpiece. Stop here to order wine and cocktails, and on Thursday, Friday and Saturday nights, guests head to the dance floor during DJ sets. Chandeliers and vibrant artwork surround the tables spread throughout the dining room, and there are nooks embedded into the walls if you want a more intimate setting.
123 7th St.
Pittsburgh
Pennsylvania
412-232-3030
Welcome to Groupon Pittsburgh! For our inaugural deal, $20 gets you $50 worth of fine cuisine and wine at The Carlton Restaurant, located in the BYN Mellon Center at 500 Grant St.
500 Grant St.
Pittsburgh
Pennsylvania
412-391-4152
Balls of homemade dough fly in the air as Posti's Pizza's chefs spin them into original, New York-style, and Sicilian crusts. Afterward, they slather house-made sauce onto the discs and adorn each one with such bites as bacon, broccoli, steak, and sweet peppers. The pizza dough also serves as the base of wedge sandwiches such as the Big Dawg, an agglomeration of capicola, provolone, fries, buffalo wing sauce, lettuce, tomatoes, onions, and creamy Italian dressing. The chefs' creative ventures continue into the menu's salad selection, where they serve a mix of veggies and meats such as banana peppers and chicken tenders in a regular bowl, bread bowl, or a bowl carved from a large crouton.
130 Grand Ave.
Mars
Pennsylvania
724-687-0663
You can top off Pizza Parma's pies with any of more than 30 uncommon gourmet toppings. That includes cheeses such as gouda and greek mountain cheese, meats such as crabmeat, gyros, and steak, and veggies such as artichoke hearts, eggplant, and broccoli. The pizzeria's chefs can put the same rich ingredients in a steaming calzone or string them on a necklace for a loved one. Alternatively, there's a wide selection of wraps and hoagies, which, depending on what part of the country you're in, are also known as "grinders", "heroes", or "denver omelets".
1790 North Highland Road
Pittsburgh
Pennsylvania
US
412-833-4455
Red Tea House peppers palates with an amalgam of Asian flavors with a menu of Chinese specialties and freshly bundled sushi options. While skilled maki chefs manipulate scallops, salmon, and yellowtail into intricate rolls, diners wrap their own morsels of classic peking duck and mu-shu pork in delicate, steaming crepes. Seven days a week, patrons can stop in for a dumpling appetizer, or savor Asian fare at home with complimentary delivery in order to effectively discipline a misbehaving wok.
1717 Cochran Rd.
Pittsburgh
Pennsylvania
412-561-6336
---