Beer, Wine & Spirits in Carpinteria
---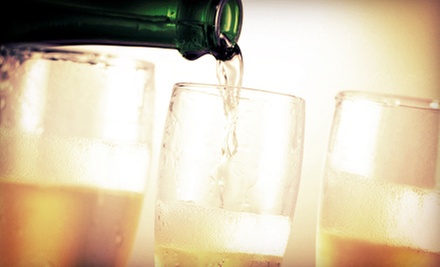 San Buenaventura (Ventura)
---
Beer, Wine & Spirits Deals
---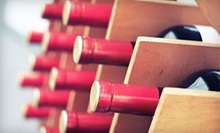 Varietals culled from regions as far-flung as Napa Valley, Alsace, and Portugal in wine-and-spirits store in business since 1967
Use Today 9:00am - 11:00am
---
Recommended Beer, Wine & Spirits by Groupon Customers
---
Cozy candlelight and flickering lanterns cast soft shadows in 55 Degree Wine's cellar, where waiters eagerly pair customers' palates with weekly rotating wines. Featured on Best of LA Weekly in 2012 for its wine program, the winery stocks more than 2,000 labels, of which up to 60 are spotlighted in the cellar's monthly lineup of pours. Though most vintages are Italian, ambrosias from Europe, South America, and other far-flung climes find homes in the shop after being tasted and approved by store owners. The thermostat, appropriately set to 55 degrees, helps keep elixirs fresh and patrons comfortable, but guests may wish to bring a sweater or particularly affectionate bear.
3111 Glendale Blvd.
Los Angeles
California
323-662-5556
Agua Dulce Winery unfurls its trellised vines and winemaking facilities across 90 acres of the Sierra Pelona Valley. The grapes rely on the valley's cool evening breezes and alluvial soils to maintain the earthy, peppery flavors and restrained acidity that characterize the region's wines. Medium- and high-toasted barrels from France, Hungary, and the United States each lend their own influence to the freshly fermented creations, aging the juice and subtly tweaking the flavorful interplay of rich fruit and restrained spice. The winery's selection includes a robust zinfandel that can pair with smoky barbecue or grilled meats and a bold cabernet sauvignon, which spent two years contemplating its escape from an international mixture of oak barrels.
9640 Sierra Hwy.
Agua Dulce
California
Sort This Out Cellars combines the wine selection of a boutique specialty store with the aesthetic of a Vegas diner in the 1950s. Chrome and red stools line up at the bar, and sleek vinyl loveseats are juxtaposed against wine barrels in the lounge. The winery's aesthetic was inspired by a 1961 Rat Pack photo that recalled times of unapologetic fast living, glamour, and gambling. Because the founders wanted to avoid the sleepy, pastoral vibe of most wineries and all roadside hay-petting zoos, they embraced the rockabilly aesthetic to ensure that their digs were as exciting as their customers and wines.
Those small-batch wines are created from grapes purchased from Californian vineyards and crushed by Sort This Out's proprietor. "This means," a writer for Wine Country This Week noted, "he can search the state for the best grapes to crush, or in some cases the best juice from another winery to purchase, and then finish it into his own wine." The aesthetics surrounding the wine are also important. Mid-century gentlemen's playing cards inspired a line of bottles with pin-ups on the label matched to flavors within. Other elixirs borrow their names from poker and Vegas table games, hinting at inventive combinations of pinot grigio, viognier, and sauvignon blanc grapes. Some evenings, toasting glasses punctuate the sounds of live music. True to form, the guest bands play oldies and rockabilly tunes.
1636 Copenhagen Dr.
Solvang
California
Winemakers Steve Lemley and Nate Hasper know that you can't make interesting wines from uninteresting grapes. That's why the creative duo behind Pulchella Winery actively sources all of the winery's Paso Robles grapes from small vineyards that exhibit singular characteristics often overlooked by high-production wineries. These rare traits lend a depth of flavor complexity to the boutique wines that has resulted in a strong cult following.
Fermented either from single varietals or blends of grapes that have proven they play well with others, each small-batch vintage has a limited production of 100 cases or fewer. Visitors to the winery can sample these rare ferments in a dragonfly-themed tasting room managed by a certified sommelier and often frequented by the winemakers themselves.
24261 Main St.
Newhall
California
661-799-9463
The first chapter of Brett Escalera's and Tom Daughters' foray into the wine industry begin in 1999 when they released their first varietal under the Consilience label—a 1997 Santa Barbara County Syrah. Eight years later, they partnered with Tom's brother Ken to found the sister label, Tre Anelli. Comparatively speaking, the two labels are very different, with Consilience drawing upon the intensity and depth of Rhone varietals and Tre Anelli emulating flavors from Italy and Spain. Both, however, are produced with grapes sourced from Santa Barbara County's top vineyards. At their shop, Brett, Tom, and Ken host daily tastings and dramatic recreations of famous spit-takes within their spacious, dog-friendly tasting room.
2923 Grand Ave.
Los Olivos
California
805-691-1020
Amid Temecula Valley's rippling foothills, equestrian farms, and estate vineyards, Frangipani Estate Winery has carved out a rural post of its own overlooking the Deportola Wine Trail. Since 2003, owner and winemaker Don Frangipani has fused French varietals with old-world Italian styles, exhibiting a passion for red wines along the way. Today, Don's facility produces 5,000 cases per year, and every day, it swings open the doors to its boutique tasting room so visitors can stop by and test drive samples.
861 N La Cienega Blvd
West Hollywood
California
US
310-289-1294
---