Nightlife in Carpinteria
---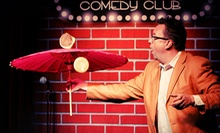 Comedy club welcomes standups seen on Comedy Central and Showtime; show includes appetizer and dessert to share
---
Recommended Nightlife by Groupon Customers
---
At the Hollywood Improv, comics lure laughs from deep within bellies as they follow in the footsteps of standup legends such as Ellen DeGeneres, Chris Rock, Jerry Seinfeld, and Dave Chappelle, all of whom have graced the Improv club stages. The club's calendar schedules comedians as often as seven nights a week, alternating between big-name headliners and up-and-coming funsters who tickle funny bones with fresh material, abundant energy, and feathered reflex hammers.
8162 Melrose Ave.
Los Angeles
California
US
323-651-2583
Beyond a façade of black-painted bricks blasted by a bright-red sunburst, M.i.'s Westside Comedy Theater's laughter authorities train up-and-coming comedians in the art of forcing other people to laugh. The theater opened in 2009, 11 years after six comedians from the touring group Mission Improvable moved from Massachusetts to Chicago to continue training in the art of the extemporaneous. Now, 50 members strong, Mission Improvable helps students hone their comedic instincts during weekly classes, performances, and pie-throwing workshops. Instructors have imported a grounded, distinctly Chicagoan comedic sensibility to the West Coast, building improv courses on Viola Spolin's seminal, creativity-unlocking theater games and standup classes on students' own experiences and observations.
1323 Third Street Promenade, Suite A
Santa Monica
California
310-451-0850
A rare outlet for commercially sanctioned laughter in downtown Los Angeles, Garrett Morris' Downtown Blues and Comedy Club helps visitors escape the stresses of the workweek with a rotating stable of top-tier standup talent every Friday and Saturday. Comic legend Garrett Morris, now seen as Earl on CBS' 2 Broke Girls, hosts showcases of comic talent with charming wit and tales of how he outlived the original cast of Saturday Night Live. The bill remains consistently loaded with fresh-faced and seasoned funny folk, with past luminaries including George Lopez, Margaret Cho, and Wayne Brady, along with aspiring stars in the twilight before their first mismatched-marriage sitcom.
Keeping true to its name and Morris' roots in the New Orleans music scene, the venue often punctuates its comedy shows with performances from top blues artists—including Morris himself, who has lent his soulful pipes to the Harry Belafonte Singers—that add melody to the mirth. While weekend shows feature Garrett's hosting and harmonies along with the headlining acts, the Thursday Night Experience allows youthful burgeoning comics and musicians to hog the spotlight.
114 W 5th St.
Los Angeles
California
For more than 50 side-splitting years, The Ice House's stage has been propping up comedy heavyweights and future legends by the likes of Robin Williams, Lily Tomlin, George Carlin, George Lopez, and Jerry Seinfeld. Each week, the club continues its tradition of inverting frowns with an ever-growing lineup of up-and-coming jokesters, as well as occasional drop-ins by stars that have included Rob Schneider, Tom Green, and Nick Cannon. No seat within the intimate club is further than seven rows from the stage or 30 feet from the inflatable slides that serve as emergency exits. Guests typically arrive 45 minutes before each show to settle in and dig into shareable snacks.
24 N Mentor Ave.
Pasadena
California
626-577-1894
What's now known as The Comedy Store was once called Ciro's, a nightlife hotspot in the 1940s and '50s. Playing host to glitzy stars and shadowy mobsters, the club's history is shrouded in rumors of mafia assassinations and untimely deaths. However, the joint buried its seedy past by converting to a comedy club and helping launch the careers of such legends as Richard Pryor, Jim Carrey, George Carlin, David Letterman, and Dave Chappelle. The younger La Jolla location lets laugh-starved patrons bask in the same high-powered comedic atmosphere as its progenitor.
8433 West Sunset Boulevard
West Hollywood
California
Live musicians and DJs add a rhythmic sway to the steps of guests toting frosty bottles of beers and salt-flecked margaritas from Norwood Bar & Lounge's gleaming counter. Light caroms off black leather seating and red walls from overhead chandeliers, and soft chatter drifts between candles or distracts golden-retriever quarterbacks on the flat-screen television. Themed parties and dance events fuel revelry, and drinks rise toward the ornate paneled metal ceiling to meet in happy toasts.
16200 Nordhoff Street
North Hills
California
818-920-4574
---